1)
Spying on the White House. Did you think the FISA warrant on Carter Page was the only way the Resistance was spying on Trump's team? Did you think a simple fact like Trump becoming Commander in Chief (and their boss) would deter them?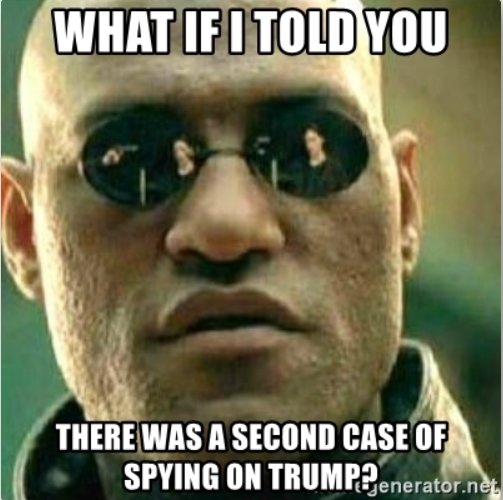 2)
In fact, if you expect to see a fact free story in the NYT based on intelligence sources used to justify some illegal spying on the Trump Administration you would be right. If you expect that to be followed by FBI counterintelligence agents, right again.
3)
If you expect that 'investigation' to lead to partisans in the Inteligence Community spreading rumored collusion with inconclusive evidence through the government, right again. If you guessed some prosecutors from the EDNY would use it to go on a fishing trip, right once more
4)
The first clue is this article in the New York Times in April of 2017, worrying about Kushner working with the Chinese. In the article, they complain of Kushner supplanting the State Department and his 'suspicious" business deals with Chinese entities.
nytimes.com/2017/04/02/us/…
5)
As we saw with the Trump Russian investigation, FBI and other officials were leaking information & then using the leaks to justify investigations. Sundance
@thelastrefuge2
has done a fantastic job documenting this process with McCabe and what he calls the "small group".
6)
Move forward to January 2018 and "news" articles show some members of the Resistance were accessing NSA intercepts to spy on the Trump White House. Did you think they would be able to resist telling the media about it? Me neither!
newyorker.com/magazine/2018/…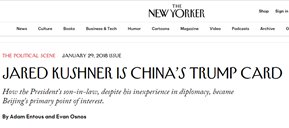 7)
It seems like a Fusion GPS special as reporters from multiple sources wrote the same story. The Newsweek version has a few different details, different authors but many of the same quotes.
newsweek.com/kushner-was-ch…
@jaredkushner


8)
As the Trump Administration got up & running they faced a dilemma with hostile leaks from within hostile agencies. The same problem George W. Bush faced when Deep State actors spun stories to the press that would print anything negative without worrying if it was true or not
9)
China & their Ambassador Cui Tiankai had invested decades into developing their 'relationship' with the Clintons. From illegal fundraising to a variety of other means, China had influence with them. Only it didn't have a Hillary admin and it had no influence with Trump.


10)
Cui had enough influence that he could request secret off the record meetings with the Hillary Clinton campaign. But Henry Kissinger recommended that China reach out to Kushner to open communications.
wikileaks.org/podesta-emails…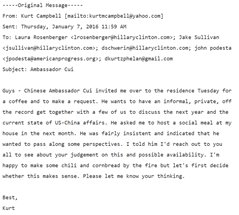 11)
So the Ambassador went back to square one and tried to work with Jared Kushner, who became the WH point man on China. But unlike in past administrations, the host of "China specialists" & note takers didn't get invited.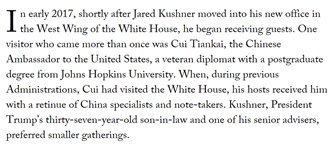 12)
Of course, these bureaucrats who believed themselves to be China experts, couldn't stand taking a back seat to someone who couldn't find Beijing on a map! So what did they do? These members of the Resistance began accessing NSA intercepts to spy on the Trump White House.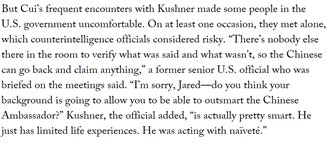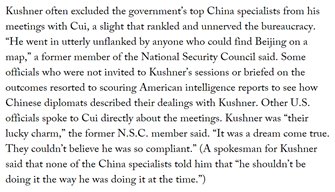 Look at that a little closer. These officials started scouring NSA intercepts of Chinese diplomats to access 'incidental collection' about Kushner. It must be fairly routine, because they don't even care that they were admitting this crime to reporters to publish it.


14)
So they start digging in to find collusion with China this time. The entire New Yorker piece is stuffed with inuendo about various China deals & transactions real and imaginary. All sourced from unnamed current & former intelligence officials. Classic Fusion GPS approach.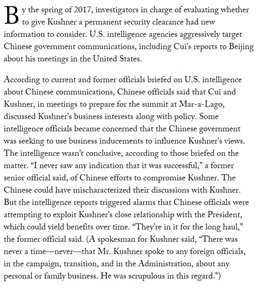 15)
So then the FBI Counterintelligence steps in. Bill Priestap, Peter Strzok's boss warns Jared Kushner about intelligence regarding some of his contacts. Of course the story then leaks this intelligence (to tarnish Kushner) even though the intelligence was inconclusive.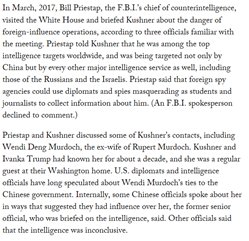 16)
Of course, with all the firings & resignations at the FBI one of the only survivors is Bill Priestap. By late January, this leak is probably attempting to throw him under the bus again. James Comey blamed him for Comey not briefing the Gang of 8 about Trump Russia in 2017


17)
Then we get to the interesting part of the plot, starting in Dec. 2017, US intelligence agencies started to brief officials about Kushner being targeted by a Chinese influence operation. So a second collusion investigation being spread by the IC off inconclusive evidence.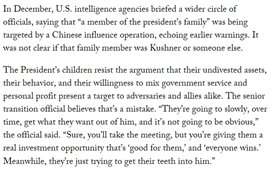 18)
Quickly followed by the federal prosecutors from the Eastern District of New York, pursuing Kushner for his China connections. This was then followed by additional stories about Kushner's held up security clearance. Attempting to create a feeding frenzy in the press.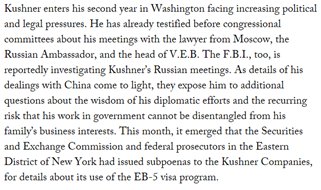 19)
The New Yorker even edited this article to add information about Kushner's background check and his access to the Presidential Daily Briefing (PDB) The Way Back Machine documents the changes and additions to supplement the article.
web.archive.org/web/2018021420…
20.
So we have the exact same process in the Russia Collusion investigations. Fake story from IC leaks lead to real investigations. Real investigations don't find much, even with illegal spying through NSA data. The IC spreads rumors based on shakey intel to prosecutors.
21)
Followed by several reporters at several media outlets publishing almost identical stories handed to them by Fusion GPS. So now we know the "small group" didn't stop with Russia, they tried to create a sequel. End.
Addendum: I found 1 more thing rereading my own thread. It is huge! Who worked w/ EDNY prosecutors to subpeona
@jaredkushner
's records? The US Security & Exchange Commission. Who was promoted by the Obama Admin to lead the SEC Enforcment Division in Oct. 2016? Peter Strzok's wife