UPDATES from Lawyers for Good Government
➡️ON THE GROUND IN TEXAS⬅️
to help immigrants through
♦️Project Corazon♦️
and the Lawyers for Good Government Foundation.
Please donate! Any assistance is greatly appreciated.
<Thread>
facebook.com/story.php?stor…
I spent all of this Independence Day at
#KarnesResidentialCenter
Yes, it's a holiday but these women and children do not get a day off from detention so we do not take a day off from helping. There is more than enough work to do.
/3
The process at the border depends on how and where people arrive. Some cross the desert, some float or even walk across the river, some cross at a bridge or entry point. You are allowed to seek asylum regardless of how or where you entered the US./5
If you claim that you are afraid to return to home or that you are seeking asylum, you will be sent to a processing center. There, you will receive a medical exam, and you may get vaccinations. You are then sent to a center commonly known as the 'hielera', the freezer.
/7
And you're hungry. Everyone tells me food is insufficient at the hielera, and foreign. Water is limited and tastes strongly of bleach, sometimes burning the women's throats. Kids can get juice but don't want to eat. Parents can't stomach the cold soups and frozen sandwiches.
/11
If you are menstruating, sanitary pads are limited - without being allowed to shower, your soiled clothes start to reek. They are often crowded and occasionally there may not be enough room to lay down. Medical care is extremely limited. Guards are often the worst here.
/13
From the hielera, many women and families are sent to a 'perrera', the dog pound/kennel. The perrera is similar to the hielera but slightly better. At the perrera the lights are still on and it's still cold, but maybe not quite as cold.
/15
You likely are in your same clothes and cannot shower or brush your teeth yet, but at least you are slightly more comfortable. For the women I've spoken to, they are mostly happy to be safe from the threats and risks they left behind, and of course to be with their children.
/17
Next, women and children are sent to one of 3 family detention centers. I am volunteering at one of them,
#KarnesResidentialCenter
. By the time you get here, you are relieved to be in a place with beds and other facilities where you can provide some normalcy to your children. /18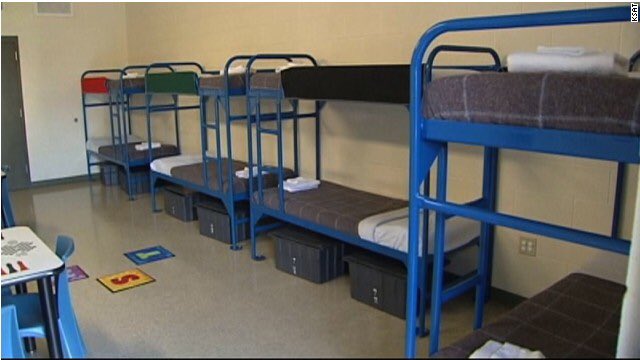 The water still tastes bad and the food still isn't good, but there is enough. You are given new clothes (t-shirts, jeans, and slip-on shoes) and you are allowed to shower, brush your teeth, do laundry. You are safe for now, and you are with your children.
/19
If you have trouble understanding how difficult these families' lives were in their home countries, consider this: Not one single woman or child any of us has met on this trip has expressed any regret about making the treacherous journey north.
/20