#CrazyRichAsians
is headed for a monster opening, and it's essential to look at why. A full 38% of viewers so far have been Asian—we're COMING OUT for this film as we never have in cinematic history.
But another 24% of viewers are black or Hispanic: *viewers are 62% nonwhite*.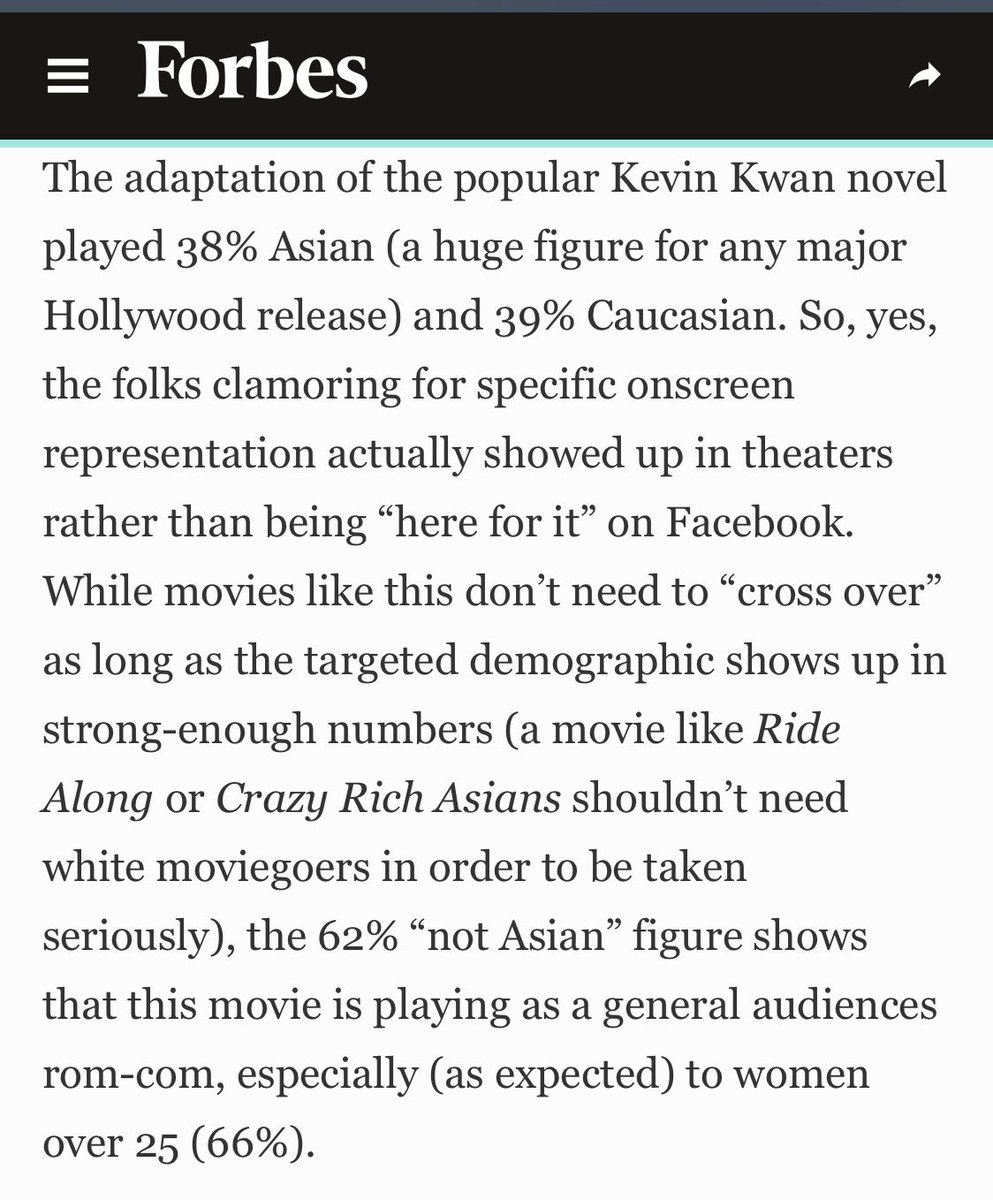 The book
#CrazyRichAsians
was based on was a NYT bestseller. When the target for the book is described by folks in publishing, they say "white female, summer read, book club, 35-54." That audience isn't who's filling theaters—yet.
They're the ones who might take this to $100M.
If you haven't seen it yet, a small spoiler. After the first 15 minutes of
#CrazyRichAsians
, you will not see another nonwhite person on screen. Not even in background shots. And the only white people with speaking roles get played like dominoes. In the first five minutes.
In a very short period of time, America will be "majority minority," yet the blueprint for what a marketing campaign targeted at this new America hasn't really been laid. When a brand doesn't know how to market a product, it falls back on what it knows: Targeting white buyers.
That has three huge impacts. 1. Campaign money/attention aren't invested in nonwhite markets, so our communities stay "dark" to them. 2. Nonwhite-focused products are seen as niche or underperforming—or "surprising" when they succeed. 3. Fewer products are made with us in mind.
(I did an analysis of network TV by race that showed exactly this pattern:
#Empire
and
#Scandal
were the two major hits to thrive on majority nonwhite auds;
#FreshOffTheBoat
was not majority nonwhite, but overindexed massively Asian and black—with more black viewers than Asians.)
When I was asked for input on marketing
#CrazyRichAsians
, I said: Reverse your typical priorities. Instead of focusing most of your effort on white audiences, saturate Asians & do massive outreach to black and Hispanic influencers. You know—all the folks studios take for granted.
Because studios see the white market and say, we need to put 90% of our resources toward this group that's 55% of our audience. If we win white wallets, we'll get the other 45% by default.
That's not just bad strategy, it's bad math. Trust me, I'm Asian.
variety.com/2018/film/news…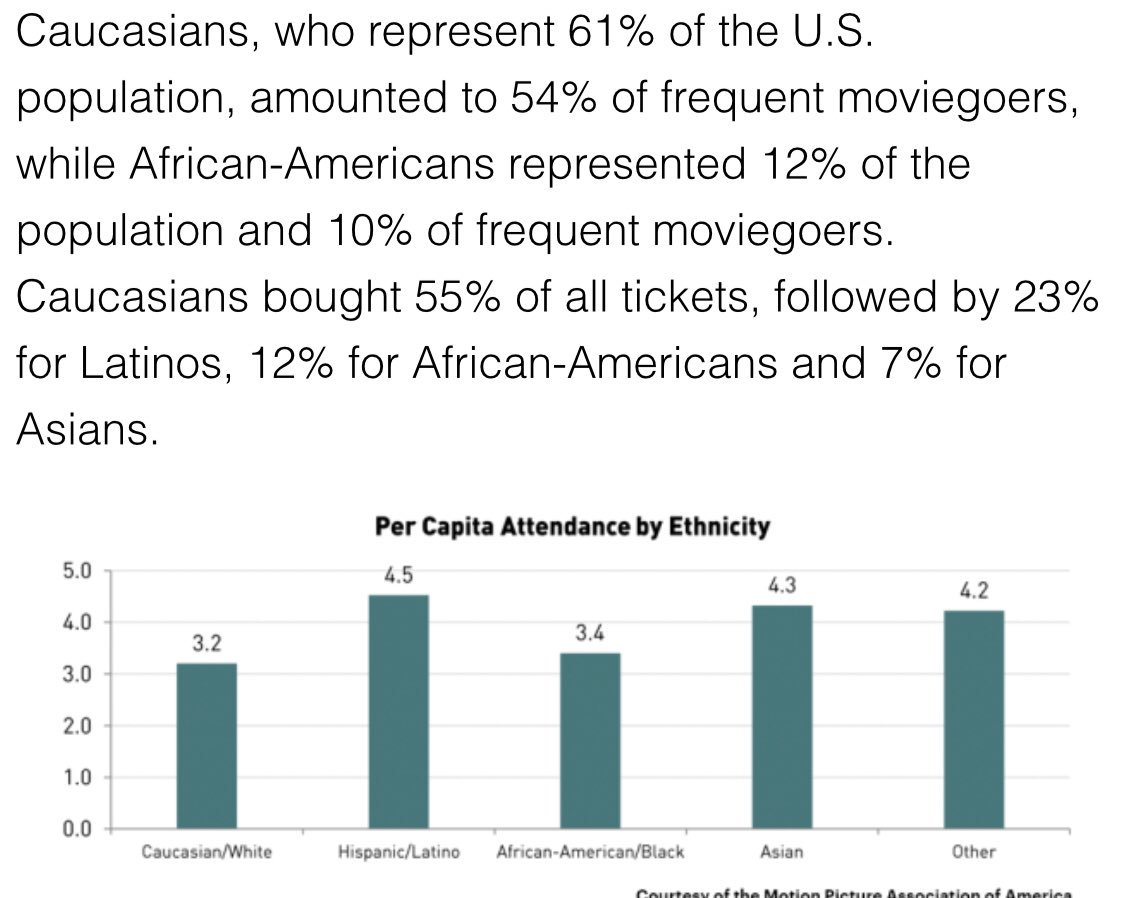 The reality is that even if studios put 55% of resources toward white audiences and 45% toward nonwhite—just following the money!—its returns would skyrocket. The only thing preventing this, frankly, is the legacy of white supremacy that shapes what Hollywood sees as "normal."
So brilliant, uncompromising visions by nonwhite creatives with huge potential are undermarketed, and grassroots folks within nonwhite communities have to pick up the slack. And THEN Hollywood calls
#BlackPanther
,
#GetOut
,
#GirlsTrip
and now
#CrazyRichAsians
"surprise successes."
To WB's credit—they listened to me and others they'd turned to for advice on
#CrazyRichAsians
. They had a huge influencer screening specifically for Asian Americans in April—4 months before release. They did saturation previews for Asian, as well as black and Latino audiences.
They could've done more (especially among black and Latino influencers) but there was some lingering fear that they were cannibalizing ticket sales. I quoted Rachel to them: "you need to play to win—not play not to lose."
The point being that if they believed Asians would love
#CrazyRichAsians
then they shouldn't be holding it back hoping for $30M in ticket sales, they should go full
#StarWars
and aim for $100M via fan evangelism, repeat viewing and community based grassroots brushfire support.
It turns out that listening to and following black America is smart business. And politics. Who knew?
Anyway, it feels like a new chapter in Hollywood is finally beginning. I hope studios and networks are listening and shifting their pipelines and marketing budgets accordingly. Fingers remain crossed.
Asians: if you bought tix for
#CrazyRichAsians
today, buy tix for
#BlackKkKlansman
and
#SorryToBotherYou
tomorrow. They are brilliant works that need to be raised up.
And if Hollywood doesn't make more Latinx-themed movies with Latinx leads soon, it should burn to the ground.
Have a great weekend all!
Oh, and if you want a deeper dive on the phenomenon of Hollywood undervaluing nonwhite films, please read this vintage thread in which I compared GIRLS TRIP and ROUGH NIGHT:
(Correction! There are nonwhite "hotties in bikinis" in the bachelor party scene but that's it, and it kind of is the exception that proves the point I'm making)