"[Rosenstein] was hired by Jeff Sessions. I was not involved in that process because, you know, they go out and they get their own deputies, and the people that work in that department and Jeff Sessions hired him."


2.
I post this interview because so many people keep claiming some ridiculous 3-d chess strategy around Trump hiring Rosenstein etc.
3.
President Trump brought the CEO perspective to the White House. Part of that perspective is to let Department Executive Officers (ie. cabinet members) select their own deputies.
4.
Attorney General Jeff Sessions wanted Rod Rosenstein as Deputy AG.
That's why President Trump nominated Rosenstein. Nothing more. Not strategic Machiavellian deep state chess nonsense. Sessions wanted him, so Trump nominated him.
5.
This is not difficult to ascertain. It is not complex. It is quite simple.
6.
So the question becomes why did President Trump select Jeff Sessions as Attorney General?
7.
Again, not a difficult question to answer. President Trump has repeatedly said why he selected Jeff Sessions. (His biggest mistake).
thehill.com/hilltv/rising/…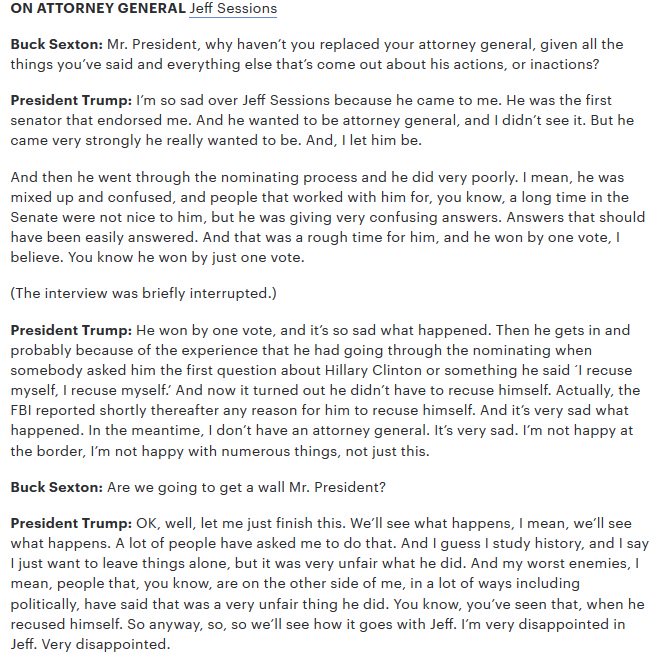 9.
There wasn't a political strategy behind selecting Senator Jeff Sessions, other than thinking he would likely do a good job. President-elect Trump did not know Sessions was going to recuse himself and create two-years of DOJ chaos...
thehill.com/hilltv/rising/…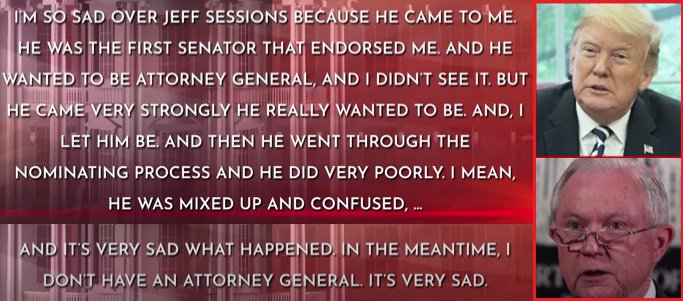 10.
Sessions wanted to be Attorney General. Trump gave the position to him.
Sessions wanted Rosenstein as his Deputy AG. Trump gave Rosenstein to him.
These are not complex multidimensional strategic decisions.
These are straightforward reasons for what transpired.
13.
Likely unbeknownst (at least in initial operational totality) to Rosenstein, Andrew McCabe and James Baker were part of the corrupt DOJ/FBI inside network trying to take-down the President. Hence the: "what do you want me to do Andy, wear a wire"... conversation.
14.
Which has now created two camps:
Camp Rosenstein - supported by Sessions, Boente et al.
Camp McCabe - supported by Page, Baker, Lawfare et al
15.
Each camp leaking damaging information on the other camp to media. Hence, disparate stories within the Washington Post and New York Times because each "source group" is actually each "camp".
16.
Because Rosenstein either: (a) participated; or (b) was a useful idiot, he has now put himself into a massive position of compromise. His stewardship over the DAG position (which is more powerful due to JS recusal), has failed massively.
17.
And now there's the stuff behind the declassification directive (temporarily on hold) which makes DAG Rosenstein look even worse. Either: (a) more corrupt; or (b) more stupid.