(1)
A directory of my Kavanaugh threads since July 9, 2018.
I never planned more than a couple of threads about him this year but, I shoulda known the Dems would try to destroy whoever was the nominee this time.
Well, he fought back.
#AmericanOfTheYear
#JusticeKavanaugh
🇺🇸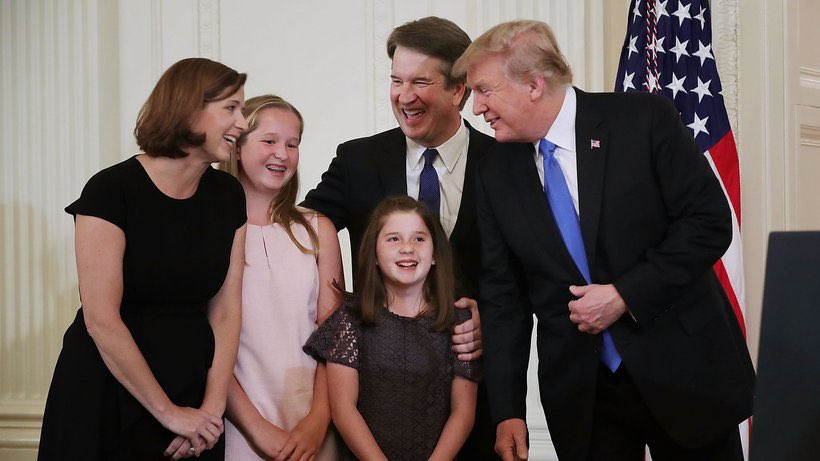 (2)
Like Democrats, I'd already decided how I felt about him before his nomination was announced. I live-tweeted the announcement, which was a great event in itself.
(3)
I followed Kavanaugh's progress over the summer and on September 22nd, I finally wrote a thread about the preparations for the all-important hearing on September 27th. It covers the hearing before the next thread started the day after.
(4)
This thread ended up containing lots of relevant content about the Kavanaugh confirmation process.
(5)
And this thread. Dems invited us to go there again. Our memes have always been superior.
(6)
After the 9/27 hearing I started a new thread for all my general updates about
#ConfirmKavanaugh
, with "side threads" for special topics.
(7)
Like y'all, I was emotionally and physically exhausted after the fiasco of that hearing. After 3 days I emerged with this thread, which turned out to be fairly popular. Thanks for all the retweets.😘 
(8)
I wrote about this sworn statement that was made by one of the many people needlessly impacted by the Democrats' conduct.
#WalkAway
(9)
Live-tweeted threads are different to general update threads so I made one just for watching the Senate floor last night. It was fun.
(10)
Then I realized I wanted another thread just for photos.
(11)
My 3rd Kavanaugh updates thread and 10th Kavanaugh thread is below.
I didn't know I'd written so many, lol. If you manage to read all of them, I'm impressed!
Godwilling, I will be able to write threads for his WH ceremony & investiture, too.
(12)
The two swearing-in ceremonies for Justice Kavanaugh, on the day of his Senate confirmation vote of 50-48.