Re:
@timberners_lee
's
#Solid
/
@SolidMit
Hi
@robertscammell
!
More interesting that Facebook, I used to work on TheMine!Project*, a highly influential, much-plagiarised & ultimately unsuccessful stab at personal information stores, from 2006-2011.
*
themineproject.org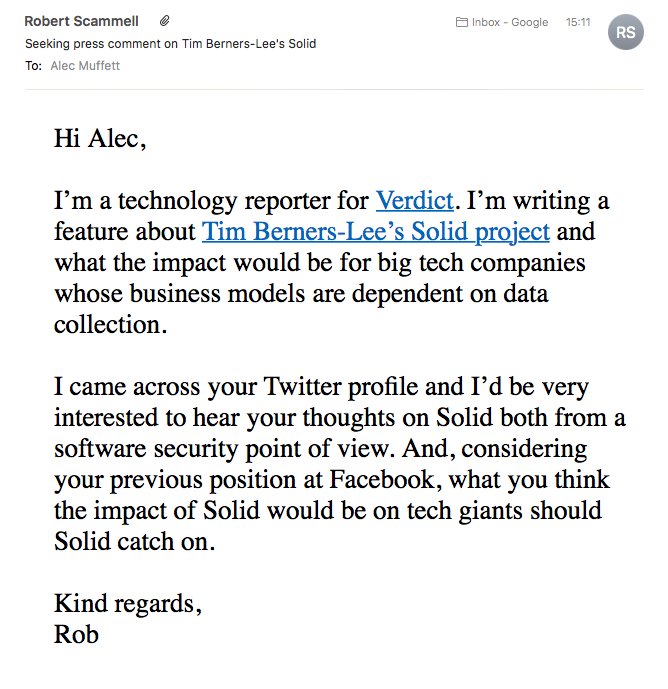 If you want to know my opinion of how
@timberners_lee
's
#Solid
will impact "tech giants", watch this video (actually, x3) from 2010; the bulletpoints are:
- facebook killers, aren't
- there's plenty of room for alternatives
- first it must grow
The media loves zero-sum, david/goliath stories, and thereby often causes doom ("ello") & even tragically suicidal levels of stress ("diaspora*") to people who are foolish enough to pitch themselves/their platforms as the antithesis of "social media giantism; so do please beware.
Frankly:
#Solid
/
@SolidMit
will gain or not-gain a userbase upon its own merits, and my experience with
@themineproject
suggests that it will do so both on its own merits, and without reference to "killing Facebook".
They are two different things. Stop comparing them.
The only folk who demand that the internet "needs" a clean and well-though-out, tidy and well-organised "identity" solution, are folk who are offended that it has gotten this far without one. This goes double for anything mentioning
#blockchain
.