(2)
BTW, the man dressed in camo and holding a rifle in the above photo isn't military, he's law enforcement. They've always been able to lawfully use force to save the lives of others. Border patrol officers get murdered. Of course they are allowed to shoot back.
(3)
I've seen liberal MSM reporters refer to Tijuana as a "town." The population is >1.2 million.
If 10k caravaners are there, that's a ratio of 1:120. There's bound to be a few open borders fans among the locals. They could billet people in their homes, but no.
(6)
Since Oct 11, while all this has been going on, the US military have been generously aiding Central & South American countries with visits by the USNS Comfort, replete with hundreds of medical staff, operating theaters, and so on.
Story:
wtkr.com/2018/10/02/u-s…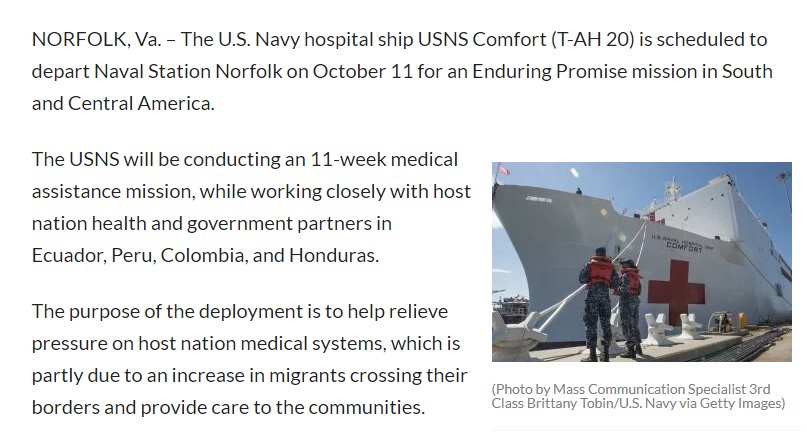 (7)
US aid to Latin America is not a waste of taxpayer money. It is in America's interests to carry out a range of activities in the hemisphere, for more reasons than I will explain here. It is also a carrot the US can threaten to take away, avoiding the need to use a stick.
(10)
This incredibly foolish woman from Guatemala tried to climb over a border fence, along with children aged 3 and 5!
She's now in a US hospital with some rather painful injuries, & the kids being PROPERLY cared for. I wouldn't give them back. Ever.
cbp.gov/newsroom/local…
(11)
To be clear: The woman obviously made it over the fence & landed in the US, so the US is stuck with her & the kids for now. I'd imagine in due course that
#YouHaveToGoBack
, but I wish those kids could be adopted by adults, somewhere, who won't risk their little lives.