New paper out in
@Joule_CP
on "Getting to zero carbon emissions in the electric power sector"
cell.com/joule/fulltext…
Behind a paywall, but never fear: a Tweetstorm explainer is coming in T-minus
3...
2...
1...
Hold on folks, here we go!
With Green New Dealers demanding action and international negotiators pursuing progress in Poland, there's renewed interest in ambitious action on climate change. Paris riots also remind us that voters' appetite for expensive energy policies is not unlimited.
Finding feasible and cost-effective paths to a carbon-free grid is as important as ever! For guidance,
@max_energy
@samthernstrom
& I reviewed 40 academic studies charting course to a decarbonized power system & synthesized findings in a paper just published in the journal Joule.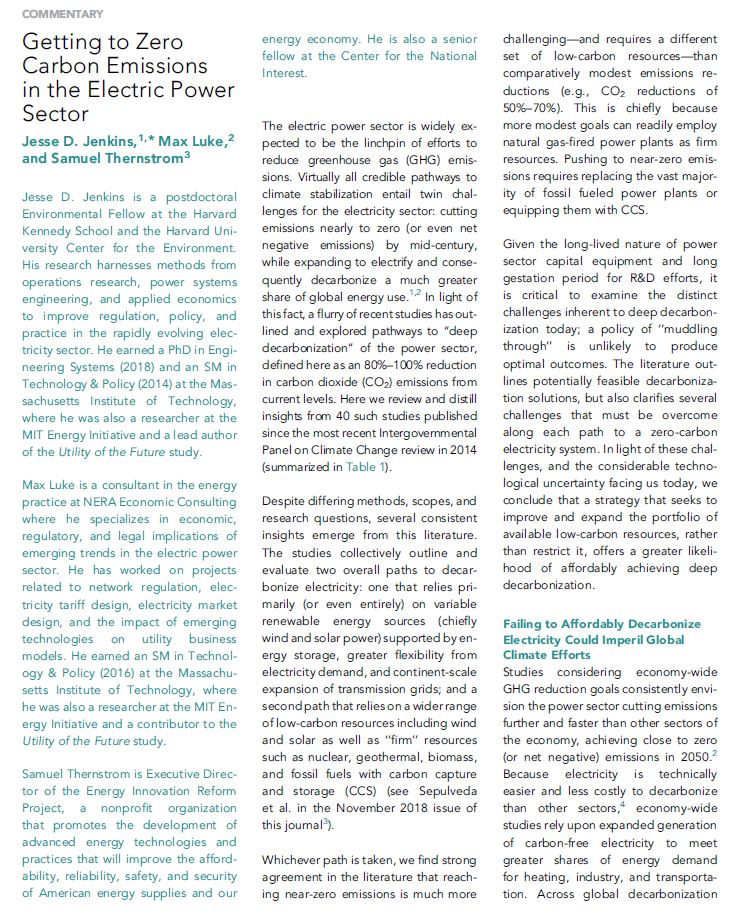 Our core conclusion: a pragmatic, least-cost path to deep emissions reductions that relies upon a broad mix of energy sources can contain costs and increase the odds of success.
Wind & solar produce under 9% of U.S. electricity according to
@EIAGov
latest. Globally, their growth has not yet been rapid enough to stave off increased use of fossil fuels, as
@Peters_Glen
recently reminded us
It is also true that the need for action on climate is becoming more and more urgent with each passing year. How do we rise to the challenge?

What we found in the literature cautions against pursuing what we'll call a "narrow path" strategy powered primarily by wind and solar
Instead, the best road to an affordable carbon-free system follows a "broad path" that draws from a full portfolio of clean techs—wind, solar, storage but also "firm" low-carbon resources such as nuclear, carbon capture, & reliable but oft-neglected renewables such as geothermal.
For more, see my recent publication, also in Joule, "The role of firm low-carbon electricity resources in deep decarbonization of power generation."
sciencedirect.com/science/articl…
(Message me for a personal use copy of either paper if you need access.)
The studies we reviewed also share one common element: they all looked at getting to a deeply decarbonized power system—near-zero carbon emissions—rather than more incremental goals.
That focus on carbon-free is important because the variability of wind and solar are manageable at modest levels of market penetration. However, getting to ~zero emissions is much harder than modest reductions, and it requires a distinct approach that reflects its end goals.
Further reading: I discuss our new paper and its findings with
@EENewsUpdates
's
@HMNorthey
: "Can the 'Green New Deal' deliver 100% renewables?"
eenews.net/stories/106010…

To be crystal clear: it is conceivable we could decarbonize while eschewing nuclear, carbon capture, and other firm resources. The studies we reviewed outline several technically feasible plans.
But the literature also indicates this "narrow path" requires simultaneously overcoming several tricky technical and social challenges to cost-effectively manage the peaks and troughs in electricity supply in a wind and solar-dominated power systems, including:
I stress: it is possible all of those things will happen. But it doesn't seem like the safest bet...
Why is it so hard to get to zero emissions using just wind and solar? The variability challenge is far greater than most people appreciate. The issue is not simply that the sun sets every night, or that there are hours when the wind doesn't blow...
The real challenge comes from the weeks and months when wind and solar production decline dramatically due to seasonal factors or prolonged weather fronts. This recently happened in the UK for example:
bloomberg.com/news/articles/…
Power systems with a mix of weather-dependent and firm resources can easily match generation to demand, but in all-variable systems, that becomes difficult.
The flip side: when the wind is strong & the sun shining, all that capacity produces far more electricity than needed. That excess is either wasted (curtailed) or stored (at a cost) for later use.
The result is a poor utilization rate for all that wind and solar, which in turn means you need these resources to become very cheap to avoid rapidly increasing electricity costs.
Energy storage helps make better use of those renewables but faces a similar problem: the more storage you add, the less frequently you use the incremental capacity, and the cheaper that capacity has to be to continue to be worth deploying.
Storage that is economically suited to charge only occasionally during periods of big spikes in renewables output and discharge during infrequent sustained lulls would require some technology that is an order-of-magnitude cheaper than the lithium-ion batteries available today.
Maintaining a balanced portfolio of resources means that total installed capacity can more closely match demand throughout the year. All resources are used more often + there is no need to waste large surpluses of renewable energy or develop "seasonal" energy storage technologies
This basic dynamic—matching energy supplies more closely with demand to increase utilization and control costs—is so fundamental that it means the economics of such systems are more attractive than those that rely predominately on wind and solar.
Without exception, every study we reviewed that (a) modeled the most affordable clean power system & (b) didnt impose artificial constraints on the available techs concluded it was most cost-effective to include a substantial share of firm low-carbon generation. That's powerful!
To be clear, there's no avoiding the fact that firm technologies all face daunting challenges of their own. We paper over these challenges at our own risk.
No one believes its easy to build nuclear or carbon capture power plants today. Enhanced geothermal energy—which uses techniques similar to fracking to unlock another renewable resource—is still at a demonstration stage. Supplies of sustainable, low-emissions biomass are limited
But our survey suggests that the value of firm low-carbon resources to a decarbonized power system would be very high, justifying a focus on public policies that might accelerate their development.
Rather than committing to the narrow 100% renewables path, proactively expanding and improving our set of firm low-carbon resources would thus significantly increase the odds of affordable decarbonization. It is time to take the broad path to a carbon-free grid. Onwards!

</end>.