It starts with a sale that came up in December first week '19. After consulting a few friends I decided to go for a
@Lenovo_in
IdeaPad 330 series ARR15. Good model considering the price listed on
@Flipkart
It got delivered on 14th of this month. With a torn off packing, but that didn't really matter because the content inside was unhampered. Took the box inside and can't say surprised but there was just a charger and laptop inside the box along with a warranty card.
Can't expect much for 30k no? Had I bought it from a store for a much greater price things could've been different. But let's move on.
The laptop comes with a DOS installed so bought a new USB just to make it bootable for the OS. 😂 It doesn't have a CD-ROM. Ready to go.
Suddenly I notice a weird sound coming from the bottom of the laptop which I wasn't familiar with. Anyway, started installing basic drivers. FAILED. (Even the touchpad drivers) Had to use an external mouse.
That weird sound started bugging me once it became noticeable even after my ceiling fan noise. Asked a friend for help. He suggested I record it and keep. So did that. Could've uploaded if Twitter had an audio option. It's like a whirring sound if something is stuck inside a fan.
Moving on, the system started freezing while updating and downloading programs. With an error called clock_watchdog_timeout screen being displayed and forcing the laptop into restart.
This wasn't something I'd experienced before. Especially that whirring sound.
I filed for a return at
@Flipkart
.
Got rejected. Coming to this later on.
So it's never a no questions asked return. So if you believe.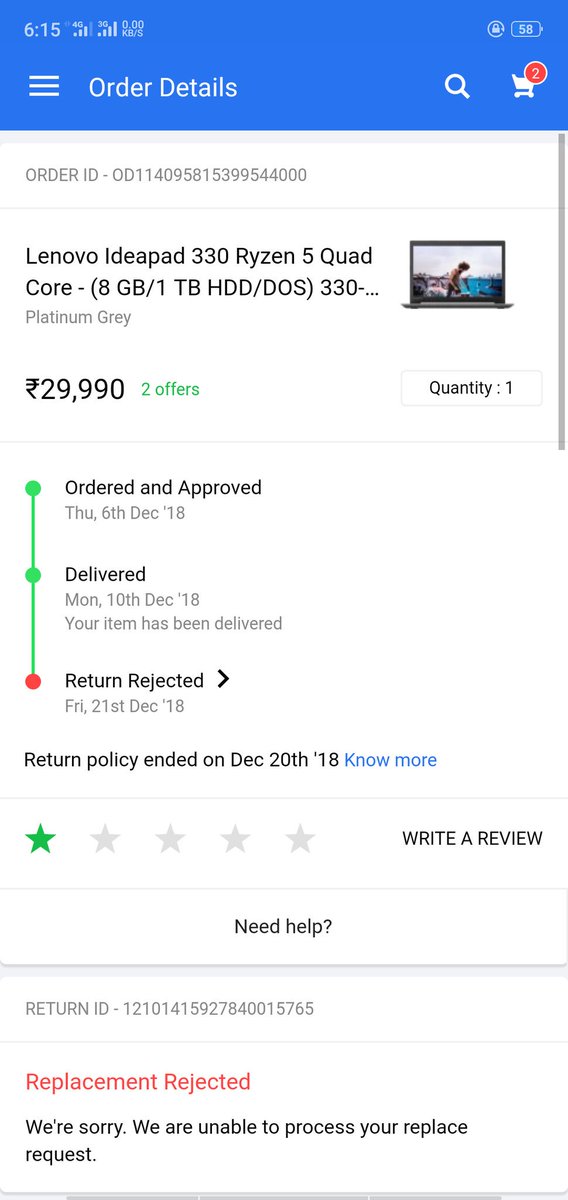 This is where the story starts. Flipkart started calling me the next day for arranging a technical visit for the product. Everything scheduled I requested for a suitable timing. P.S.
@Flipkart
technicians don't know jackshit about the products they're selling.
After multiple calls and messages they set me up with a visit from
@Lenovo
on 19th. The technician arrived late despite informing my work timings. He was informed about a duty call for a laptop repair and not for checking on a replacement of a product.
The visit lasted for 20 mins where all he checked for was where the noise was coming from by opening it up. I looked up to him in hope of getting an answer for the same. He called up some guy and put the mic near my laptop.
The guy on the other end told him it's a normal noise coming from the HDD. And that everything else ran tests on in the BIOS mode were indicating OK.
So that's it right?
I get a replacement for the faulty HDD
@Flipkart
gave me?
All of this wouldn't have happened if I had purchased it from
@amazonIN
They have a great return policy. I've purchased my Xbox one from there. The only thing stopping me from doing that was an EMI option for this product wasn't available on Amazon.
I never trusted
@Flipkart
anyway. But their rebranding and new ownership meant a promise for the customers who swayed away. Really disappointed with the kind of service and dealership these Giants get away with.
@flipkartsupport
the reason to tweet this was a simple concern. If this was some non-expensive product with no installments to be paid, I wouldn't have.
This doesn't end here.
@Flipkart
has provided a "toll-free" number for
@Lenovo_in
Support. That's another way for saying 'We've done our part, now you're on your own.'