As promised I am sharing the commentary of today's
#PriceAction
on
#BankNifty
future 15 minutes chart. I trust you will find it useful for learning purpose.
Each bullet point is reference with the candle number for easy understanding.
#TradeWithPAL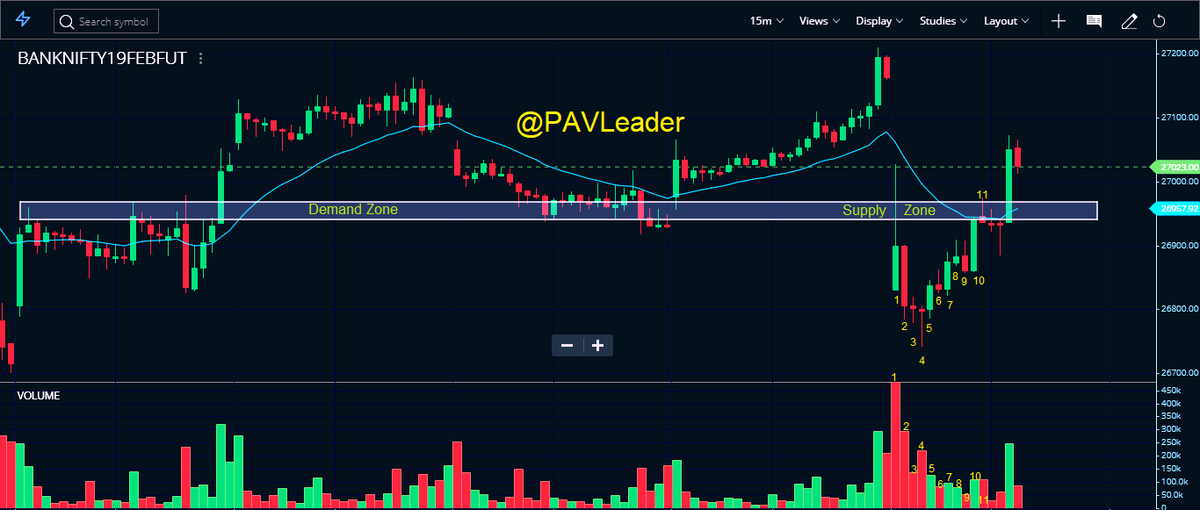 1/n

1.
Gap down open, price closed below demand zone with ultra high volume. Long upper wick, signs of selling pressure.
2/n

2.
Next candle bearish with less vol than prev candle, price closed below 1st candle, small tail. Selling pressure continued
3/n

3.
Small Doji with even lesser volume. Indecision (small candle shows bears are losing steam & bulls have started showing interest)
4.
Long lower wick/tail with higher vol than prev candle & close towards the upper range of body. Shows buying interest from bulls. Had it been a Green candle, it would have been more stronger but still its good candle for bulls. This is signal bar but confirmation is yet to come
5/n

5.
This is bullish close towards the top with good volume. Shows strength & confirms the previous buying. If earlier candle would have had fake buying then this candle shouldn't have closed positive.
6/n

6.
Small/weak inverted hammer with lesser volume. Some bears are active but are they enough to drag the price down again? Lets see
7/n

7.
Next candle broke the low of candle 6 but price couldn't fall further. Rather it rose up with long bullish candle & close towards the high with higher vol compared to candle 6. Shows strength.
8 &
9/n
8 & 9. Next 2 candles are weak candles (upper wicks) but without any considerable volume. Possible profit booking by weak buyers who bought near the lows.
10/n

10.
Next candle super bullish rejecting all wicks in candle 8 & 9. This shows bulls are still active & may take price further up. This hit supply zone with confluence of EMA21 & it is prudent to book some profits. Range is between 26950-26965 hence I advised to book profits.
11/n

11.
As you can see price penetrated this supply zone briefly & fell down sharply where it found support by bulls which has pushed price higher again & this time when it broke the previous high (candle 11) above supply zone, it rose swiftly (taken heavy SL of all bears).
12/12

As I always say context matter. Look to the left to know the supply & demand zone. Know the key levels & watch out for price rejection or reversal candles.

Hope this is helpful. Do share your feedback.

Keep learning, keep growing!