I think I have an answer to the
#GunReform
logjam that should get overwhelming support among American patriots of both parties:
**Make military service compulsory for anyone who purchases a gun.**
If you buy a gun, you're in the Reserves. It's what the Framers intended, right?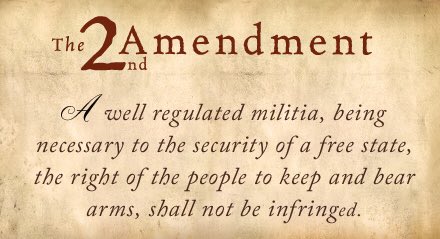 This compulsory enlistment would reflect the literal Constitutional language, which focuses on the right to bear arms as directly related to the security of our nation. It would also ensure that all guns are registered and that gun owners learn how to safely use them.
Countries all over the world have compulsory military service, including some of our President's favorite countries: Russia, the UAE, North Korea and Israel. The latter two, along with Armenia, Cape Verde, Chad, China, Eritrea, Norway and Sweden, have it for men AND women.
Would this be an undue hardship? Well, being in the Reserves means undergoing basic training, then returning to civilian life—and spending one weekend a month and two weeks per year training to keep your skills sharp.

Sounds reasonable for someone with a lethal weapon.
Now, there are limitations imposed on Reserve status. Ex.: generally, you need to enlist before age 42. We would waive all limits. You should be able to serve regardless of age, gender, sexuality etc. so long as you're physically and mentally capable.
veteransunited.com/network/milita…
Even the "physical capability" aspect could be waived, allowing for desk work or other service—many countries have such a waiver. But the compulsory gun safety training would remain.

The only limitations would be the standard military mental health and background checks.
Criminal record? History of "adverse disposition" (such as, say, domestic violence)? Sorry, you're not eligible to serve—and thus, not eligible to carry a weapon.
thebalancecareers.com/army-criminal-…
We'll keep the lower age limit for enlistment too. You need to be 17 to join the Reserves, so that'll also be the age boundary for owning a gun.

But otherwise, this proposal solves for every issue that Republicans generally raise to stop gun reform ideas.
Requiring Reserve status for gun ownership would be patriotic, weaving service back into the fabric of American life.

It imposes no restrictions other than the ones we already place on our military servicepeople—and even relaxes some of those.

It is entirely constitutional.
How would the Right argue against this proposal without arguing against the literal language of the Constitution? Without attacking the military they say they love? Without making it seem like defending gun rights is only about the money they get from the NRA?

They couldn't.
This isn't just a "message" proposal—this would be good policy. But we have also seen that when Democrats advance ideas aligned with expanding the military and reinforcing constitutional rhetoric, Republicans are set back on their heels.