After two years of near non-stop discussion of trade with China, it is surprising to me that some basic facts about trade with China aren't better known.

The states that export the most autos to China for example.


The correct answer is South Carolina and Alabama (not swing states to my knowledge), the homes of BMW and Mercedes US operations.
S Carolina exports 2x as much to China as Michigan ... and that's most autos (+ perhaps some 787s)
census.gov/foreign-trade/…
We know that BMW and Mercedes export more cars (really SUVs) from the US to China than do Ford and especially GM
cnbc.com/2019/08/23/tes…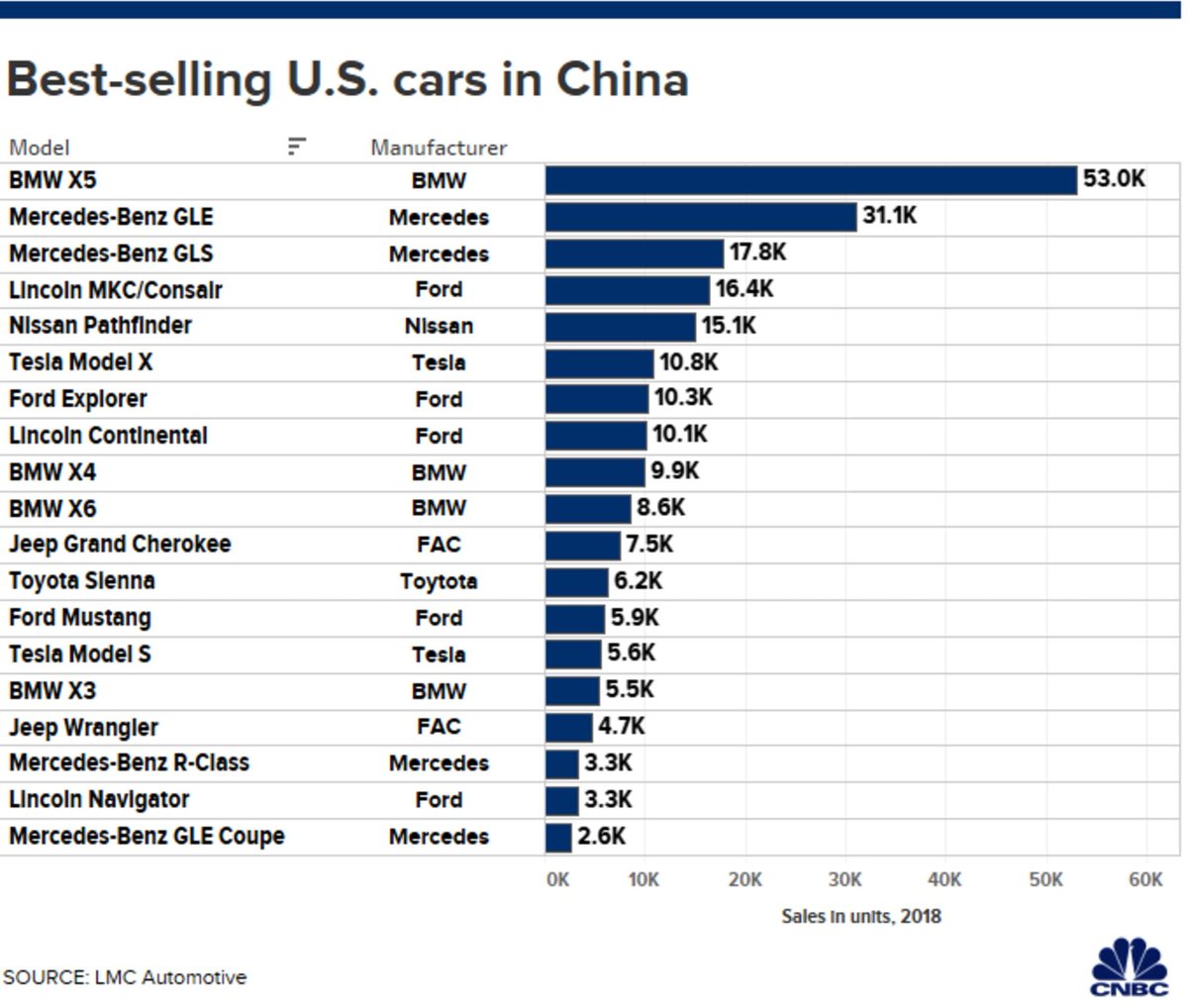 Ford and especially GM sell a lot of cars in China.

But that doesn't mean they make a lot of cars in the US to sell to China.

Their executives (and some of their engineers) care a lot about the Chinese markets. Their US workforce? Not so much ...
The Chinese auto market is deeply depressed right now, and that is hurting everyone in China (Ford in particular). But China's auto market (apart from the luxury segment) is a make in China to sell in China (and avoid China's tariff wall) market. It isn't a trade story.
& just as a trade war has losers (US soybean producers, US consumers), so would trade peace. With so much spare capacity in China, a true end to the trade and tariff war likely would tempt (per
@KeithBradsher
among others) GM and Ford to supply the US market from China.
@KeithBradsher
That's what makes trade such a difficult issue --
The unionized auto workers in Detroit are not among those who stand to lose the most from a trade war with China, and they could lose from "peace"
While soy farmers and Wisconsin dairy farmers do stand to win from "peace"
@KeithBradsher
But Wisconsin is also a big exporter of medical equipment, and it has lost out from China's "localization" policy (want to sell to China, better produce in China) for medical devices
census.gov/foreign-trade/…
@KeithBradsher
which brings me to a point
@econjared
has made -- it is hard to know who will win and lose from a trade deal with China when Trump hasn't made it clear precisely what kind of deal he is seeking from China.
all for now