The latest
#COVID19
response bill, which Senate Republicans released today, falls well short of what's needed in multiple areas.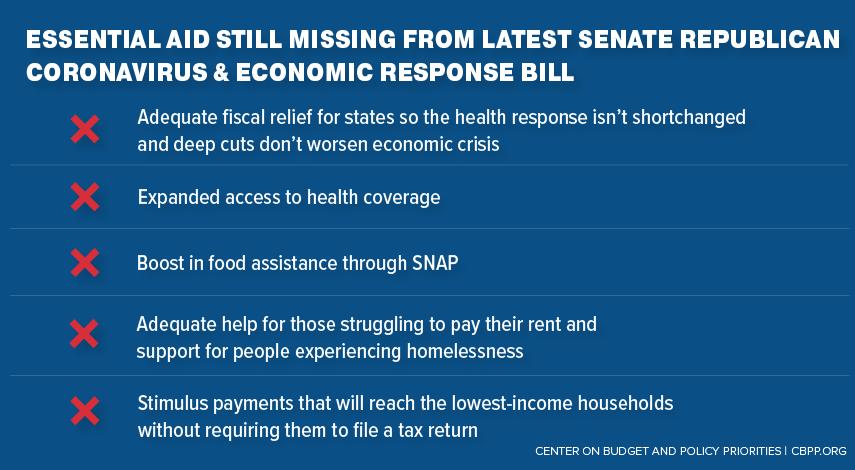 Here is a quick list of glaring gaps that must be addressed as negotiations continue:
#1 The latest proposal omits any measures to expand health coverage or cover
#COVID19
treatment for those who are uninsured. We must avoid having millions of uninsured people who can't afford treatment.
#2 It fails to increase
#SNAP
benefits – one of the most effective stimulus policies of the Great Recession – which helps families hard hit by the recession put food on the table & boosts consumer spending...
...Low-income families are among the most likely to face a sudden drop in earnings or prolonged periods of joblessness during this crisis.
#3 The latest proposal is deeply inadequate in addressing the pressing need to substantially narrow or close the large state budget shortfalls already emerging...
...which will lead states to make damaging budget cuts that will deepen the recession, worsen financial hardship, and likely impede the public health response.
#4 The new proposal somewhat expands (over the earlier McConnell plan) who is eligible for stimulus rebates. But it still requires tens of millions of ppl — including many ppl with severe disabilities and many of the nation's poorest families...
...to file a tax return to get the payments, even though they aren't otherwise required to file & fed and state governments have enough info to issue payments to them automatically.
This will result in large numbers of low-income households and poor seniors and people with disabilities who receive SSI — as well as many disabled veterans — not getting the payments.
#5 It excludes a proposal to get immediate help to low-income households before stimulus payments are issued so they can afford the rent in the near term and we don't see a sharp rise in evictions/homelessness during this public health crisis.
There are improvements compared to Sen. McConnell's original proposal, including in two key areas. But while helpful, the changes are woefully insufficient.
The package does have important expansions in unemployment-related benefits, including increases in weekly benefits.
And unlike the previous Senate Republican proposal, the latest bill includes some help for those experiencing homelessness and to prevent people from losing housing, but falls far short on rental assistance programs and raises other concerns.
Even with these improvements, the breadth of what is missing from the latest Senate Republican plan is stunning — bipartisan negotiations need to address these gaps.
We're continuing to review the legislation and will share more analysis as quickly as we can. FIN/