Today we released the following demand that
@tedwheeler
return the $10,000 contribution he took from The Portland Metropolitan Association of Realtors, which he reported the day before rent is due for many Portlanders. He has yet to call for a rent freeze. It reads as follows: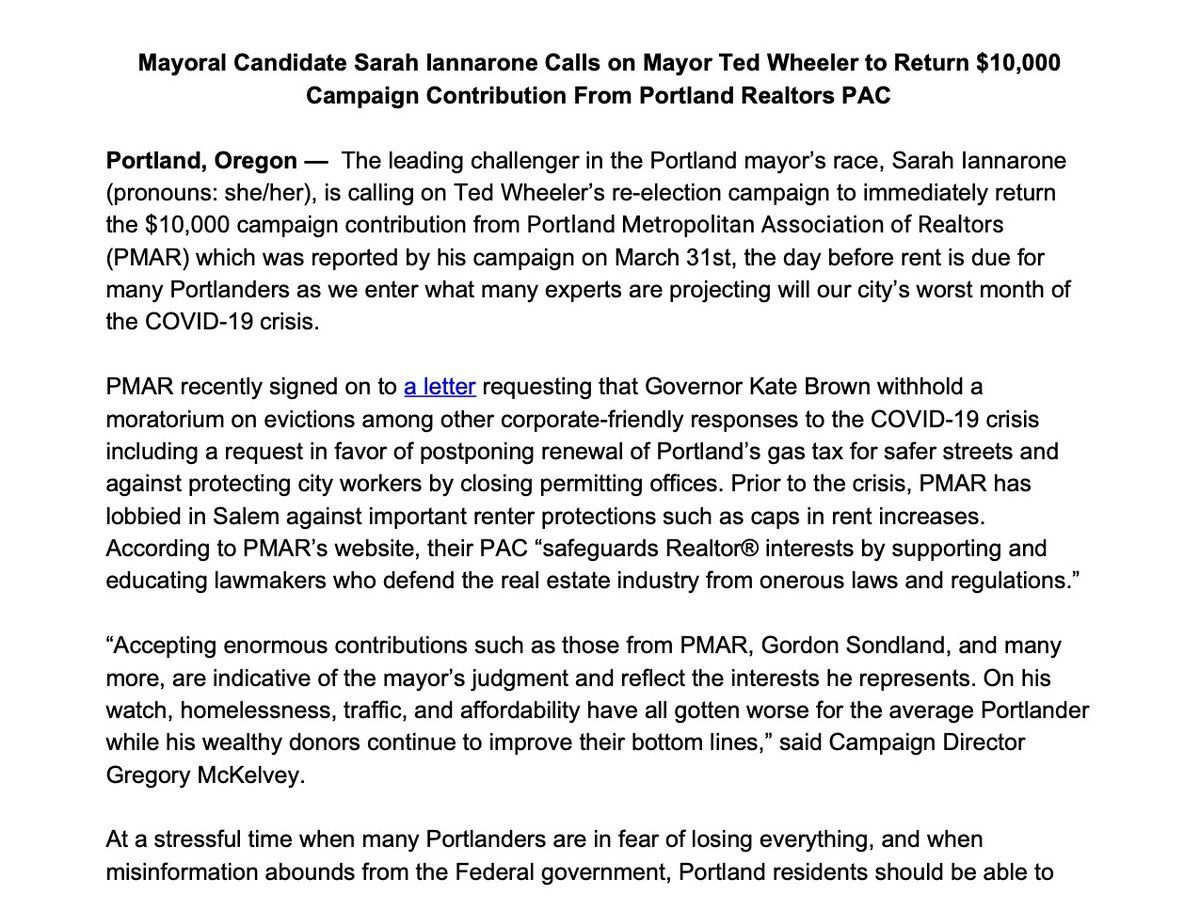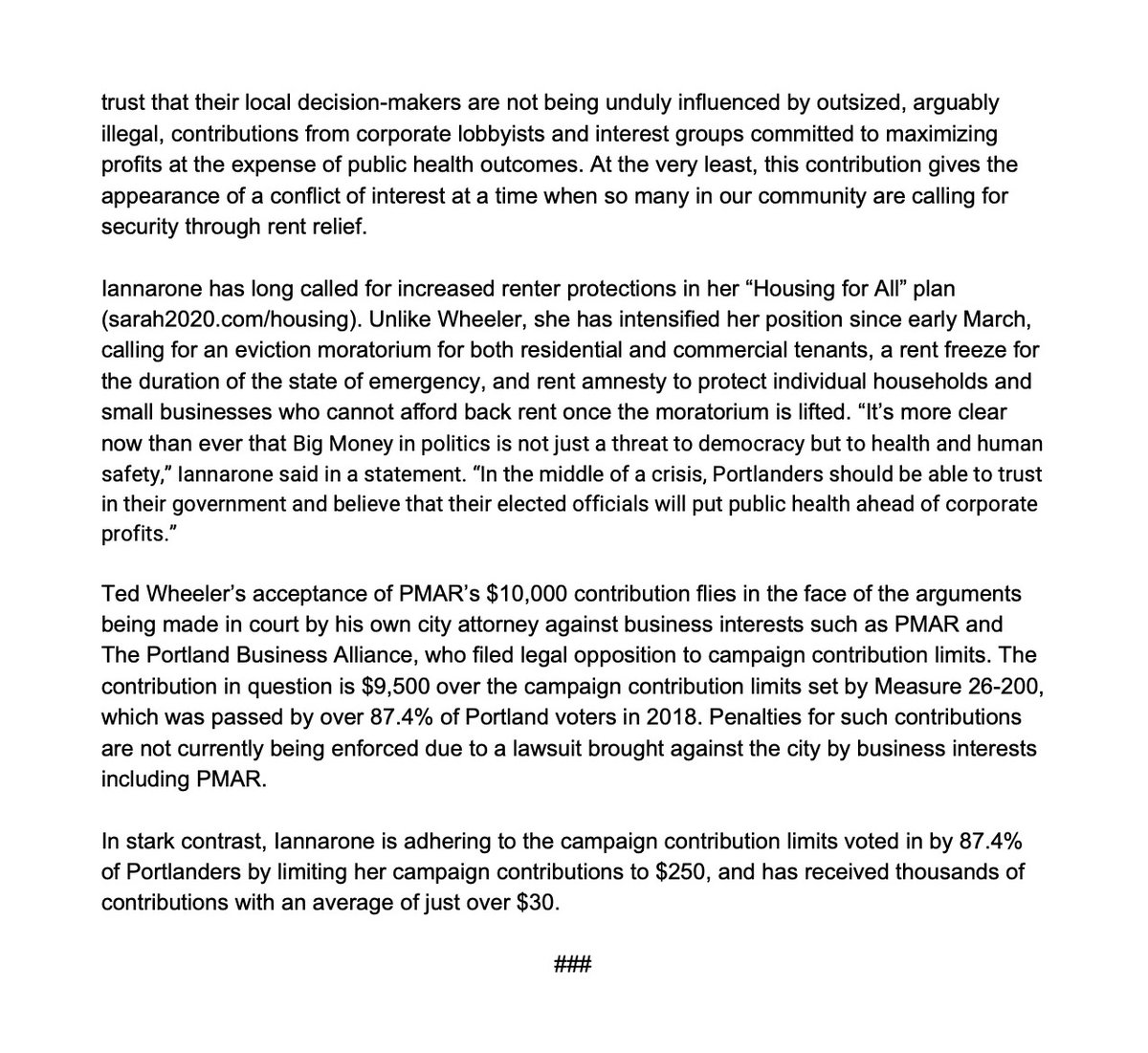 The leading challenger in the Portland mayor's race, Sarah Iannarone (pronouns: she/her), is calling on Ted Wheeler's re-election campaign to immediately return the $10,000 campaign contribution from Portland Metropolitan Association of Realtors (PMAR)
which was reported by his campaign on March 31st, the day before rent is due for many Portlanders as we enter what many experts are projecting will our city's worst month of the COVID-19 crisis.
PMAR recently signed on to a letter requesting that Governor Kate Brown withhold a moratorium on evictions among other corporate-friendly responses to the COVID-19 crisis including a request in favor of postponing renewal of Portland's gas tax for safer streets
and against protecting city workers by closing permitting offices. Prior to the crisis, PMAR has lobbied in Salem against important renter protections such as caps in rent increases.
According to PMAR's website, their PAC "safeguards Realtor® interests by supporting and educating lawmakers who defend the real estate industry from onerous laws and regulations."
"Accepting enormous contributions such as those from PMAR, Gordon Sondland, and many more, are indicative of the mayor's judgment and reflect the interests he represents.
On his watch, homelessness, traffic, and affordability have all gotten worse for the average Portlander while his wealthy donors continue to improve their bottom lines," said Campaign Director Gregory McKelvey.
At a stressful time when many Portlanders are in fear of losing everything, and when misinformation abounds from the Federal government, Portland residents should be able to trust that their local decision-makers are not being unduly influenced
by outsized, arguably illegal, contributions from corporate lobbyists and interest groups committed to maximizing profits at the expense of public health outcomes.
At the very least, this contribution gives the appearance of a conflict of interest at a time when so many in our community are calling for security through rent relief.
Iannarone has long called for increased renter protections in her "Housing for All" plan (
sarah2020.com/housing
).
Unlike Wheeler, she has intensified her position since early March, calling for an eviction moratorium for both residential and commercial tenants, a rent freeze for the duration of the state of emergency, and rent amnesty to protect individual households and small businesses.
"It's more clear now than ever that Big Money in politics is not just a threat to democracy but to health and human safety," Iannarone said in a statement.
"In the middle of a crisis, Portlanders should be able to trust in their government and believe that their elected officials will put public health ahead of corporate profits."
Ted Wheeler's acceptance of PMAR's $10,000 contribution flies in the face of the arguments being made in court by his own city attorney against business interests such as PMAR and The Portland Business Alliance, who filed legal opposition to campaign contribution limits.
The contribution in question is $9,500 over the campaign contribution limits set by Measure 26-200, which was passed by over 87.4% of Portland voters in 2018.
Penalties for such contributions are not currently being enforced due to a lawsuit brought against the city by business interests including PMAR.
In stark contrast, Iannarone is adhering to the campaign contribution limits voted in by 87.4% of Portlanders by limiting her campaign contributions to $250, and has received thousands of contributions with an average of just over $30.