People are so positive about tax reform, Trump tells Ingraham on Fox, "I don't think I've ever seen anything quite like it."
Ingraham is not even asking questions. There are no question marks. She's just saying things and letting Trump talk about them.
Ingraham asks Trump if E-Verify and chain migration will have to be part of a DACA deal.

Trump: "Sure, sure."
Trump says the NYC terrorist brought in 23 people with him. Ingraham: Is that true? Trump: "Uh, it's what I heard, it's what I gave."
I think I heard Trump say "DACA is a lot different than DREAMers."
Donald Trump on unfilled senior posts in the State Department: "The one that matters is me. I'm the only one that matters."
Trump lies that he has "almost" set a nine-month record for bills passed. FDR signed more bills in three months than he has in nine.
Donald Trump: "Jobs that were never going to get built are now being built."
This is tiny but I think revealing: Trump keeps saying Q2 GDP did "3.2% growth." It was 3.1%. He cannot bring himself to say 3.1%.
President Donald Trump: "Japan is a warrior nation."

Japan is an officially pacifist nation.
Trump: "NAFTA is killing us."
Trump: "There's been a lot of false reporting that I'm angry about things."

Ingraham: "I've never seen you angry."
Trump derides "false reporting that I'm angry about things," then, 10 seconds later, says he has "a certain anger" about the media.
That "interview" was very short and very useless, but this is an all-time Trump quote.
Here is a transcript of Trump getting comically confused by his own nonsense again: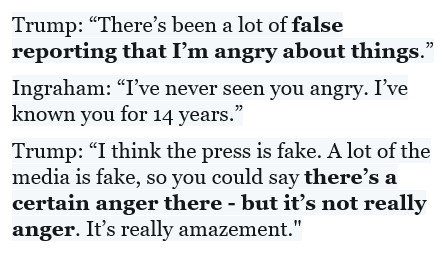 Trump's words on the diversity lottery program are like his campaign words on Mexico: "Countries are not putting their finest in there."
Transcript of exchange in which Trump acknowledges he doesn't really know what he's talking about.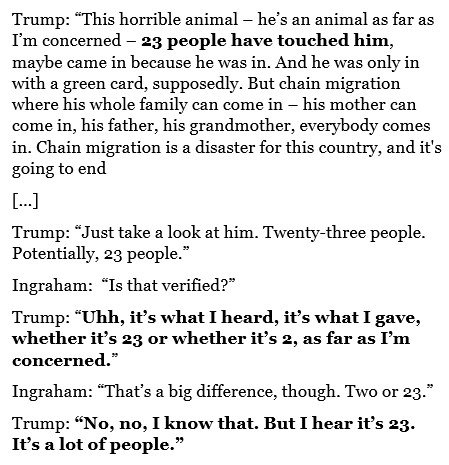 Again and again, it's remarkable how fast Trump folds from his nonsense at the slightest pushback. Ingraham just said, "Is that verified?"