There are concerns - on both sides - that translating December
#brexit
deal on Ireland into draft legal text risks blowing up Brexit talks in March. My latest /1
telegraph.co.uk/politics/2018/…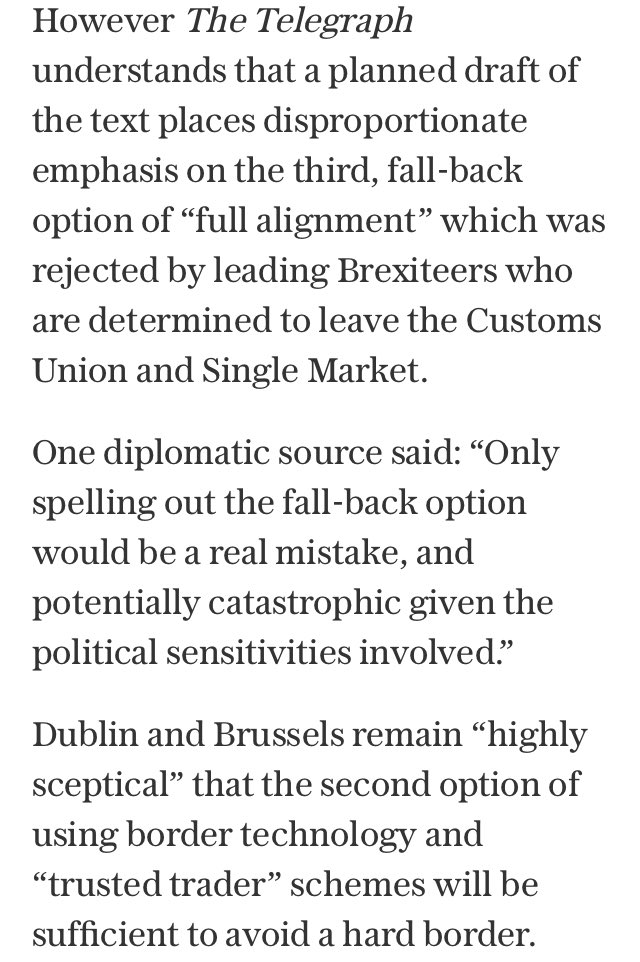 The draft text is due in Feb 28 (a date that's already slipped several times) and understand it will cover the three options - A B C set out in Para 49 of Joint Report
/2
The issue seems to be that only Option C is capable of being fleshed out in full detail - or at least that's Brussels/Dublin contention. /3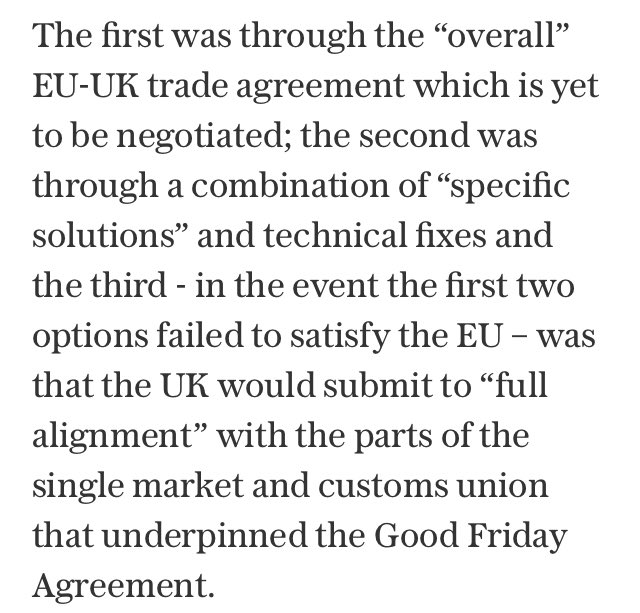 The (real) danger for Brits is that if A and B aren't given equal weight, it will look like C is a fair accompli and Brexiteers will go ballistic.
/4
The half good news is that sources in Dublin, Berlin and Brussels say they want to help - though Brits suspect this is slightly disingenuous.
The shorter version, per EU source, is "no fudge" on Ireland beyond March - but some people "may be allowed to think so"
/5
I'm not sure that's gonna be enough.
If EU wants to create space for Options A or B to work - and at this point who knows where politics ends up on Customs Union by October - they surely mustn't slam the door on it now.
/6
I think we're seeing COM and France/Berlin still stuck in a phase one mentality (cf the unnecessary Footnote 4 debacle on draft transition text) and talking to other Member State dips, I think there is pressure to change that approach.
/7
Of course danger that dithering/deluded Brits take that as sign the EU gonna cave on core issues - don't believe they will - but does mean that if UK cd get its sh*t together there might yet be space for belated common sense deal.

But given where U.K. politics are? Mmmm. END