The DUP still playing hardball...despite efforts by UK Govt to do more to assuage fears raised by backstop.

But will be interesting barometer of where we are, to see how hard DUP reaction is to new paper to be published later this AM. /1
What is this? Well, per
@SkyNews
@DLidington
will set out a series of measures that is intended to address fears raised by the Withdrawal Agreement that Northern Ireland is going to be treated very differently. See below. /2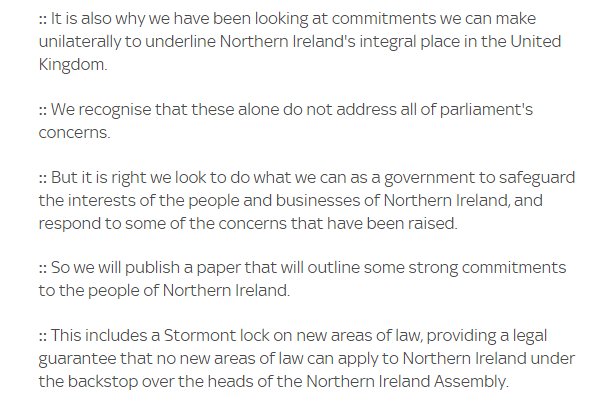 @SkyNews
@DLidington
What's the problem here? Well go back to December 2017 and the Joint Report on Brexit, which was agreed after a DUP walkout forced May to retreat.
The DUP won an extra Para (50) which promised "unfettered" trade between NI and GB internal markets "in all circumstances" /3

@SkyNews
@DLidington
The DUP were furious about the Withdrawal Agreement which, they said, didn't reflect this paragraph.
UK officials don't think Lidington's reassurances are any kind of magic bullet, but hope they'll point to fact that DUP concerns are being taken seriously.
BUT.../4
@SkyNews
@DLidington
The early signs are that the DUP is not for turning....certainly not the pro-Brexit, harder line end, but will see any sign of cracks/nuance today coming into the DUP position, when the details become clear??? That will be interesting.
/5
Of course, UK room for manoeuvre is limited by the reality of the Withdrawal Agreement text.
EU sources say it is an internal matter for UK must be in accordance "with the spirit and letter of the WA", and not undermine the Irish Protocol.
/6
The DUP blew off the Withdrawal Agreement before it was even published, despite business lobby groups like
@ManufacturingNI
accepting it.
This paper will not crack the nut completely, but if reasonable/helpful might expose some DUP positions.
Lets see how it plays.... 6/ENDS