(THREAD) In America, if you know an employee who you have the power to fire or punish is a witness in a pending criminal investigation—and you angrily berate them for giving truthful testimony in a mid-probe interview with the intent to change their future testimony—it's a CRIME.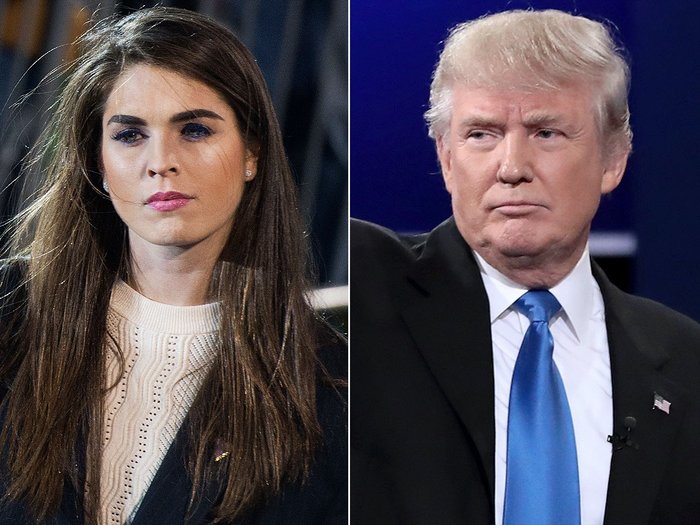 1/
Earlier today, the White House used the New York Times to spread disinformation about Hope Hicks' resignation. The cover story was that it had "nothing to do" with her questioning by Congress and that her decision to leave had been made "months" earlier. Then CNN said "weeks."
2/
Now CNN is reporting that Hicks made the decision to resign after she was berated by President Trump for her *truthful* testimony—under penalty of prosecution—before Congress. She testified—*truthfully*—that on occasion she had told "white lies" to protect Trump's interests.
3/
"How could you be so *stupid*?" Trump is reported to have said to her—apparently with such force and a desire to confront that, per CNN, it was the proximate (if admittedly not the only) cause of her resigning her position.
If true, this puts Trump in *new legal jeopardy*.
4/
In context, there is simply no reasonable possibility that Trump was berating Hicks for (in his view) *lying*. You wouldn't say "How could you be so *stupid*?" if what you were doing was complaining that someone had maliciously made up a lie about—well—*lying to protect you*.
5/
No—what Trump was doing was berating a subordinate who he knew was a witness in a pending criminal investigation (an investigation in which he is a target) for *telling the truth* about having had to lie for him on occasion. This is a textbook case of felony witness tampering.
6/
Trump's intent is established by his knowledge that Hicks was a potential witness against him; that her truthful testimony hurt him; his tone and words in speaking to Hicks; by the obvious—powerful—effect their force and anger had on her; and by bare common sense as to motive.
7/
It's further established by it being a modus operandi for Trump to contact witnesses in the case against him and express whatever his feelings were/are about their cooperation/non-cooperation in an investigation in which he was/is a target. Like telling Flynn to "stay strong."
8/
I've worked witness tampering cases. I never represented a poor person who wouldn't be charged with Witness Tampering on these facts—in large part because of the position of power Trump wields with respect to Hicks and his words/tone in speaking to her of *truthful* testimony.
9/
Remember: Trump has been *instructed* by an *army of top criminal defense attorneys* to *never* have *any* conversation with *any* witness in the pending federal criminal investigation now targeting him. He *literally shouldn't have opened his mouth* to Hicks on this topic.
10/
In this context, expect Mueller to now speak to Hicks a second time, as she now becomes a witness in a new Obstruction and/or Witness Tampering investigation ("intimidation" sub-clause). I said long ago that if Trump didn't restrain himself he'd dig a deeper hole—and he has.
NOTE/ To be clear, the reason we know—and Trump knew—he was berating Hicks for truthful rather than false testimony is it would have been a statement against Hicks' own self-interest (a category of testimony recognized in law) for Hicks to claim to be a liar when she was/is not.