{thread}
Recent Crytek v CIG/RSI filing, appears to show a behind-the-scenes battle either brewing, or already in full swing.
I am referring to the CIG statements regarding discovery; specifically as it pertains to financials.
This is p6 of the filing.
docdroid.net/uMDHWEY/discov…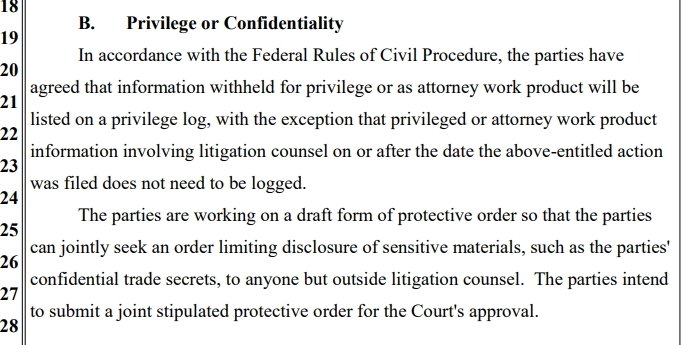 Despite the fact that they were willing to make these financials PUBLICLY available to backers in the event that they failed to ship Star Citizen, they are going to fight to have it either excluded from discovery, or filed under seal

I predict that they WILL lose.
You see, in the original ToS where they made this promise, they were to make the financials available to backers if they failed to deliver the game by the promised date.

That date was Nov 2014. And they had 12, then 18 months, to make good on that promise to backers.
The original ToS v1.2 was pretty clear on this, prior to the June 2016 change.
web.archive.org/web/2015022112…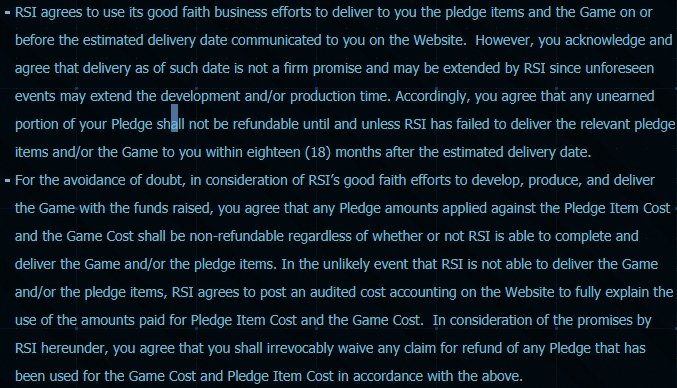 The Nov 2014 date, as well as the 12 & 18 month extensions in previous ToS revisions, came and went.
Around the expiration of the 18 month term, they changed the ToS again, and removed these conditions.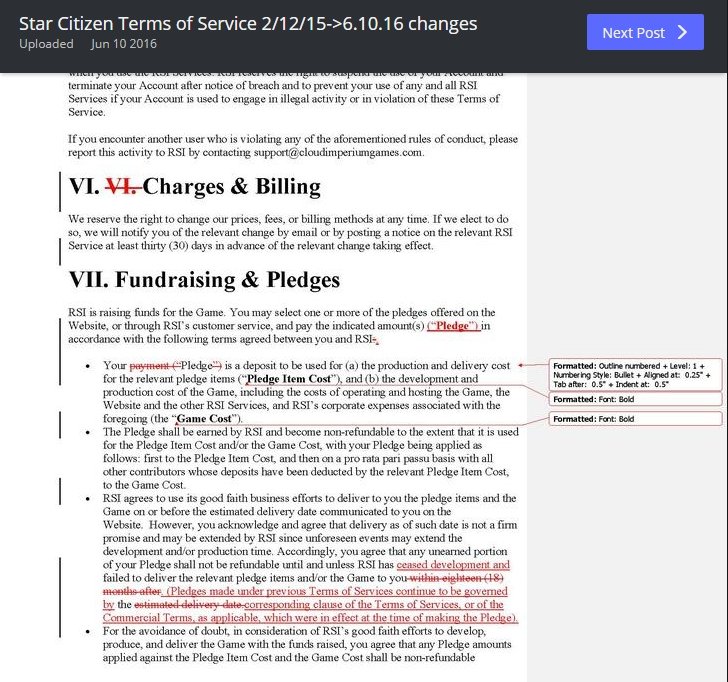 For something that they were once willing to make public, even as they used it as a sort of accountability metric to keep getting money from gullible and trusting backers, they are now seeking to keep it away from the public.

Backers have to now wonder why.
The GLA executed between Crytek and CIG, has a release date of July 31, 2015 - regardless of the state of the project.

As CIG have been selling & raising money, any/all claims as to it not being a released product, would be immaterial and out of scope due to the financial GAINS.
That they were selling these games ahead of the switch to Lumberyard, is another problematic issue they would need to address.

How does this all relate to having the project financials in public discover?
Crytek have little to no incentive to make the financials public.

They would only be interested in the financials in order to accurately calculate what they believe they are due in terms of calculating damages.

This is all standard procedure btw.
However, as it is of the public interest for backers to know what happened to the money they gave to a corporation that is now facing a massive financial liability, CryTek may opt to do the right thing by backers, and push to have the financials be made public.
If they get into a battle of whether or not the financials are to be part of the confidential log, I believe that there are several arguments that Crytek could make, and which would allow those financials to go into discovery (and thus the public).
If Crytek decides to go that route, CIG would have an uphill battle trying to convince the judge why the financials shouldn't be in the discovery record for public access, thus giving backers an insight as to what happened to their money, how much was raised, how much remains etc
If CIG were to object, that alone is likely to open a MASSIVE can of worms which could see not only their own ToS (which was active at the time the GLA was signed!) introduced into the court record, but also the introduction of references to prosecuted crowd-funding cases.
Not only that, but it also opens them up to other major discovery issues, not to mention embarrassing depositions from various parties who would be speaking ON THE RECORD.
Those specific deposition targets would no doubt include the usual suspects (I have a list) such as Chris & Erin Roberts, Sandi Gardiner, Sean Tracey, Tony Zurovek, ALL the key execs at Turbulent, and key fringe people like Ben Lesnick, Jared Huckabee and others.
Not to mention key people who since departed but who have first hand knowledge of where some skeletons are buried. Those would include Travis & Chelsea Day, Alex Mayberry, James Pugh et al.

It's going to be an absolute nightmare for CIG. I have to believe they know this.
Key to cases like this, is establishing a pattern of conduct, and to dig deep into how the allegations came to be.

That Crytek declined to entertain settlement talks at this point, speaks volumes.

And I don't think CIG expected for Crytek to make that public in this filing.
So, if you have been keeping track of all the unprofessional conduct and infantile language in the CIG filings, you can easily see how a case could be made for Crytek to NOT pass up ANY opportunity to embarrass CIG or lay bare their falsehoods in the public domain.
Giving restraint shown by Skadden, I don't expect them to play the game at CIG's rules. By remaining civil and taking the ethical high road, I don't see them having much trouble getting things past the judge.
That's why Bar assoc has articles like this
apps.americanbar.org/litigation/com…
The end result is that if Crytek makes a compelling case for why the financials are of public concern - as it pertains to backers and a crowd-funded project - I can see how the judge would allow it.
If CIG resists, well that's why FRCP Rule 37 exists
law.cornell.edu/rules/frcp/rul…
I have to admit that I have NO confidence that Crytek would spend legal fees fighting for something that is of NO consequence to them. Whether filed publicly or not, they WILL still gain access to the financials one way or another.
But that's why I am working with others to complete an Amicus curae which I will have my attorneys submit to the court for filing in the case.

Our goal is to bring to the attention of the court key issues about the project and which are otherwise NOT part of Crytek's claims.
Key to that filing are topics which include the project's early beginnings, the many broken promises made by CIG to backers, the CONSISTENT nature of their numerous lies in pursuit of money etc.

It will also contain material that is NOT currently in the public domain.
And central to that, would be the promises of financial disclosure to backers, why many believe that the much celebrated funding chart is FALSE and a gross MISREPRESENTATION, as well as on-the-record statements from people threatened with NDA lawsuits by CIG.
Since 2015, I have pursued CIG in a quest for accountability for what they have done, not just to me personally, but to others. Key to this pursuit is what many believe to be the squandering of backer money, as well as unjust enrichment by the creator & his friends & family.
Our goal is to get the Amicus curae in front of the judge shortly after the ruling on the MtD and see if it will be allowed. While rare, the fact that this project has raised almost $180 million from the public, while NOT delivering a product, is of great public importance.
Finally, and this is important, it has to be noted that this lawsuit is going to completely unravel this project, and if nothing else, prove not only most of what I have been saying since 2015, but also reveal a lot more than otherwise would be outside of a legal setting.
In closing, let me give you an example of what's to come.
See this accounting of this important day in the project?
Aside from the fact that we now know that Crytek - not CIG -
created those tech demos - Ben's claim below has been PROVEN to be FALSE
forums.robertsspaceindustries.com/discussion/com…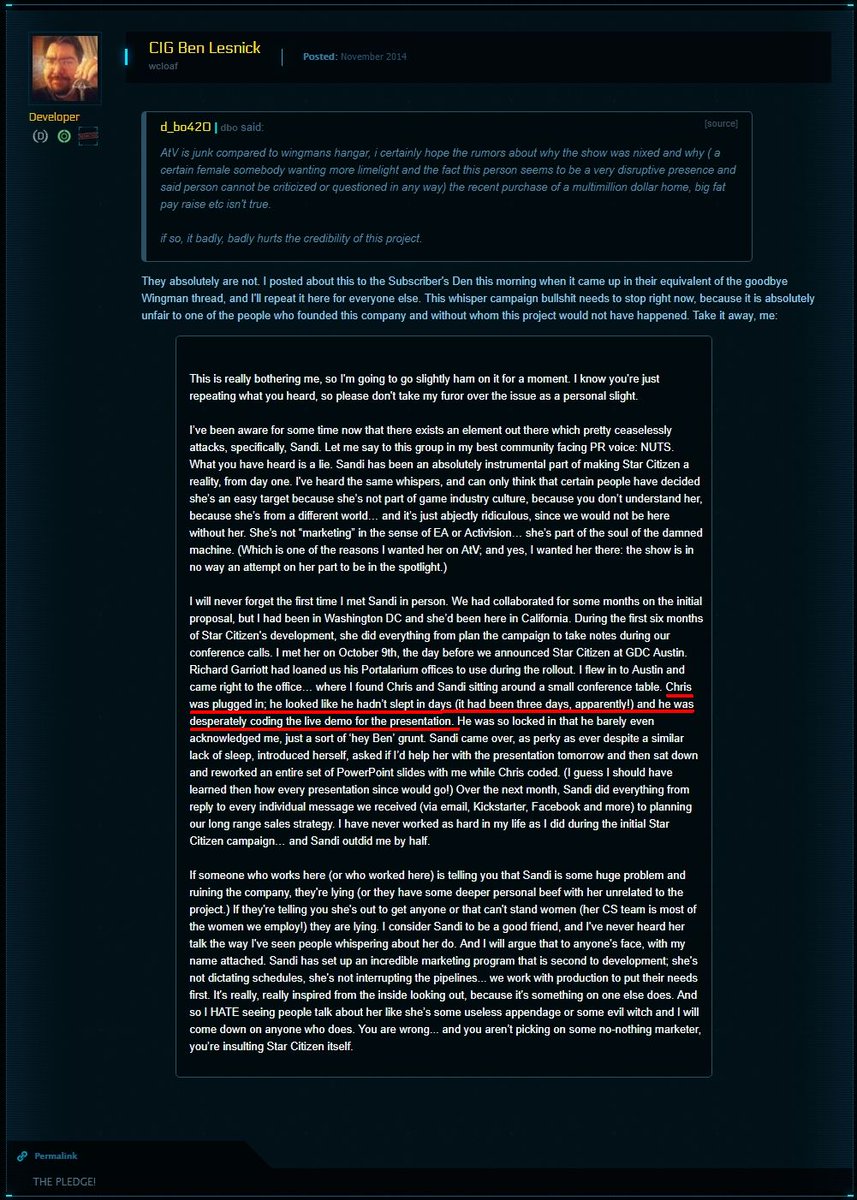 There is so much material like this throughout the history of the project, that the revelations and opinions that this project evolved into a massive scam is not going to go ignored for much longer.
Win, lose or draw, by the time the dust settles on this Crytek v CIG/RSI lawsuit, I can 100% guarantee that backers WILL eventually find out what happened to their money, how it was spent, and who gained from their losses.

The emperor had no clothes. It was an illusion.

{end}