I'm convinced that the solution to repairing America is my Creative Centers idea. By investing in maker space facilities & tech shops nationwide, the next generation could meet, work, bond and learn by making and sharing creative efforts of all kinds. We'll all be much happier.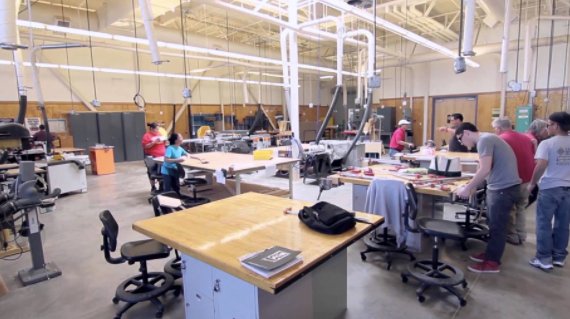 It's not rocket science or magical thinking. Consider your own experience. The happiest and most humanistically kind and generous people I know have creative hobbies and passions.

But most people can't afford the space or tools of creativity. It's a fine goal for government
But we don't talk about ideas because we don't talk about much of anything except the politics of societal decay since Ronald Reagan set fire to the Shining City on the hill. We're being punked by greedy billionaires, religious zealots, slimy grifters, and a complicit media.
And sure, a dozen people might retweet this thread, and some "thought leader" will lift the core point to great applause. And that's fine.

What isn't fine is that little else will happen, because no politician will advocate anything but stale, safe ideas.
Only government has the massive resources needed to reshape culture. Europe gets that. China gets that. America used to get that. Then Reagan conservatism came to town and declared that only wealth mattered, and took a giant dump on America's greatest resource: its creativity.
And once government "seeds" their cities with Creative Centers, a hub and spoke propagation can evolve, that even lets private citizens share their maker spaces with neighbors in return for tax breaks. It's not a complicated idea. We just don't do ideas. We don't do anything.

We must stop letting greedy, stupid conservatives dictate what we as a society and species do. They seek and hoard wealth from birth to death, and mostly victimize others in between. We can do better. We SHOULD do better. It's humanistically negligent to not try.
We're so used to dealing with the fallout of feckless conservatism, we've totally lost sight of how creative and productive we used to be. When I was growing up, every other house on the block had a workshop & people using them. Today, no one has the room or money for them.
But this thread will fall on deaf ears. Not because people won't nod at the ideas I'm discussing, but because we're so acclimated to doing nothing, that even the discussion of doing something depresses people. I see it all the time.
But we've got lots of time to talk about trump, Kev Williamson, or OscarsSoWhite. We talk AROUND goals society might make for itself, and its failings in the present moment, but almost never about what we might be, or should be, for ourselves and future generations.
Yes, the basic ingredients of a maker movement have been around for 20 years. But without a national stimulus to make them a thing, they will always be mostly a fringe interest and activity. Government can change that. Fast.

Always exceptions, but most civic centers are glorified arts and crafts rooms. But yes, they are still the basic kernel of the same idea. I just want to scale them up by orders of magnitude.
Of course you are. As are thousands of creatives who will nod their heads at this thread in months to come. People are far happier, more agreeable, less stressed, generally healthier, and MORE GENEROUS AND KIND when they are productive and constructive.
Yep, there's no need for a proof of concept. They are all around us already What is needed is an
@oprah
,
@tomsteyer
,
@NickHanauer
@sacca
or
@billgates
to seed fund a pilot to jumpstart the movement in a dozen states until govt can take the wheel
Again, the idea isn't community creative centers. They've always been with us. The idea is to launch large-scale federal and state initiatives to build them AGGRESSIVELY, and extend them conceptually. With serious dollars. (As in billions of them.)
Cynics and conservatives will scoff at this idea, of course. Mostly because so few of them ever do much of anything very creative. Killing animals, polluting the planet, mocking poor people, those things delight them. But ideas to advance our species and make us happier? Meh
Someone 'unrolled" this thread, if you'd like to share it.
Celebrities drive many narratives. But they rarely care about ideas like this because they typically invest only in projects pre-packaged with some virtue or issue tourism they've already signed onto. If it doesn't come from a brand or trope they know, they rarely notice it.
Yep, exactly my point. We already do it. It already works. The vehicle is ready to roll. All it needs is a big push to give it notice, currency, and momentum.
There is no law that says we have to wait for corrupt hack politicians to do anything. They typically sign-on to ideas long after they catch. This is why I say it needs a jump start