OK, RE-THREAD:
In
@TheAtlantic
on Friday,
@natwexler
says children need a core knowledge base in order to become fluent readers.
She suggests teaching about "Native Americans and Columbus"… in kindergarten.
Welcome to our nightmare world, little ones.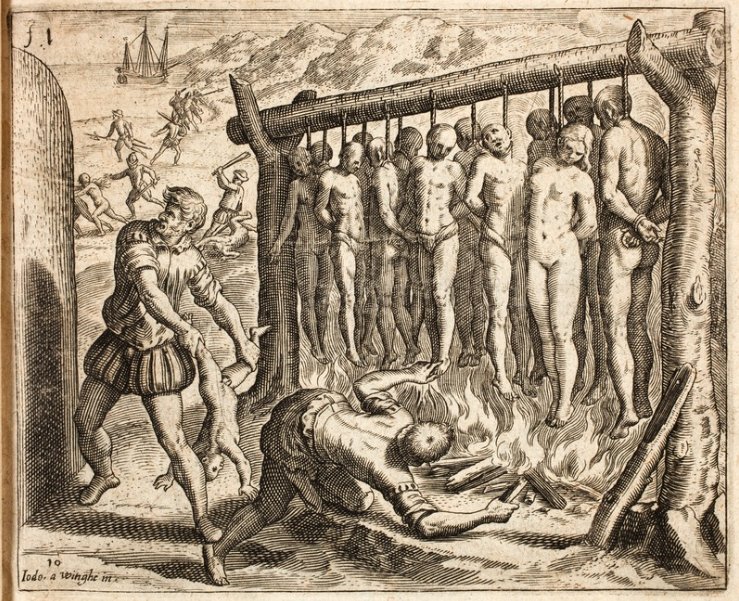 2.
But don't worry. She's not advocating that we teach kindergarteners the *truth* about Columbus. She's basing her ideas on the E.D. Hirsch Core Knowledge curriculum.
In Hirsch's "What Your Kindergartener Needs to Know," Columbus is "a dreamer, with big ideas!"
And great hair!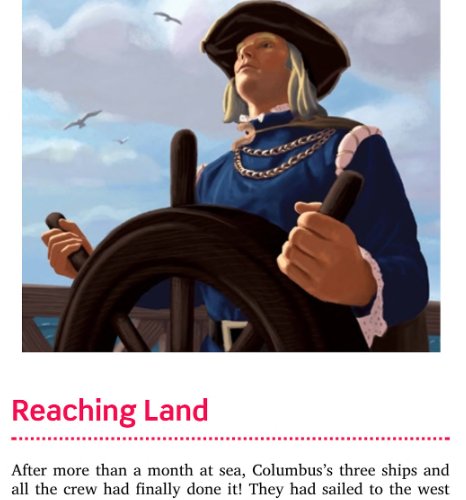 3.
Wexler lays out a "logical sequence" to "boost students' reading comprehension" based on the Core Knowledge curriculum endorsed by
@DTWillingham
, a cognitive scientist cited in her piece.
(Willingham says on his blog that the CK materials are "outstanding.")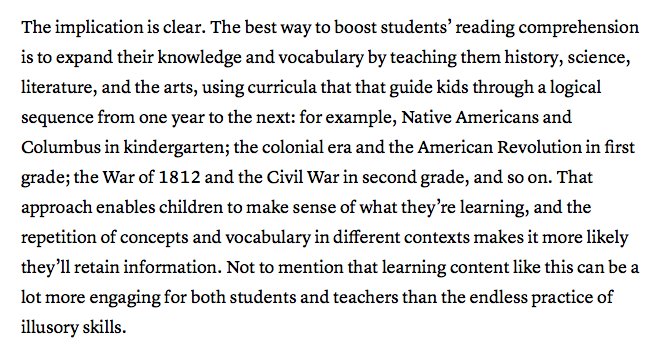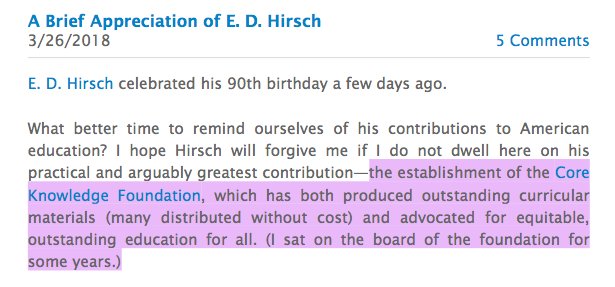 4.
"What Your Kindergartener Needs to Know" is chock full of "friendly, fun introductions to history and geography!"
It doesn't mention Columbus' men chopping Arawak peoples' arms off for poor mining production, feeding murdered infants to dogs, or taking 9-year-old sex slaves.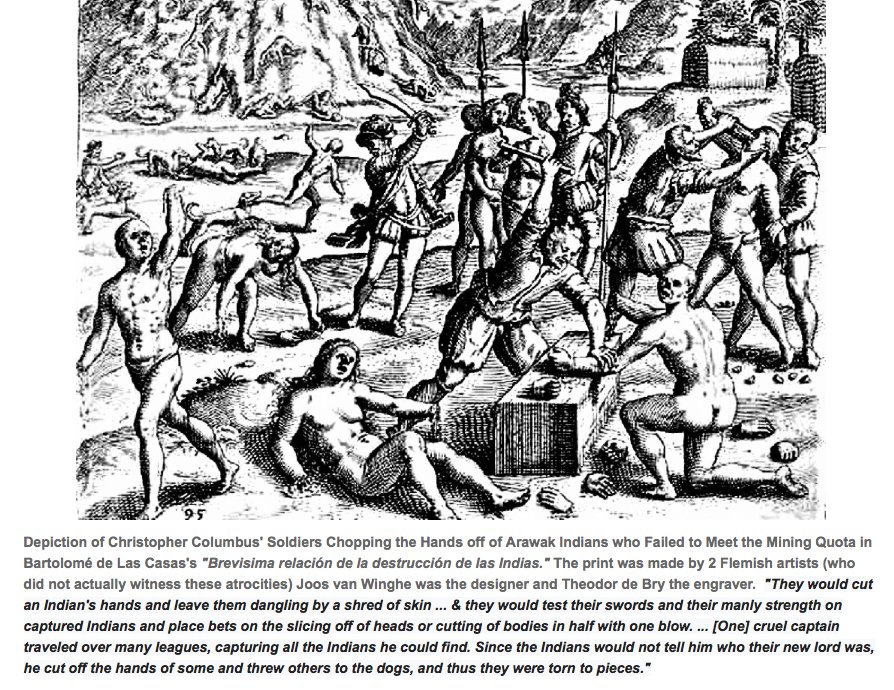 5.
Children at this age often see the world in terms of stories with "good guys" & "bad guys." So… is Columbus one of the good guys…or…?
He was a "dreamer!" And… and he had a "daring idea"… and… and…
And he looks kinda like the blond guy from Pocahontas!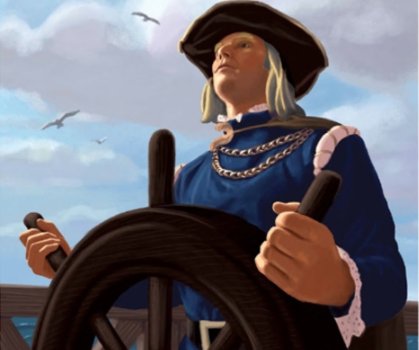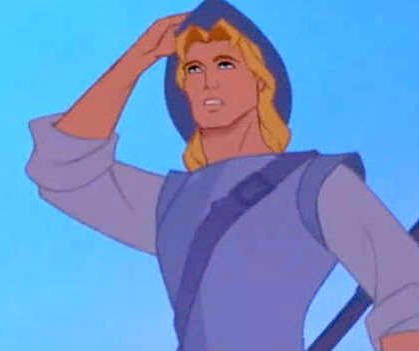 6.
Here's "What Your First Grader Needs to Know" about the "Spanish conquerors."
Wow…looks like there's a LOT of reasons why the Europeans had to slaughter the Aztecs & Incas & steal their land…
Remember all those, kids? Don't forget! Plus, horses! Cool!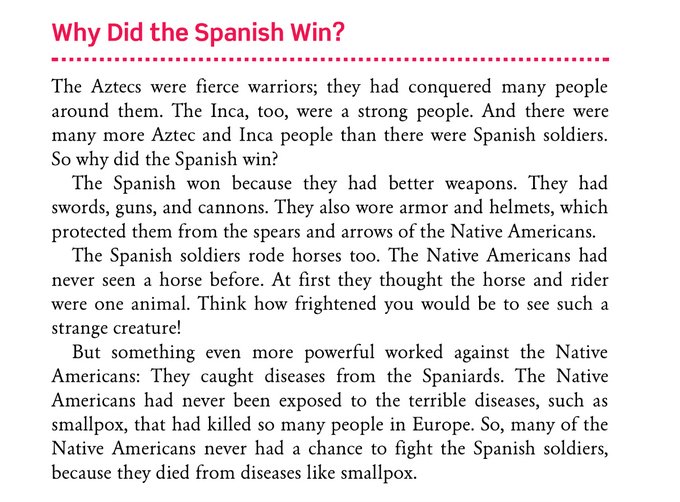 7.
There's a hidden moral curriculum in this way of teaching history as a sort of inevitable unfolding of events.
Sure, it's sad, but isn't that the price of "progress?" Of "civilization?" We had "better weapons!" What else could we do? We couldn't help it!
…could we?
8.
This subtle framing of history as inevitable can impair children's ability to think about the moral choices we confront as a society today.
If the people with "better weapons" just have to kill the other people, because––
Wait, why was it again? Can anybody remember?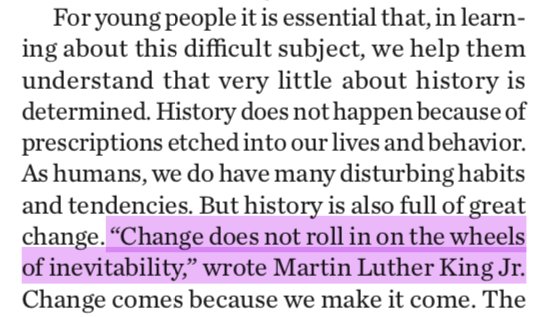 9.
Which raises another important point, because one thing IS inevitable: if you present 6-year-olds with this mountain of "core knowledge," they WILL forget most of it.
At the end of the day they'll be left with a vague mash-up of fragments & images & weird unnamed feelings.
10.
So the question is: in what direction will that vague mash-up tilt?
American exceptionalism? Depression and fatalism? Something else?
Because as cognitive science shows, most people will spend the rest of their lives confirming that bias, whatever it is.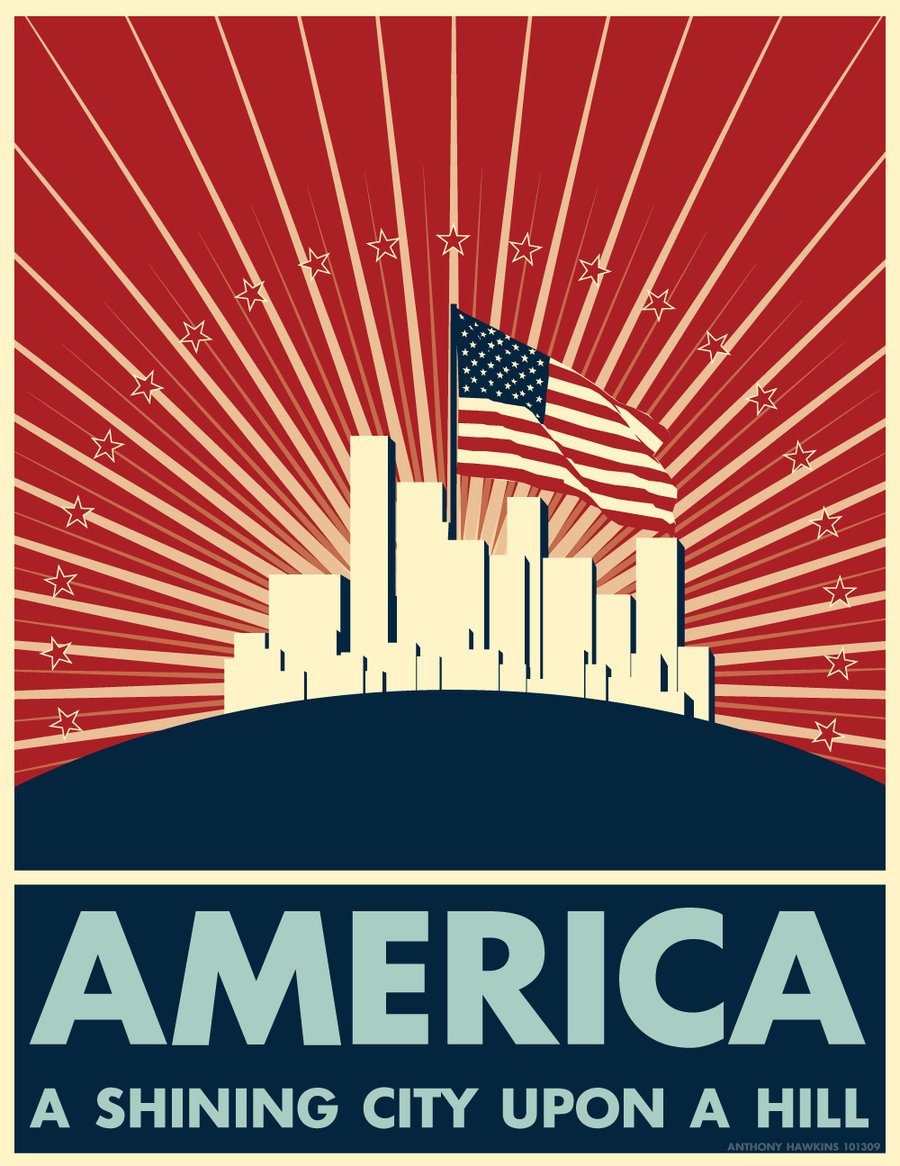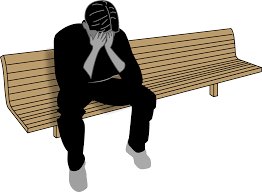 11.
Now "Your Second Grader Needs to Know" about slavery. But because they're still so young, we have to teach them about slavery in a way that doesn't completely traumatize them.
So how do we do that exactly?
n.pr/2nIuSaf
12.
"These early narratives often form the schema by which later learning is acquired, making them difficult to undo."
"Teaching Hard History", a guide from the Southern Poverty Law Center:
bit.ly/2EAPoE0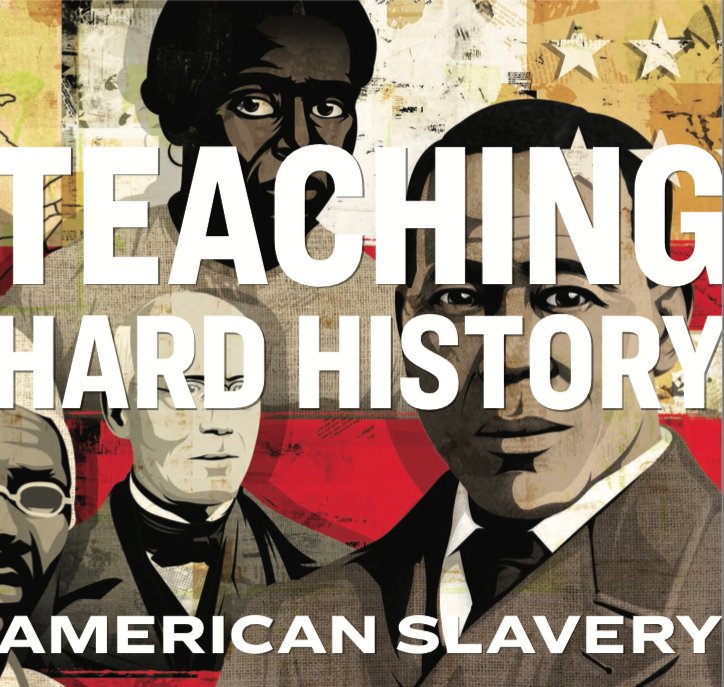 13.
Remember to watch for this: when people push for a "core knowledge curriculum," see if it involves teaching our brutal history to children too young to understand it.
Once you 'learn' a false version of reality, it may be hard to unlearn it later.
bit.ly/2GYP6Vx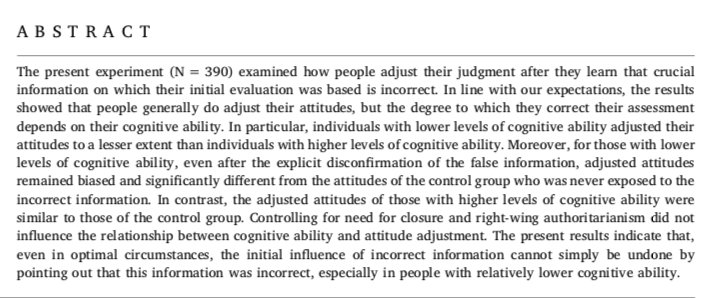 14.
It's not the "core knowledge," but the core myths & tropes of the culture that must be taught when children are very young, before they have the ability to look at it critically.
Like, say, the idea that Europeans "visited and settled" in North America. (Core Knowledge)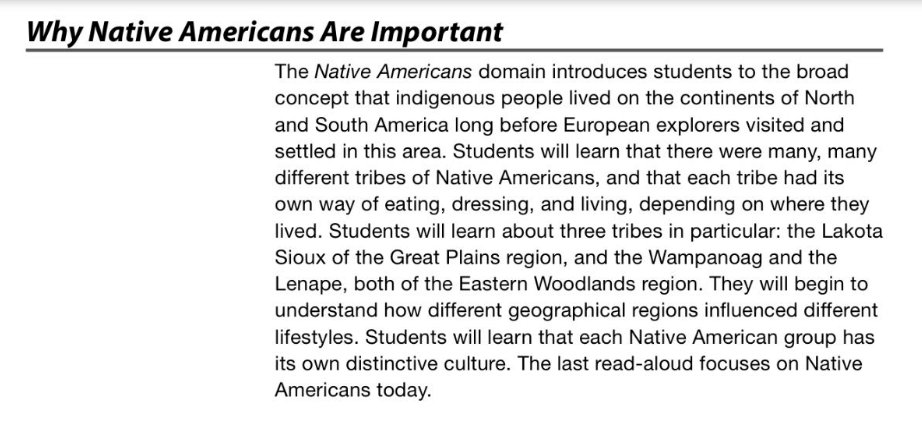 15.
Or the idea that Indigenous people "agreed to move to different areas to make room for the new settlements." (Canadian textbook.)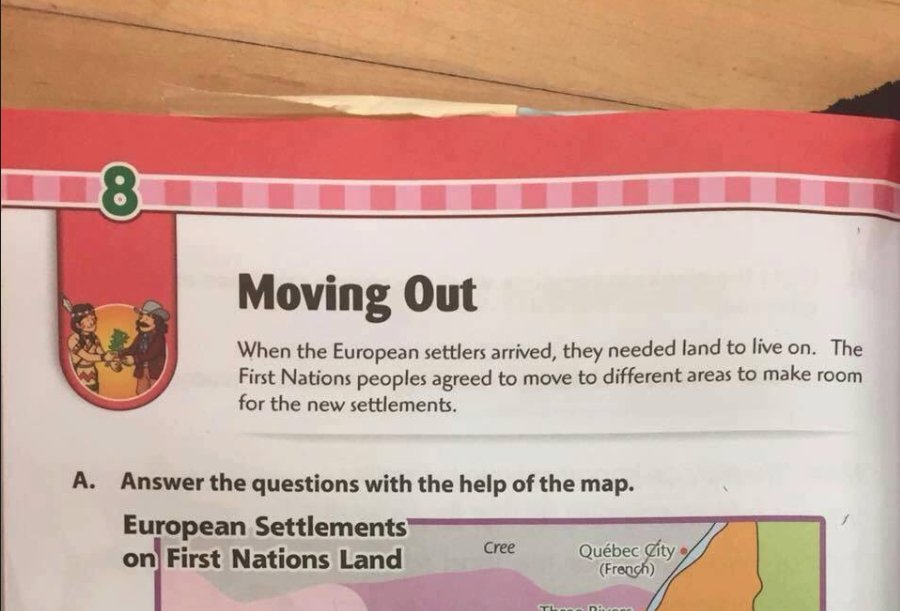 16.
And even more important, you want to build in the right blind spots early. Make sure the wrong questions are never asked.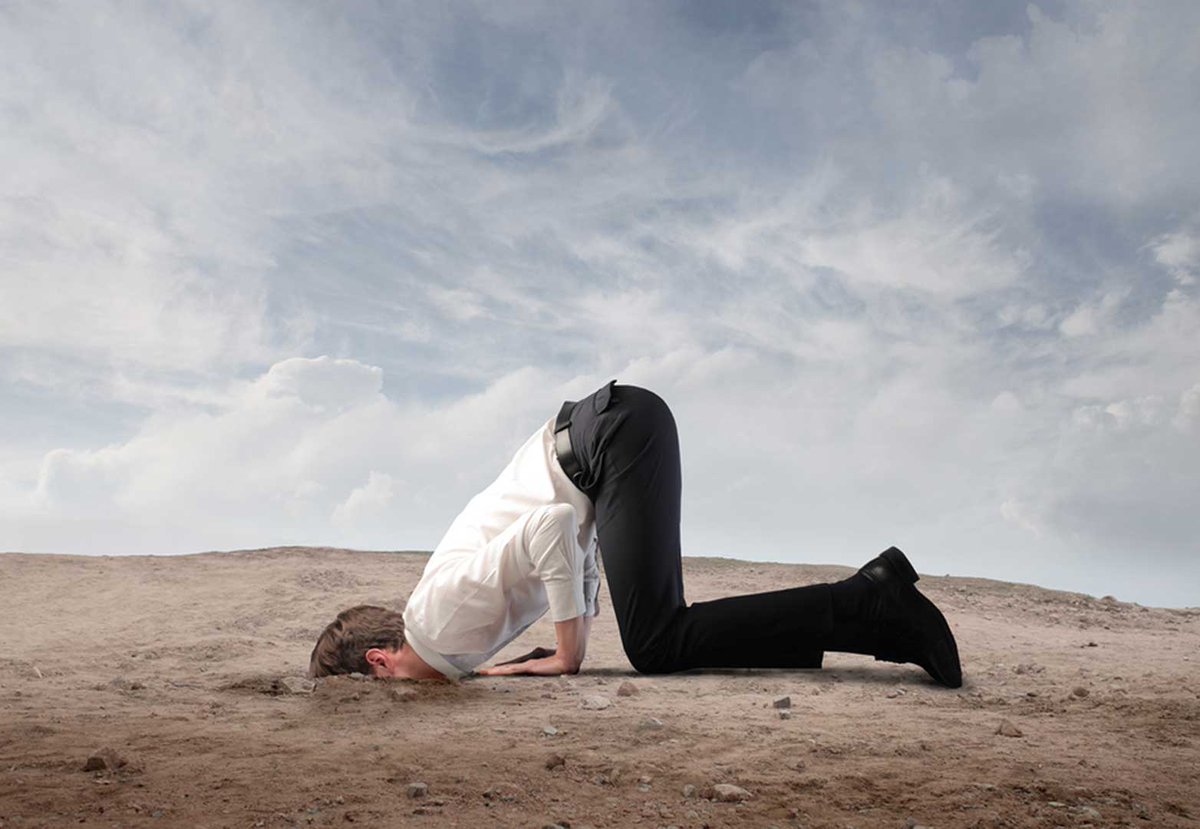 17.
So please don't accept uncritically the idea that "cognitive science" supports the use of this kind of "core knowledge curriculum" to "boost students' reading comprehension."
This is the way we indoctrinate American children in schools.
theatln.tc/2GWpmsQ
Hey, you know what we could teach children in kindergarten? We could teach them about Native cultures & ways of life pre-genocide. We could teach them about African cultures & ways of life pre-slavery.

Then, later, we can teach them the *truth* about slavery and colonization.