It's time to talk about one of my favorite visual effects shots of all time. Not only is the shot well-executed & designed, it fits perfectly within the edit and plays an important storytelling role. It's the last shot of this sequence from "Indiana Jones and the Temple of Doom".
I remember hearing gasps from the audience when this shot appeared. After going through the amazing mine car chase, our heroes thought they were steps from safety. This wide shot neatly embodied the "what are they going to do NOW?!" aspect of swashbuckling serial adventures.
As a young fan of the movie, it took me some time to understand that this exaggerated shot could only be accomplished with visual effects. One classic giveaway of expansive VFX shots was a locked off camera (where you could still see exposure + registration mismatches).
For example, here's another locked off visual effects shot from the same film. Notice the subtle "breathing" between the multiple filmed elements.


The valley shot, whose frame was dominated by a glass-painted matte painting (with some moving photography of a river and an soft-split insert of our heroes emerging), would have immediately and unconsciously registered as synthetic by the audience if it was a dead lockoff.
To help visualize what the shot would have looked like as a dead lockoff, I stabilized the shot and did some quickie fixes to fill the frame. Now, imagine THIS shot appearing at the end of the sequence. Breathtaking, yes--but there's something about this that's feels sterile.
This is where the filmmaker part of visual effects craftspeople come in to play. The question was asked, "If this valley really existed, and we could get our actors to emerge from that hole, how would we have filmed it for real?" The answer was from a helicopter. 🚁
The painting by Chris Evans & Caroleen Green was comped with live-action footage of actors and of a river 🎥 by Robert Elswit. A camera operator named David Fincher programmed a motion control move on the comp that would simulate a helicopter's movement. From
@cinefexNOW
#18: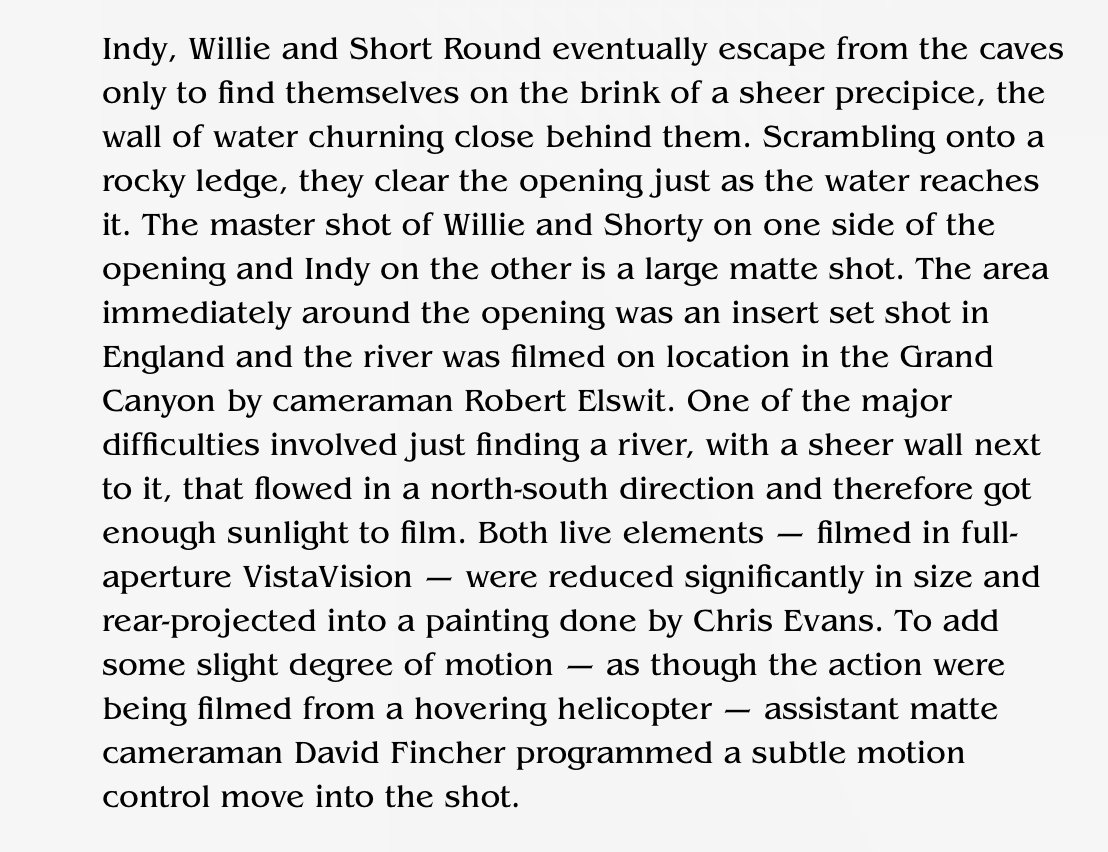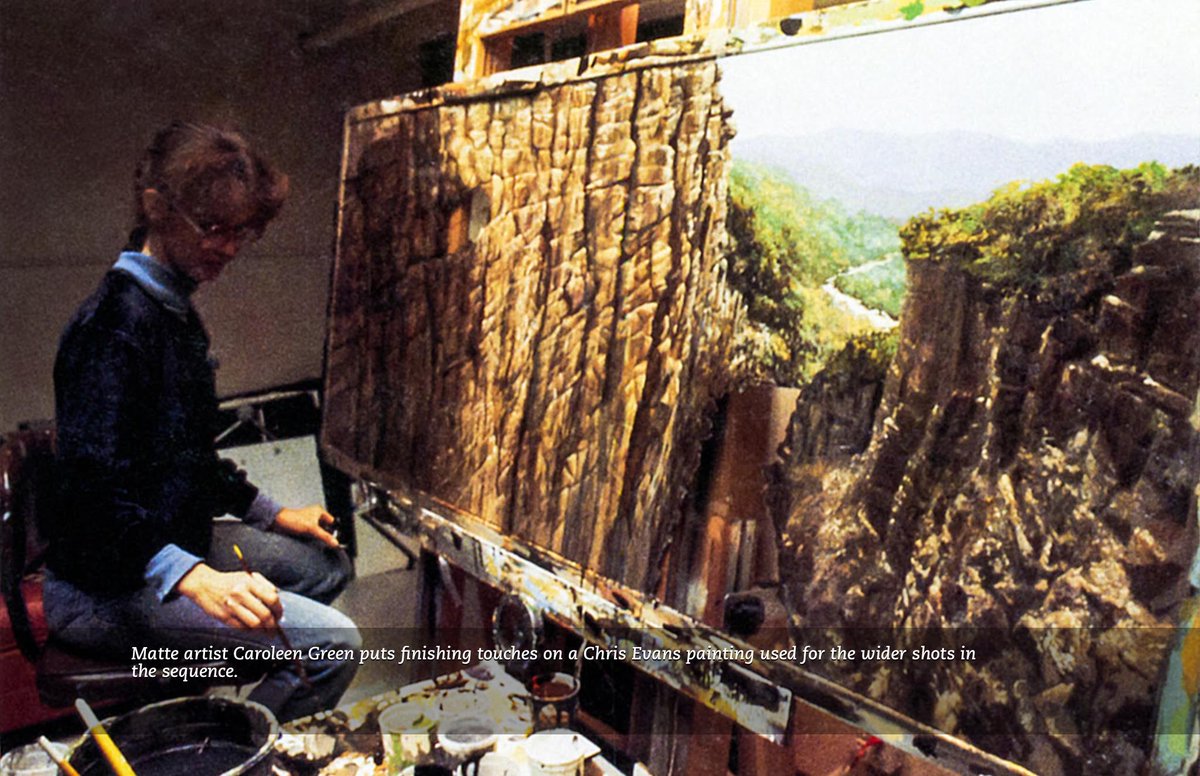 I cut the real "Temple of Doom" footage into this documentary about matte painting (featuring Caroleen Green) and you can see the final painting in the video (as well as the actors' footage). [I've tried to track down the original source of the doc, without luck.]
I think about that camera move a lot, and about the verisimilitude it added to the shot and the entire chase sequence. It has helped guide me throughout my career as to what I'm trying to accomplish with visual effects work.

/end