1/x
Today a CFTC official suggested that devs may be liable for crimes committed using their code (suggested & predicted by
@angela_walch
.) Now comes the collision of (1) First Amendment rights -code is free speech (2) contract (disclaimers in licenses) & (3) imposed tort duties.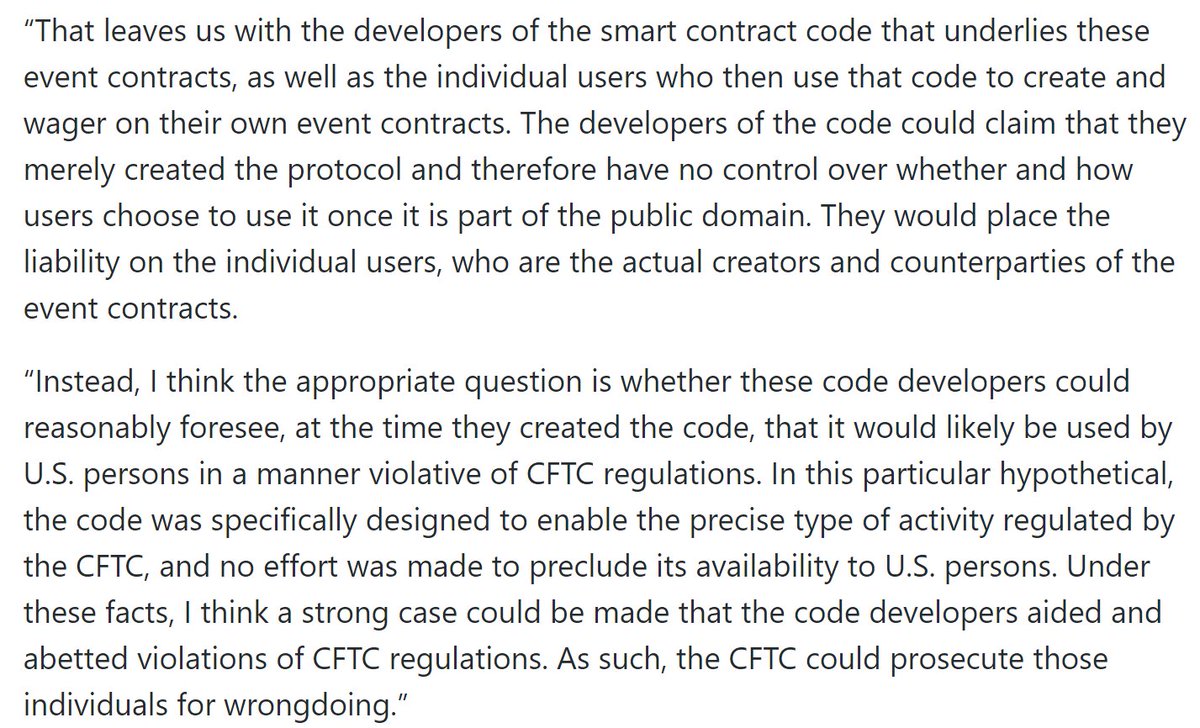 2/x
the language used "reasonably foresee" is suggestive of tort liability. This puts it in
@angela_walch
's wheelhouse. How does this shake out? Who wins? Think about this as a fire and a doctor. What's that mean? You can't yell fire in a crowded theater because it's reasonably
3/x
foreseeable that people will be hurt in the ensuing rush. So we know if there's an inherent risk of harming others, 1st amendment speech rights may be curtailed. But what about the contract- i.e. the license agreement? Most
#crypto
software dev is done under
#OpenSource
4/x
licenses that generally disclaim any liability and create a waiver. Waivers generally are enforceable if they are knowing, intentional and voluntary. (Query whether growing support for not enforcing clickwrap waivers like this will gather momentum in this context). But not
6/x
Critically, waivers may be rejected for conduct that exceeds normal negligence (gross negligence, willful&wanton conduct), or where the waiver seeks to contract out of compliance with a statutory duty. This is why, among other things, you can't waive securities law.
7/x
But rejecting a waiver of gross negligent/willful wanton/reckless conduct requires a finding of a duty. Your doctor owes you an exceptionally high duty of care. You trust your doctor w/ confidential information, w/ your health, and rely on your doctor for critical counsel
8/x
the law has made clear that because of the repose of trust in your doctor is so critical, that doctor owes you an elevated duty- called a "fiduciary duty." This also applies to religious figures sought for spiritual counsel & those who control your financial affairs.
9/10 Financial advisors who have control over 3rd party investor funds are generally regulated as fiduciaries- the parameters of this duty continue to be refined. This is where the rubber will meet the proverbial road. Will designers of smart contracts that take possession
10/10 of third parties' assets owe them a tort/fiduciary duty? Are they distinguishable from other 3rdparties that control other people's money? At least one regulator at the CFTC says no- but that's not law. We'll have to wait for a trial & appeal or a statute to find out.
PS: Courts will also refuse to enforce a waiver on "public policy" grounds. Creating a technology solution to avoid regulatory compliance will probably satisfy public policy grounds. Some states have even considered statutes addressing this:
leginfo.legislature.ca.gov/faces/billText…
Lets further assume that it's not tort liability as suggested by
@lex_node
. Looking closer at the statement, we would look to see if there would be a principled application of aiding and abetting a statutory violation of the CEA by the CFTC.
The CFTC describes the following elements of aiding and abetting:
1.the Commodity Exchange Act (CEA) was violated;
2.the defendant knew of the wrongdoing underlying the violation; and
3.the defendant intentionally assisted the principal wrongdoers.
3rd & 7th Cirs. articulate the elements as (1) "knowledge of the principal's intent to commit a violation of the Act;" (2) "intent to further that violation;" and (3) "some act in furtherance of the principal's objective."
See Nicholas v. Saul Stone & Co., 224 F.3d 179, 189 (3rd Cir. 2000); Damato v. Hermanson, 153 F.3d 464, 473 (7th Cir. 1998). The 2nd Cir. requires "substantial assistance," which means "the defendant associated himself with a violation of the Act, participated in it as something
that he wished to bring about, and sought by his actions to make the violation succeed." In re Amaranth Nat. Gas Comm. Lit., 730 F.3d 170, 181-83 (2nd Cir.
2013)
This would require the dev to (a) know about the violation and (b) intentionally assist the violation. The speech equates "reasonably foresee, at the time they created the code, that it would likely be used by U.S. persons in a manner violative of CFTC regulations
." with prongs A and B of the CFTC's test for aiding an abetting. In most cases, it would be difficult to prove a, actual knowledge of the specific violation, but would be reasonably easy to show b, intentionally assisted the wrongdoers.
These will be facts & circumstances assessements on a case by case basis to determine whether the facts satisfy these prongs. A dev writing a line of code for a non-financial app may not know that combined w/ other code, it can cause someone to evade regulatory compliance.
in that case, what about the "code as speech" argument? Do you have a first amendment right to speak when it violates the CEA? What about the
#opensource
license that disclaims responsibility for the code and says it's as is, where is? Does that in any way shield the developer?
Elon Musk has a first amendment right to say "funding secured" but that right didn't immunize him from statutory liability.
and the
#opensource
license is between the code issuer and the user, not the regulatory authority, who would not be bound to its terms. And for reasons discussed above, i.e. public policy, it would be unlikely to be enforceable as a shield for the devs.
To
#endrant
for the day, whether by statutory or fiduciary duty theory, liability may attach to devs code , and first amendment arguments & open source licenses will probably not protect them. Facts and circumstances, along with an analysis of legal foreseeability, however, might
sorry, not done yet. Who really thinks that devs who release code that can be used to avoid regulatory compliance should not somehow under some theory be liable?
If a reg is designed to prevent me from doing X, and you give me a tool that allows me to do X and to avoid complaince with that regulation, shouldn't you be at least in part liable as a facilitator of my violation?