From the bottom of my heart: Thank you.
I am so proud of the movement we built. Together, we redefined the politics of possible in the Deep South – but our fight is far from over.
#gapol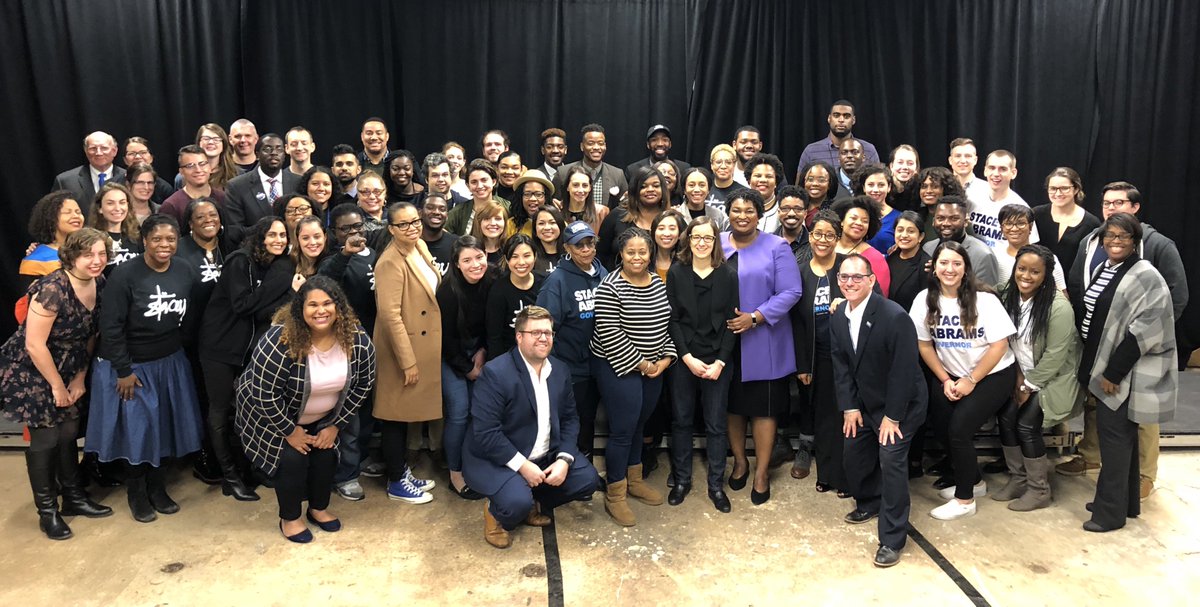 When we kicked off our campaign in Albany almost a year and a half ago, we were told we would never win the Democratic primary. When we did, the pundits and pollsters said that a candidate like me in a state like Georgia would never poll above 30%. We did.
And when they said this race would be a walk for Republicans, they shifted Georgia from "Safe Republican" to "Lean Republican" to "Toss Up" in the same breath.

Beyond the pundits, beyond the polls, and beyond party labels, we fought because we believe in Georgia.
We believed in a new kind of campaign that respects every person and fights to earn, keep and count every vote.

And fight we did. We left everything on the field. We shifted the conversation. We demanded that every vote be counted. We made history.
Together, we won state House races and Senate races, a new seat in Congress and put America on notice that change is not coming – it has arrived. And you made it so.
#gapol
And at every step of this journey, instead of falling prey to fear, instead of being blown off course by the winds of doubt, we forged on.
We reached out to communities across this state that very rarely see a candidate for governor, much less a candidate who is listening as much as speaking. We activated and energized voters at a scale never before seen in Georgia Democratic politics.
Because of your support, a little Black girl from the Deep South was within striking distance of a sitting Republican Secretary of State to be Georgia's 83rd Governor.
The movement we built together is only the beginning. We must keep fighting for the people who have always felt left behind, and for the communities whose security and status are now in question.
I will work in these coming weeks to elect @Barrow4Georgia as our next Secretary of State – a man of principle and goodwill who will administer his responsibilities for the people – not his party.
#gapol
I will work to elect Lindy Miller as our next Public Service Commissioner, where she will speak for those who have been ignored for too long.
And all of us must continue to stand united, to use the networks we have built and with the Georgians we have energized, to continue the fight for progress, for free and fair elections, and for equality.
#gapol
Today, I announce the launch of Fair Fight Georgia, an operation that will pursue accountability in Georgia's elections and integrity in the process of maintaining our voting rolls.
#gapol
In the coming days, we will be filing a major federal lawsuit against the state of Georgia for the gross mismanagement of this election and to protect future elections from unconstitutional actions.
#gapol
We will channel the work of the past several weeks into a strong legal demand for reform of our election system in Georgia. And I will not waver in my commitment to work across party lines and across divisions to find a common purpose in protecting our democracy.
Because these votes are our voices. We are each entitled to our choices. As Georgians, we have always been at the forefront of speaking truth to whatever power may lay claim to leadership – if only for the moment. We will win because we are Georgia. And we WILL get it done.
- SYA