1/
McGahn is right that "real lawyer[s]" take notes. This is one of the first lessons of 1L legal practice.
It doesn't surprise me that
@realDonaldTrump
lawyers didn't take notes, especially when he holds up Roy Cohn as an example of a great lawyer. Here's why...
#MuellerReport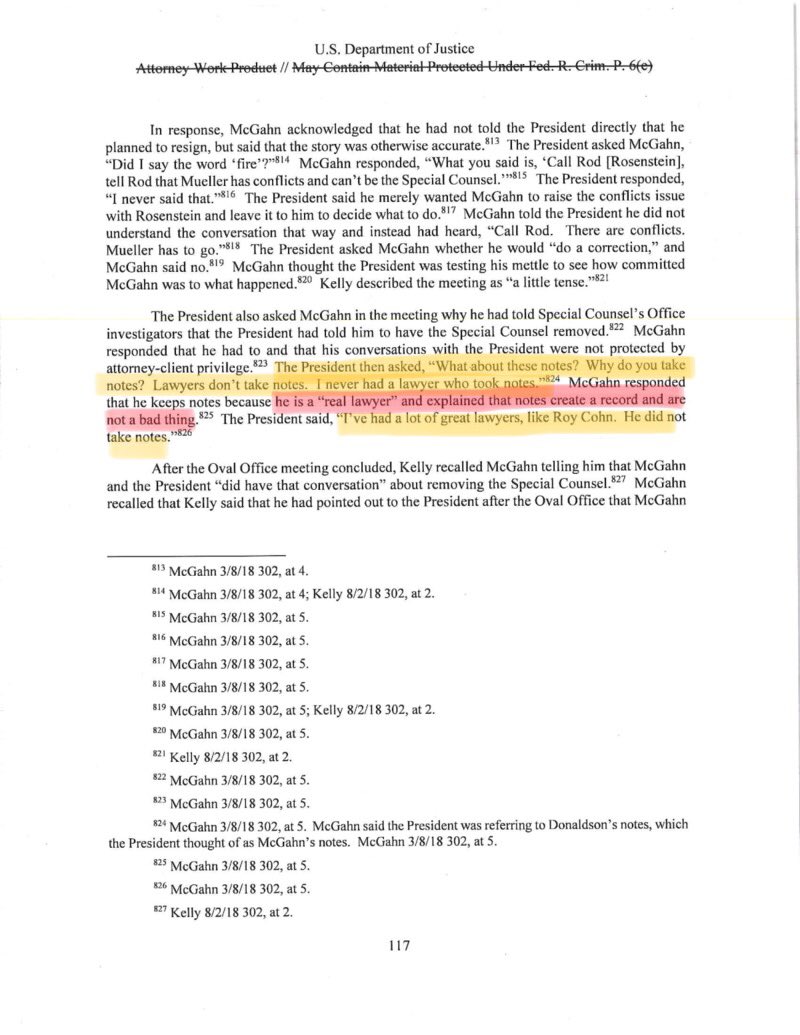 2/
Lawyers take notes to create a record and so they can fulfill their clients' interests—especially when working on multiple matters. Relying on one's memory is dangerous. Even lawyers need to "refresh their recollection" and having a contemporaneous record is essential.
3/
We also grant lawyers attorney-client privilege to protect their notes and work product so there is rarely a reason to not take notes.
* Yes, I know, McGahn did not have privilege here. But it's good for the country that our government lawyers create records.
4/
So why then would Trump's lawyers not take notes? They probably did; but if they didn't one reason could be to avoid creating a discoverable record.
But privilege? Privilege does not apply if you are advising or participating in an unlawful enterprise. See, Cohen.
6/
While working for McCarthy, Cohn advocated for special treatment of G. David Schine, a wealthy hotel heir, when he was drafted into the Army. He allegedly threatened to "wreck the Army" if they didn't provide these privileges. (This sounds familiar).
content.time.com/time/magazine/…
7/
Cohn also disclosed prejudicial communications with the judge during the Julius and Ethel Rosenberg trial. As
@AlanDersh
said: "I believe that Cohn's account is probably credible. If it is, it tells a shocking story of corruption in the highest places."
latimes.com/archives/la-xp…
8/
Cohn engaged in bribery and corruption, such as when he had Roger Stone (
@realDonaldTrump
associate charged by Mueller) deliver a suitcase full of $125,000 to sway the 1980 presidential election in NY for Reagan.
web.archive.org/web/2015022419…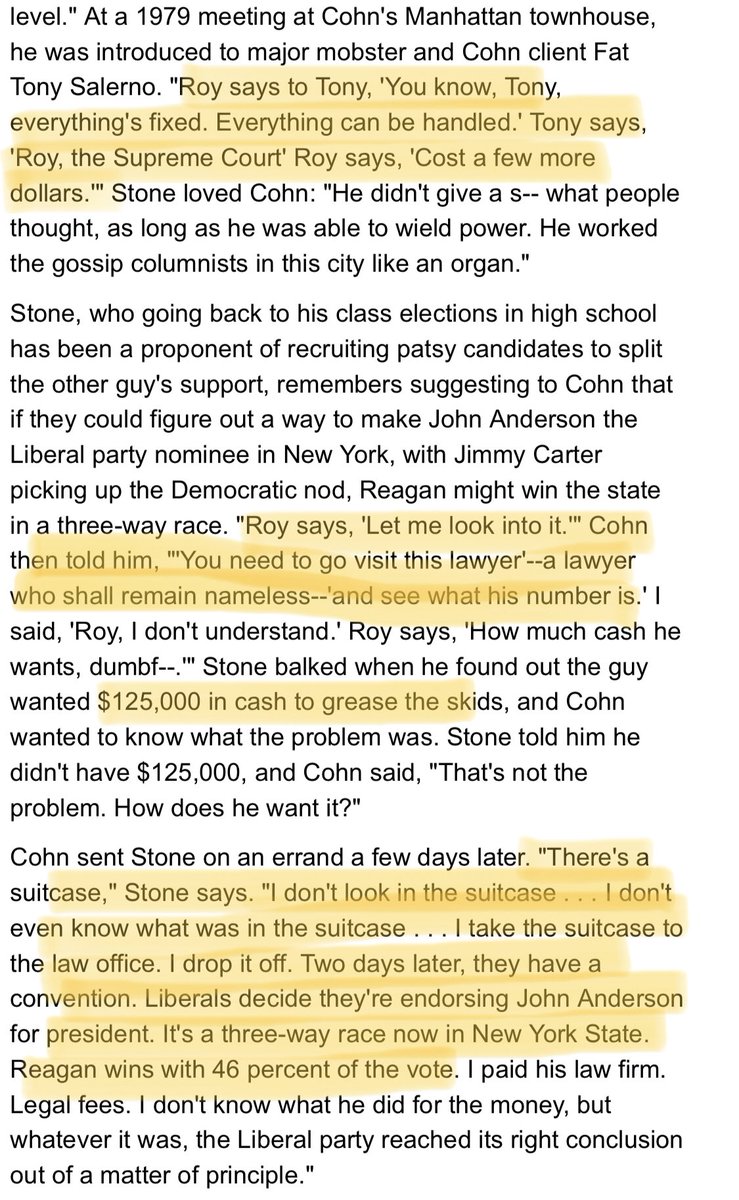 9/
Cohn's career is littered with the mafia and other accusations of deceitful acts, like trying to force a dying woman to make him trustee of her estate—a matter he lost and led to his disbarment.
nymag.com/intelligencer/…
10/
When Cohn was disbarred, "a New York State Court...call[ed] his conduct in four legal matters 'unethical,' 'unprofessional' and, in one case, 'particularly reprehensible.'"
Or as
@realDonaldTrump
says: a "great attorney"
nytimes.com/1986/06/24/nyr…
11/
So while my fellow lawyers laugh at
@realDonaldTrump
assertion that lawyers don't take notes, we should all be alarmed that our President's go-to example of a good lawyer was disbarred and, according to
@AlanDersh
, the "quintessential fixer."
pbs.org/wgbh/frontline…