1/
During the Flynn matter, Yates contacts McGhan to communicate her concerns. McGhan says he will get back to her. Then in their second meeting on January 27, 2017 McGhan requested the evidence that led to Yates' concerns about Flynn. Yates agrees.
talkingpointsmemo.com/muckraker/yate…
2/
On the same day, Friday January 27, Trump signs the "Muslim Ban". Suddenly. Without alerting anyone. It's was not refined and open to attack.
aclu-wa.org/pages/timeline…
3/
On the following Monday January 30, Yates refuses to implement the travel ban. That evening Trump fires her for insubordination.
nymag.com/intelligencer/…
4/
That same day, Monday January 30, Trump appoints Dana Boente to replace Sally Yates even though he is not in the line of succession.
en.wikipedia.org/wiki/Dana_Boen…
5/
As many of you know, I have long stated my opinion that the Flynn "lie" was a bait trap. An op designed to set things in motion.
Thread ⬇️
6/
I have also speculated that, from nearly day one, Trump has been running a counter investigation targeting the coup plotters. I believe Flynn knew how the campaign was being targeted in 2016 and that was confirmed by Adm. Rogers during the transition.
8/
Immediately Trump signs the "Muslim ban" to everyone's surprise. The weekend was filled with chaos at the airports and by Monday Yates refused to implement it. Again completely predictable.
theguardian.com/us-news/2017/j…
9/
At that point the stage was set. Trump had his predicate to request evidence that was likely produced as a result of a Flynn FISA (or maybe hops from Page). He had clearance that this request was not an obstruction. He had Yates insubordinate so her firing was justified.
10/
Then Trump acts swiftly and replaces Yates with Boente.
So what does all of this reveal? First it is hard to view these as disconnected random events. They reveal planning, traps, triggers and designed outcomes.
11/
Why is it significant that Boente was now in charge of DOJ on that Monday? So he could respond to the White House request for evidence before Yates could hide it, destroy it or block the release of anything.
12/
Now what results from these series of events? First, Flynn resigns February 13, 2017. This analysis reveals an alternate reason. Flynn led NSC. It's likely they'd be involved in the review of this evidence. Flynn handling it would taint the evidence.
theatlantic.com/politics/archi…
13/
Who does he leave behind? Ezra Cohen-Watnick. So from February 13, 2017 to February 20, 2017 when McMaster is appointed the new head of the NSC there is a window of opportunity for Ezra to receive the evidence and prepare it for dissemination.
theguardian.com/us-news/2017/f…
14/
Dissemination?!? To who?
Well I'll draw your attention to March 21, 2017 when Nunes gets a sudden call and heads over to the Eisenhower building where he reviews evidence that Trump and his campaign were surveilled.
Who was his contact? Ezra.
nytimes.com/2017/03/30/us/…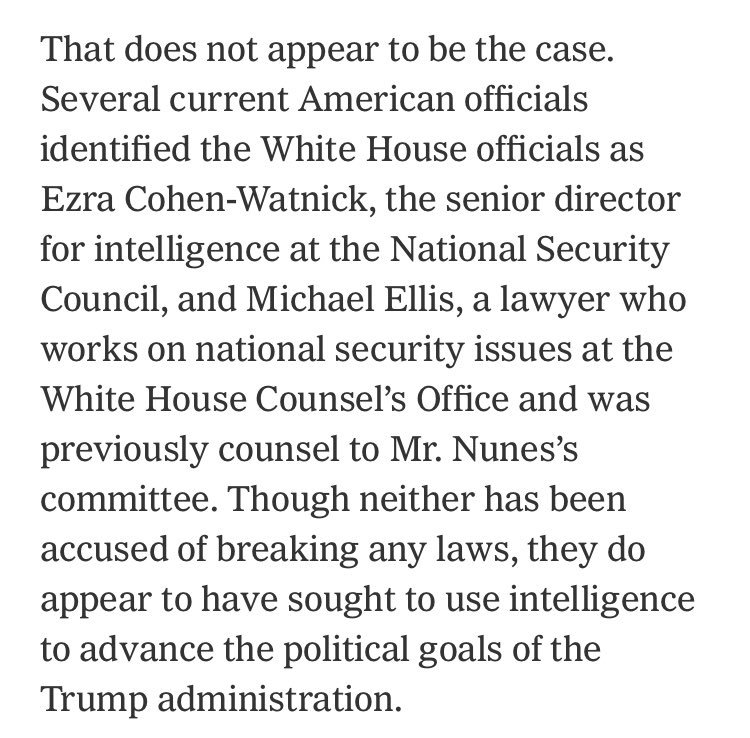 15/
So we've just drawn a straight line from the Flynn "lying" affair to the Nunes investigation that just resulted in criminal referrals delivered to AG Barr.
It's obvious looking in hindsight that these were purposeful acts by Trump's WH. This had to be Flynn's design.
16/
I want to also point out that there are some very interesting connections between the "retirement" of SS Director Callahan, the take over by new Director Alles, Trumps "wiretap" tweets and the info Nunes reviewed.
Credit on this aspect to
@langdaleca
.
/end