Truly the workhorse of the
#dermatologist
's medicine chest, topical steroids are great for a multitude of reasons:
- Delivery straight to the organ of interest
- Systemic absorption is usually minimal
- Can be cheap (usually)
What on skin exam best suggests steroids may work?

2/
So how do you pick the right steroid? First, we should discuss how they're categorized. There are 7 classes. Class 1 is strongest, class 7 is weakest (eg: what you can get OTC).
Thanks to
@NPF
for the steroid chart!
5/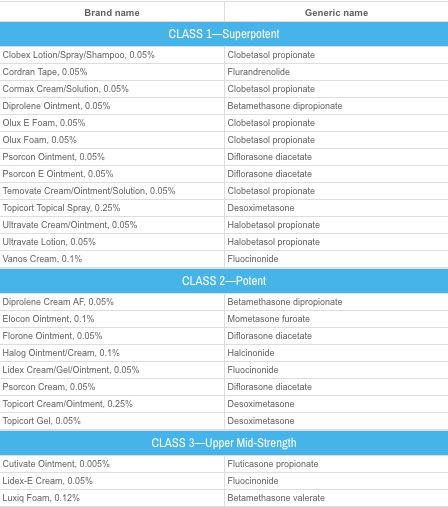 You might notice that some steroids appear in multiple categories (eg: betamethasone dipropionate is in both class 1 and class 2). That's because the strength of the steroid depends on the concentration AND the vehicle.
Ointments >> Creams >> Lotions
6/
Unfortunately, this is usually inversely related to comfort. Patients tend to like lotions >> creams >> ointments. That's because ointments feel like vaseline (and look like it too), whereas creams are white and "rub into" the skin easier.
7/
So which one should you choose? Another point to consider is the body site involved. A patient's face, armpits, & groin have the thinnest skin, whereas the scalp, hands, & feet have the thickest. So we generally will prescribe weaker steroids (class 6/7) for the thinner areas.
8/
A few examples of how I might prescribe these:

- Mild seborrheic dermatitis on the face: (class 6-7)
- Psoriasis in the scalp: (class 1-2)
- Full body rash, super symptomatic (class 1-2, avoiding the thin areas).
- Full body rash, annoying, but pt doing ok (class 3-4).

9/
In general, you can use all these steroids BID for 2 weeks max. After that, we advise a 2 week break. Another way to think about it is that you should NOT use it as much as you're using it. One area I might be more conservative are areas w/ thinner skin (eg: 1 week instead).
10/
So how do you realistically do this? My tip is to pick your favorite class 1-2, class 3-4, & class 6-7 steroid. That way, based on the exam, you always have one to use. My go to steroids:
Class 1-2: betamethasone dipropionate
Class 3-4: triamcinolone
Class 6-7: hydrocortisone
12/
These choices change depending on a variety of factors. If insurance covers one versus another, I'll choose the cheaper option. Also, if it's for a hair-bearing area, I'll use a lotion or a liquid/foam instead. If the patient needs A LOT, triamcinolone comes in a 1lb jar!
13/
A few other points:
- Try desoximetasone for patients that get allergies to other steroids. That one is in its own class (allergen wise), so it doesn't cross react.
- Don't get it in the eyes!
- There are steroids sparing agents that can be tried too. Ask a
#derm
for help!

14/
One more tip. Make sure you prescribe enough! If the rash is extensive, and you prescribe "1 tube," the pharmacy will dispense 15 g usually. That's less than a travel sized toothpaste! For full body, I'll use the 1lb jar (454 g), or at least 2 of the largest sized tubes!
15/
And don't forget - even infectious things may get better with topical steroids at first (because you're treating that inflammation). So be careful, and perhaps if it scales, always consider evaluating for a fungal process.
16/
To recap:
- Topical steroids are a great option for inflammatory skin disease.
- Avoid with suspected infections and if the process is too deep.
- Pick your favorite from each category (strong, medium, mild) of potency.
- Limit to BID x 2 weeks max. You need to take breaks!
17/
One last thing. I made a topical steroids cheat sheet, which I've shared with medicine residents. I've added it here in case you find it helpful!
Remember - these are generic tips for steroid use; every patient is different!
#dermatologists
are here to help!
18/18