20-second time lapse of frost probing. This method is used around the Arctic to monitor surface permafrost & thaw depth. Pros- it's simple & straightforward. Used by many. But there are a few major challenges to this approach. Anyone want to guess?
Yes to rocks! With this approach, we probe till we hit resistance & there is an art to it especially in discontinuous permafrost. We both listen & feel. "Thud"= hitting permafrost, "ping"= rock. We can hear mineral soil grit. But sometimes we can't tell what provides resistance.
Another challenge. The mounds & divets (hummocks & hollows) on the ground control surface elevation & thus within site thaw depth. Yr after yr, it's important to keep track of - or control for - microtopography. Here is
@fen_fatale
probing our APEX sites in Alaska.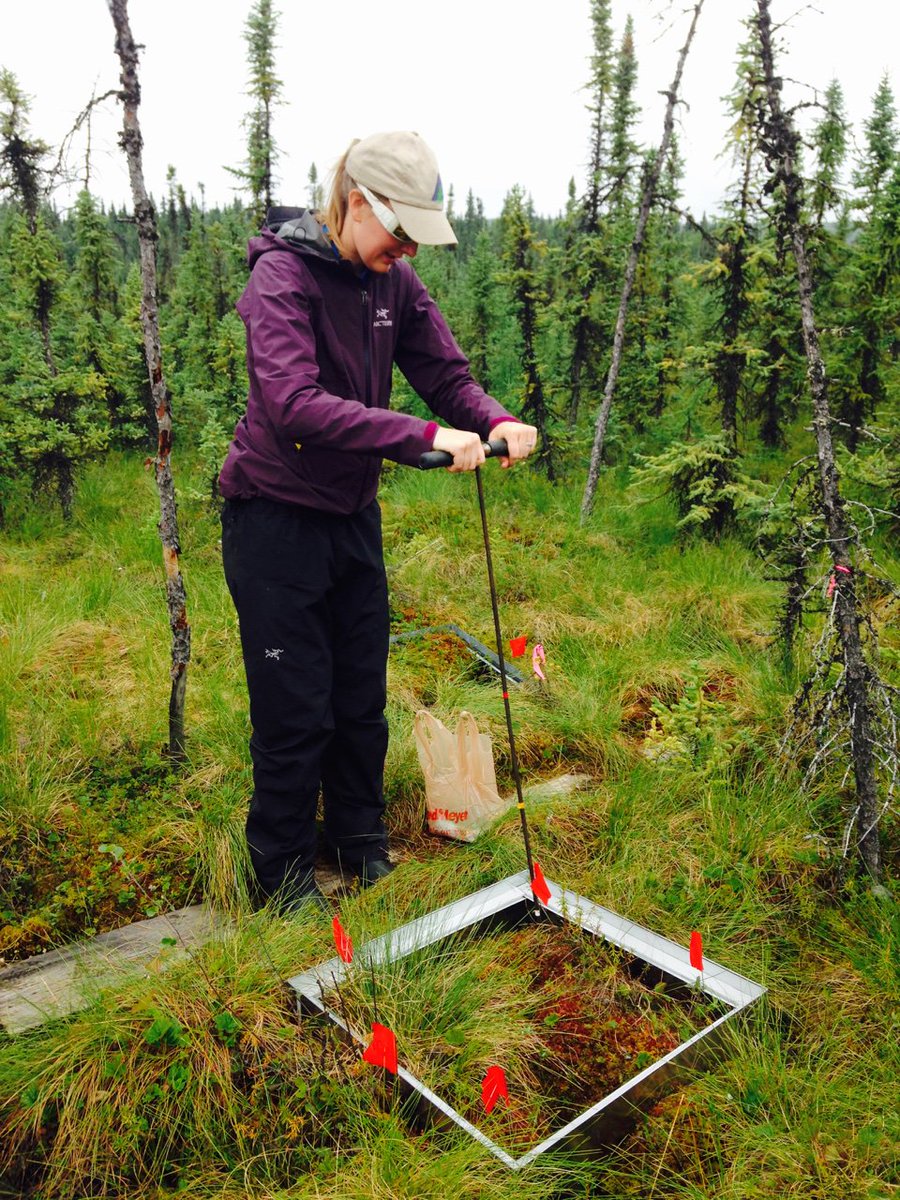 While dragging a 2 meter metal probe can get you all tangled up at times, there is another issue related to these thaw depth measurements that effect how we interpret the measurements. Any guessers?
Permafrost researchers have been assessing active layer thickness via frost probing for decades. Check out this description of the CALM network.
ipa.arcticportal.org/products/gtn-p…
The North has been warming more quickly than anywhere else in the planet. We know this will affect permafrost temperatures and trigger thaw. Can we see permafrost change using long-term monitoring? What do the data say?
In some sites, the numbers showed no increase in thaw depth despite warming. This can be because ecosystems (moss, peat) protect permafrost. But elsewhere thaw depth didn't change because the entire ground surface subsided. Thaw depth might not change even as the ground sinks!
Currently
@NASA
@NASA_ABoVE
is funding studies to determine whether we can monitor subsurface thaw depth using satellite data. This is a challenge but early results are promising. We most certainly can assess thermokarst from space, because it impacts surface water & vegetation.