2/

The association between HIV and hypergammaglobulinemia (↑Ig) has been noted since the first appearance of the new syndrome.
For example, in the original papers published in 1991, patients were noted to have ↑Ig.
The relevance wasn't yet clear.
ncbi.nlm.nih.gov/pubmed/6272109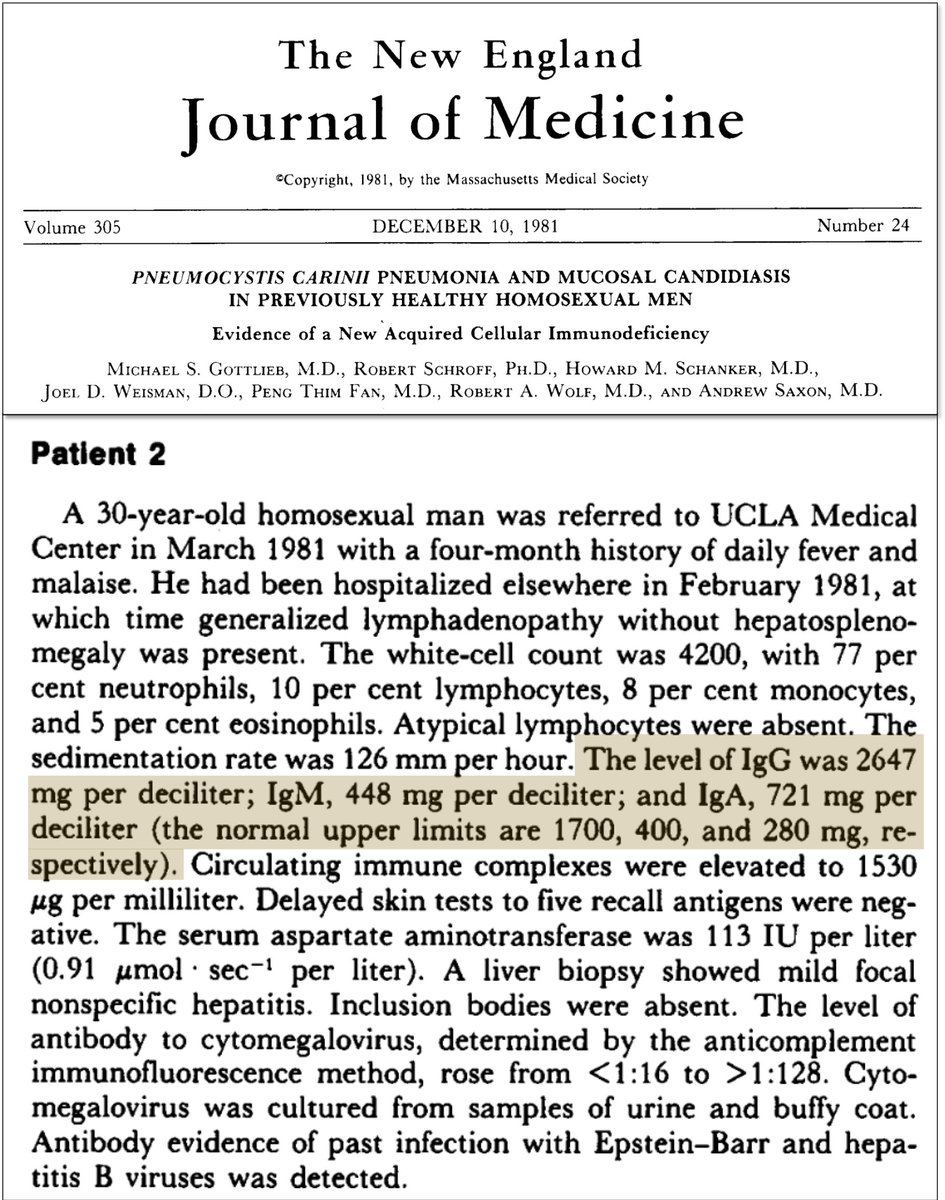 3/

Amazingly, in 1983 (before HIV was identified as the cause of AIDS), Lane et al used the presence of ↑Ig as a clue that the cause was a virus.
ncbi.nlm.nih.gov/pubmed/6224088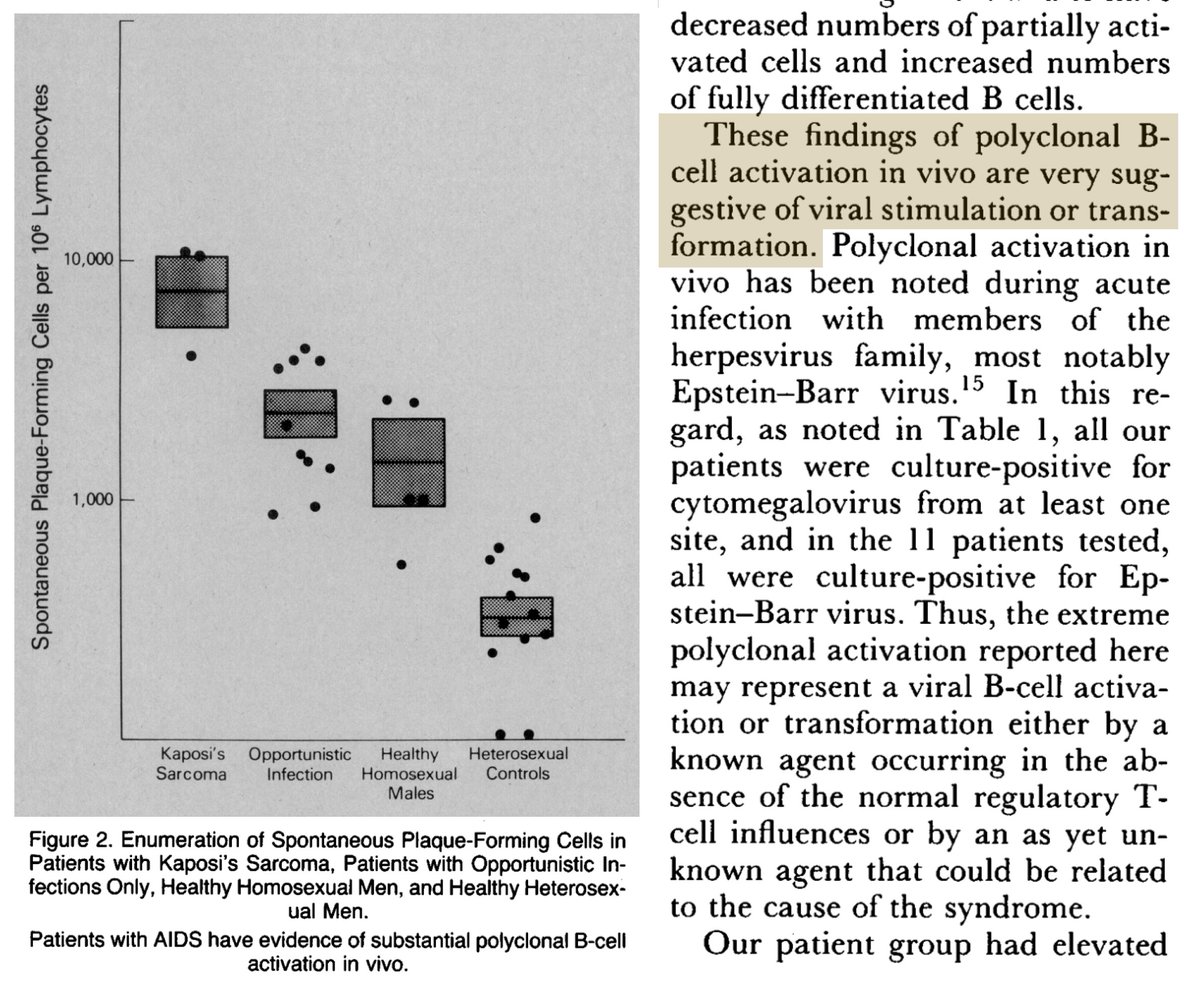 4/

An important clue came in 1986 when HIV was found to cause polyclonal activation of B-cells.
The result of this polyclonal activation: overproduction of immunoglobulin (and the protein gap).
ncbi.nlm.nih.gov/pubmed/3016902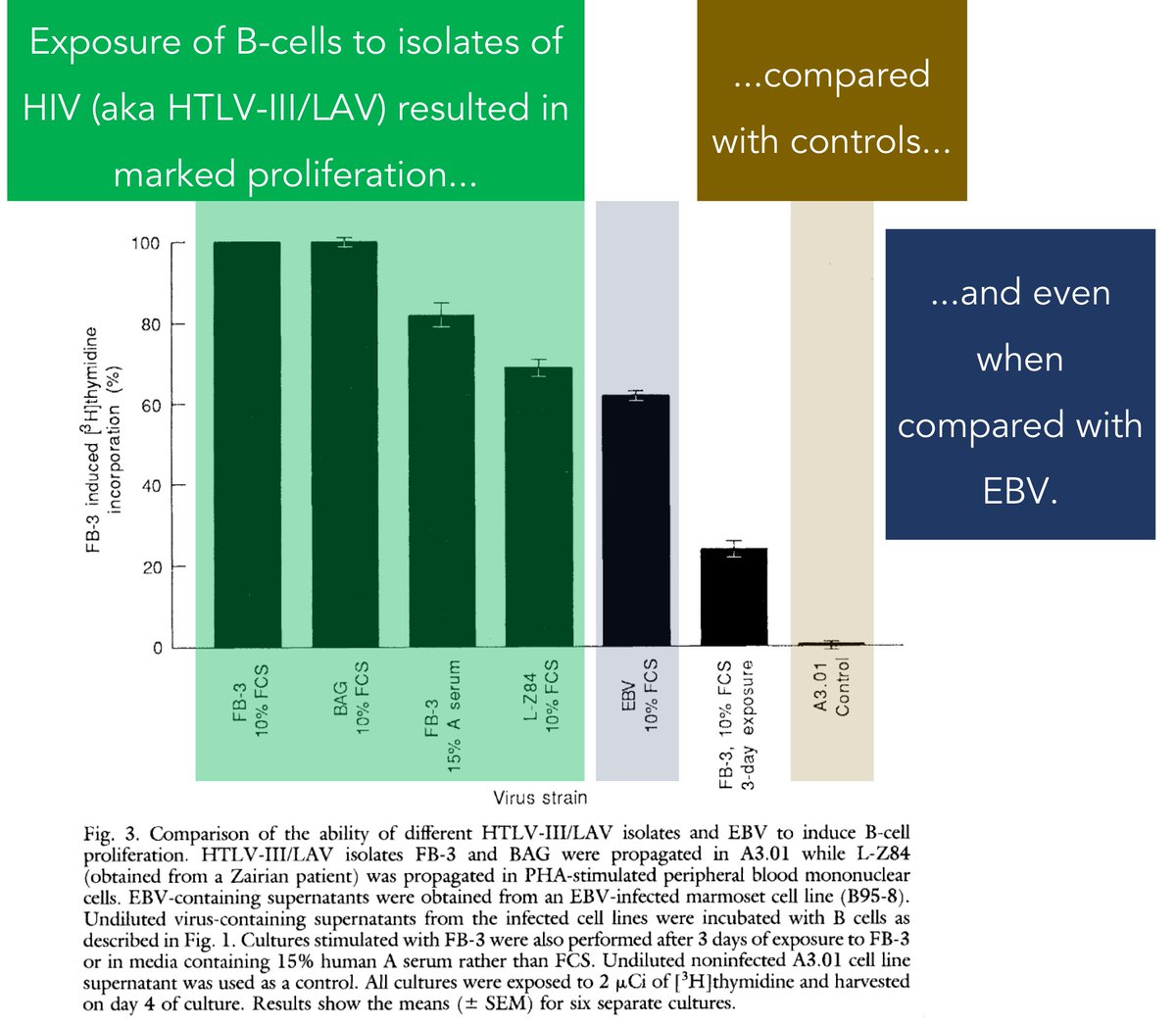 5/

Importantly, the B-cells that are producing immunoglobulin are naive B-cells.
There are a number of interesting observations that result from this.
ncbi.nlm.nih.gov/pubmed/14604962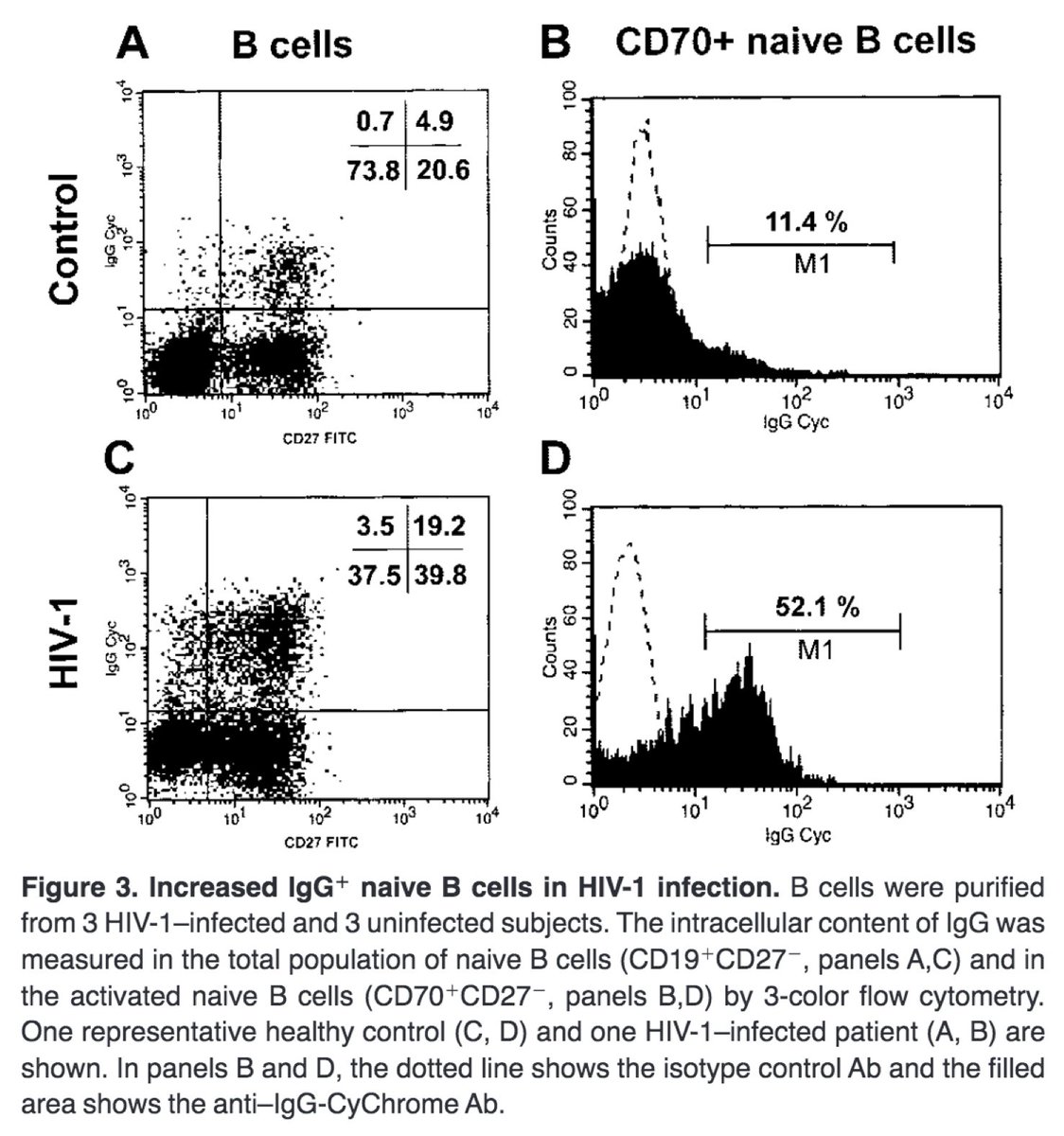 6/
Which of the following observations about HIV can be explained by what's been covered thus far (i.e., that polyclonal activation leads to naive B-cell overproduction of immunoglobulin)?
7/

As with hypergammaglobulinemia, ITP was identified as a condition associated with AIDS even before an infectious cause was identified.
It seems that polyclonal activation may result in production of an autoantibody directed against platelets.
ncbi.nlm.nih.gov/pubmed/6178333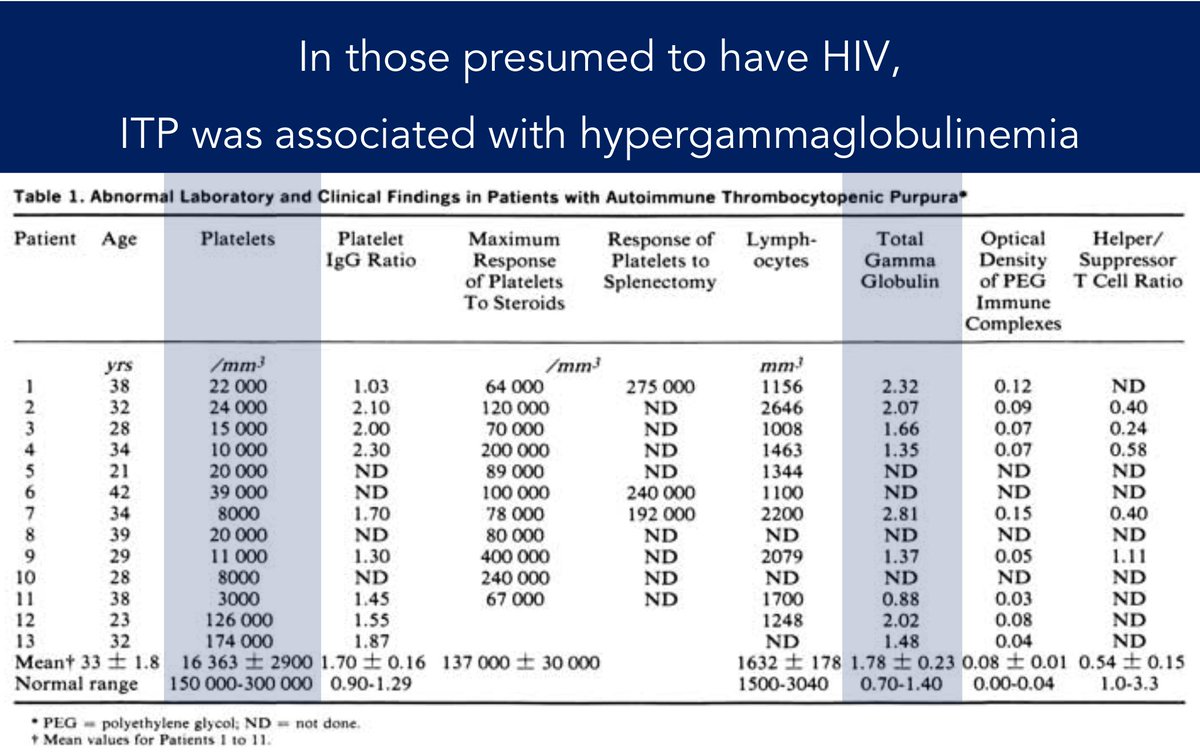 8/

Another connection: nearly all AIDS-defining lymphomas are of B-cell origin.
This surprised me. I had always equated HIV with T-cell abnormalities, not B-cell abnormalities.
ncbi.nlm.nih.gov/pubmed/29539283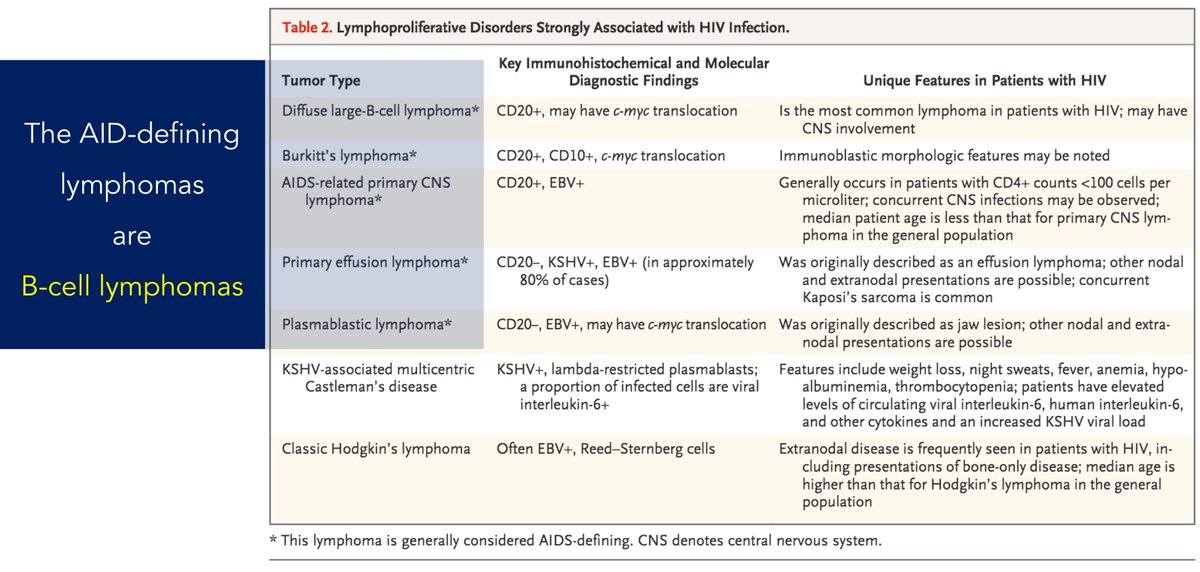 9/

There is evidence showing that B-cell hyperactivation (manifested by ↑Ig) is a driver of B-cell lymphoma in those with HIV.
For those with a globulin >5 g/dL...
...the OR for non-Hodgkin lymphoma is 3.02.
ncbi.nlm.nih.gov/pubmed/10708283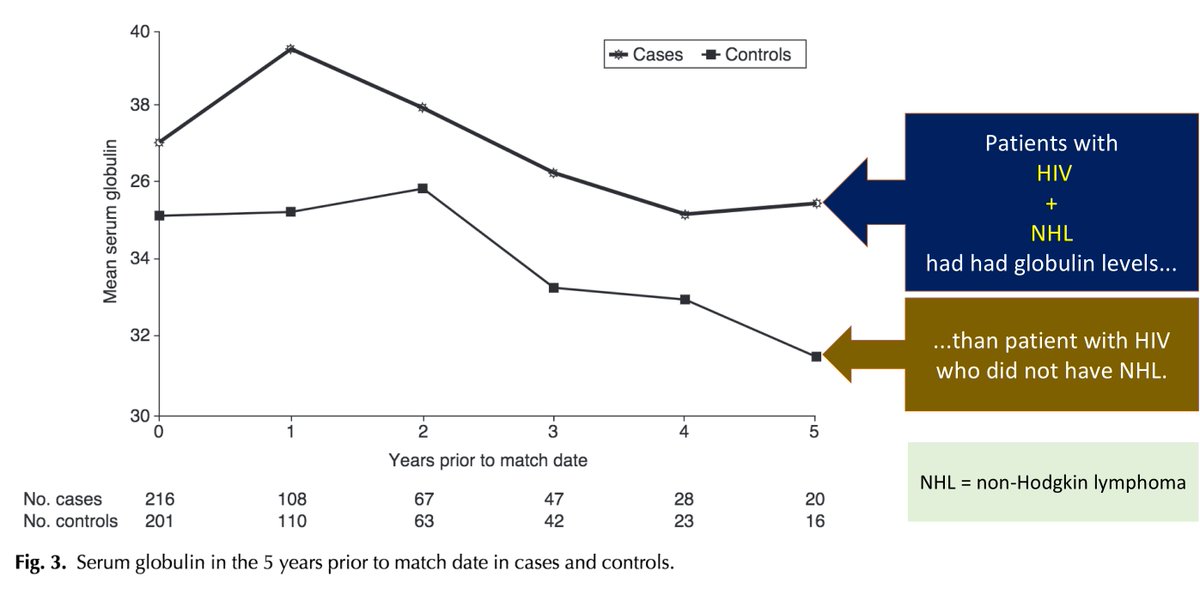 10/

While hyperactivation of naive B-cells may lead to ↑Ig and the resultant risk of ITP and B-cell lymphomas, it doesn't fully explain our paradox.
Why do patients with HIV have problems with humoral immunity (e.g., poor specific antibody response)?
ncbi.nlm.nih.gov/pubmed/14604962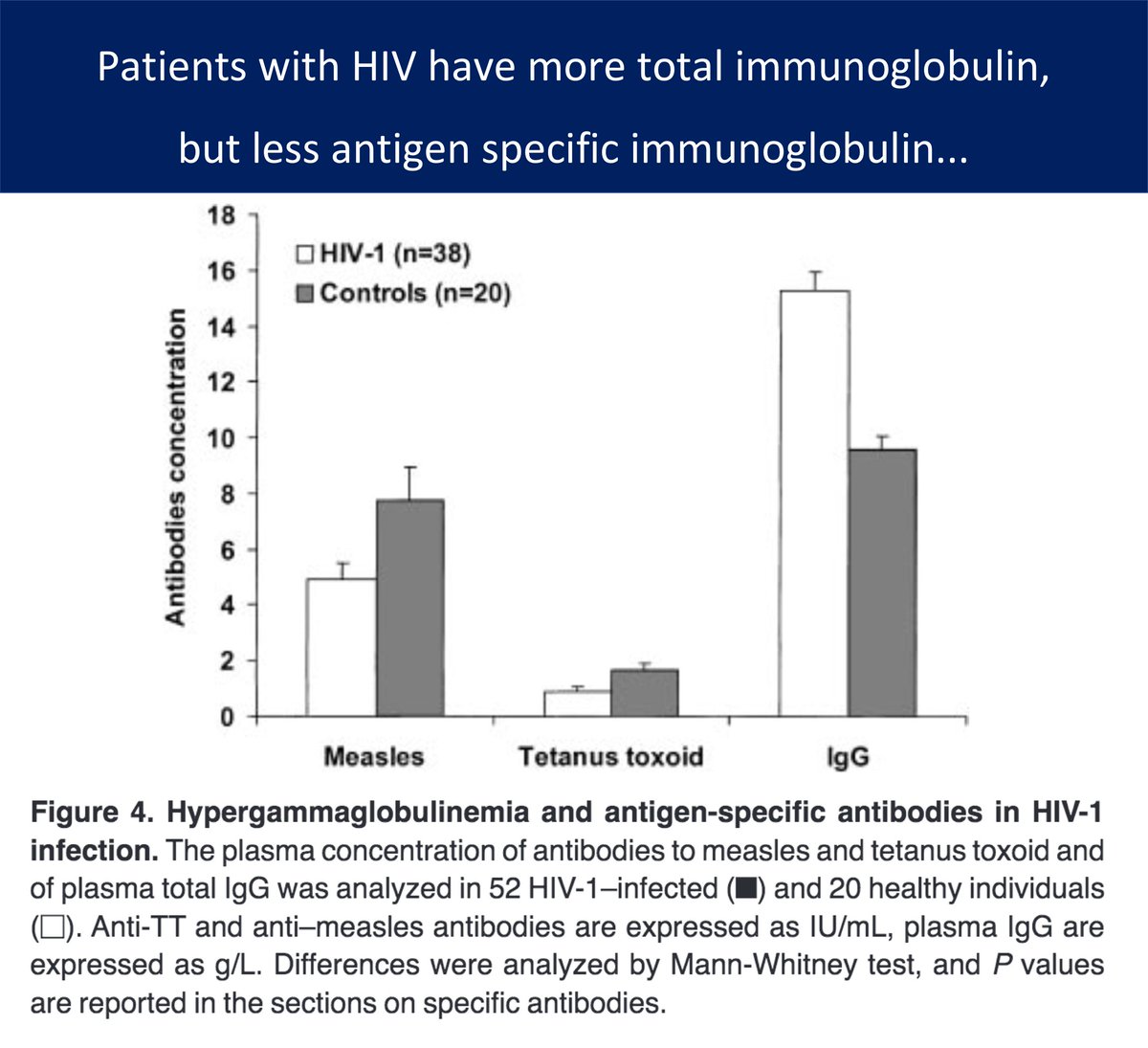 11/

The answer: in addition to activating naive B-cells, HIV also leads to a reduction in memory B-cells.
Result: an increase in non-specific response (e.g., ITP) and an increased risk of opportunistic infections.
ncbi.nlm.nih.gov/pubmed/11399977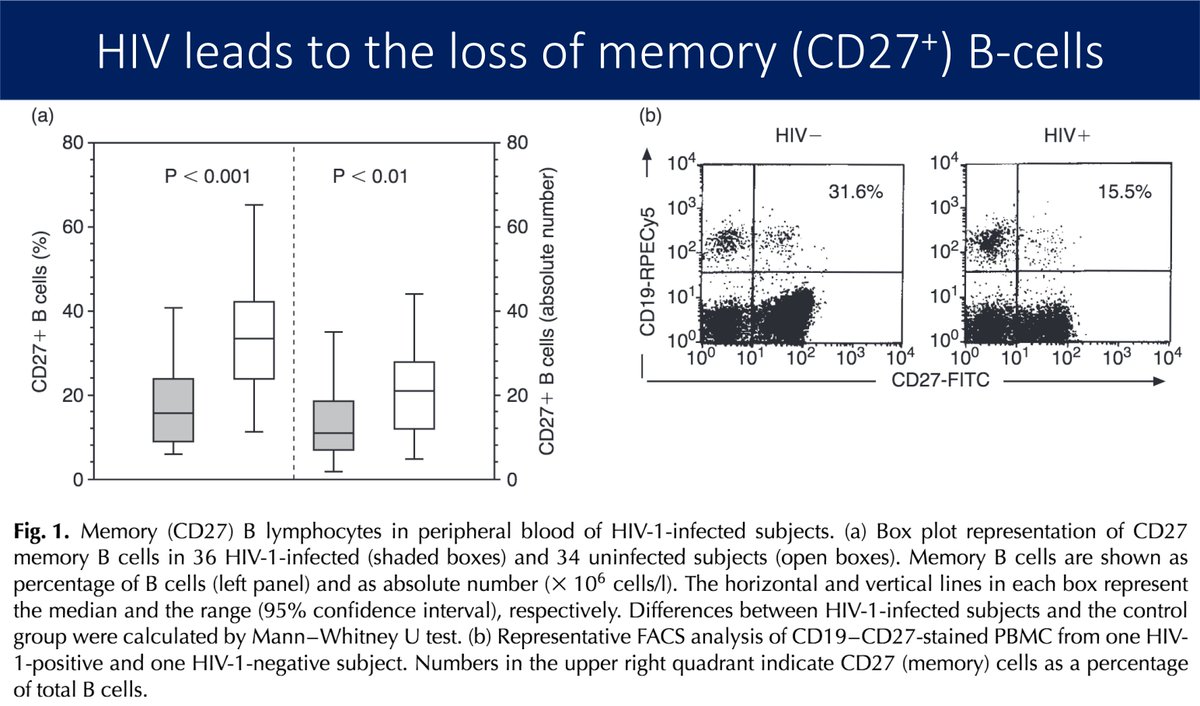 12/

Before summarizing, it's worth noting that HAART leads to a normalization of the total immunoglobulin levels and, as a result, normalization of the protein gap.
ncbi.nlm.nih.gov/pmc/articles/P…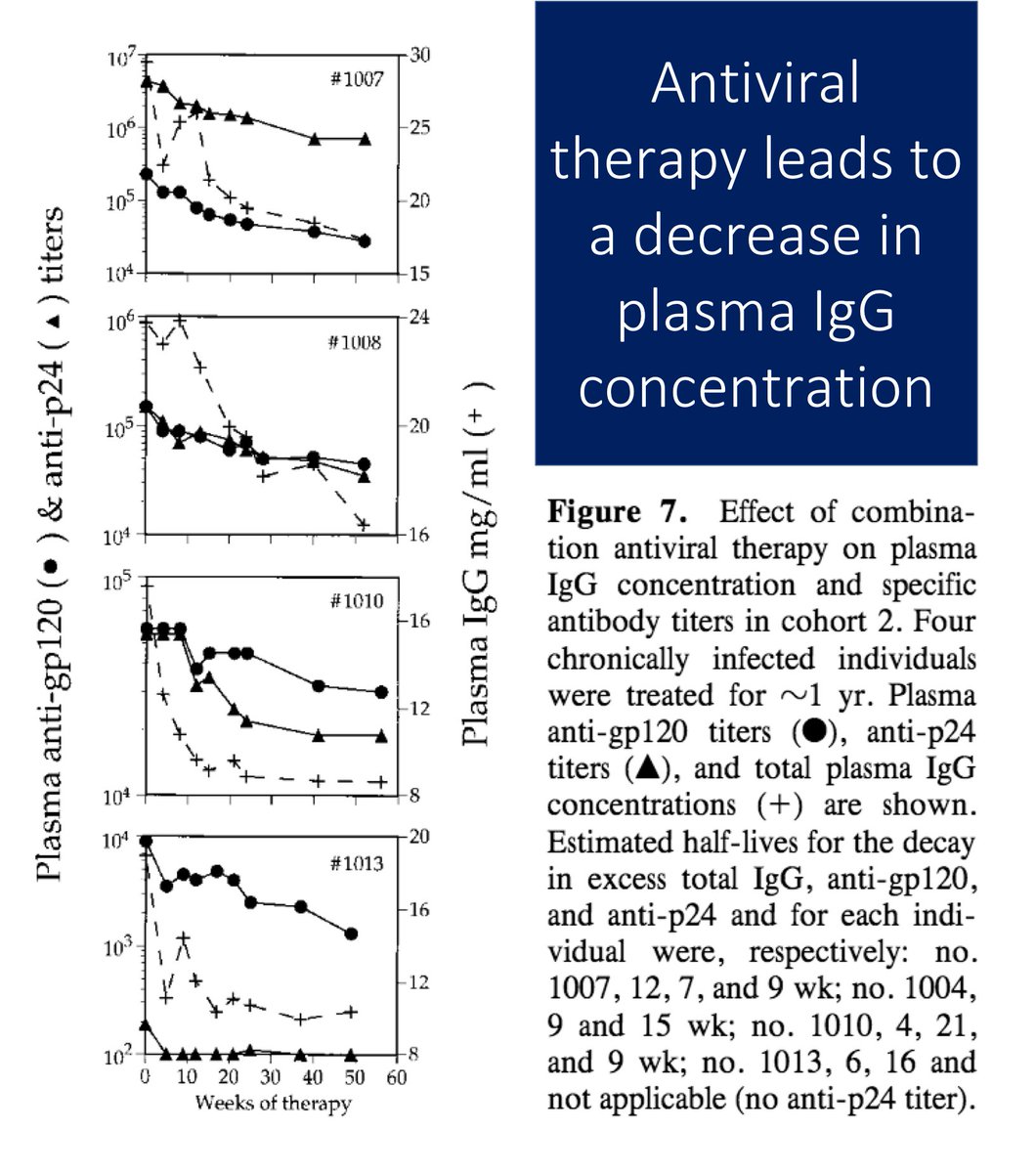 13/SUMMARY
💥Why does HIV cause an elevated protein gap?💥

➢HIV leads to polyclonal activation of B-cells, resulting in:
↑total Ig
↑risk of ITP
↑risk of B-cell lymphomas

➢HIV also leads to loss of memory B-cells, resulting in:
↓vaccine effectiveness
↑risk of infection