-- HEADSUP: BAD CRYPTOGRAPHY-JOURNALISM AHOY! --
@VICE
@motherboard
in Germany is spreading a lie that
@facebook
@messenger
end-to-end encrypted "secret conversations" can be decrypted; because the author
@ok_but_why
does not know what an HMAC is …
The piece runs thusly (via Google Translate) - and it conflates the abuse-reporting mechanism with the "Franking" mechanism that "Secret Conversations" uses, and which (a)
@matthew_d_green
helped design and (b) is fully documented.
I know, because I led the project.
#lol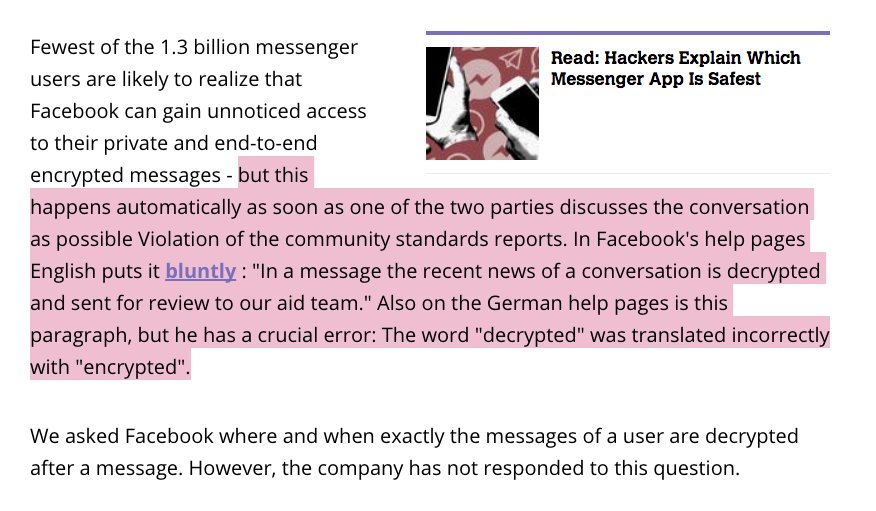 The Franking mechanism is designed to support abuse-reporting: if Alice receives abusive material (eg: unwanted dick-pics) then she may want to report them to Facebook... but (given the nature of E2E) how can we trust Alice not to make a bogus report to incriminate Bob?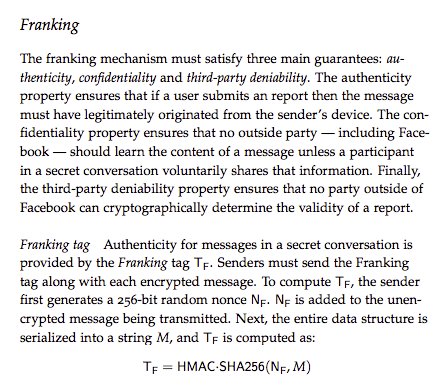 Enter "Franking" - the E2E message is HMACed as it travels through the Facebook infrastructure. If Alice reports the dick-pic to Facebook, the data which she sends to Facebook can validate that the packet traversed the FB infrastructure as-described / is not a Photoshop-job.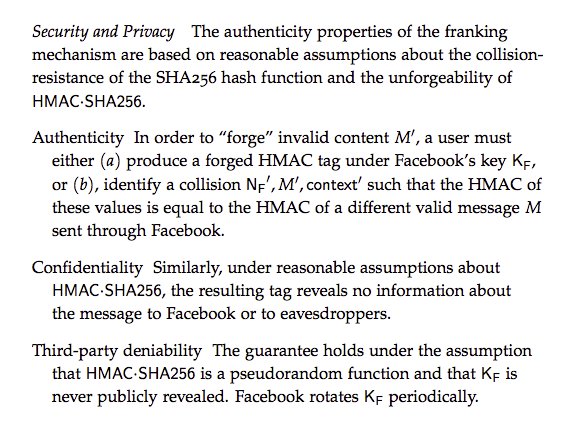 So, yeah, Facebook get to see the dick-pic which Alice received from Bob, IF-AND-ONLY-IF Alice actually reports that onwards to Facebook.
This is not exactly news,
@ok_but_why
.
This is all nicely explained in the white paper which one of my former colleagues authored — and which I helped review — but I suppose that the long words may have been a bit confusing. Or something.
fbnewsroomus.files.wordpress.com/2016/07/secret…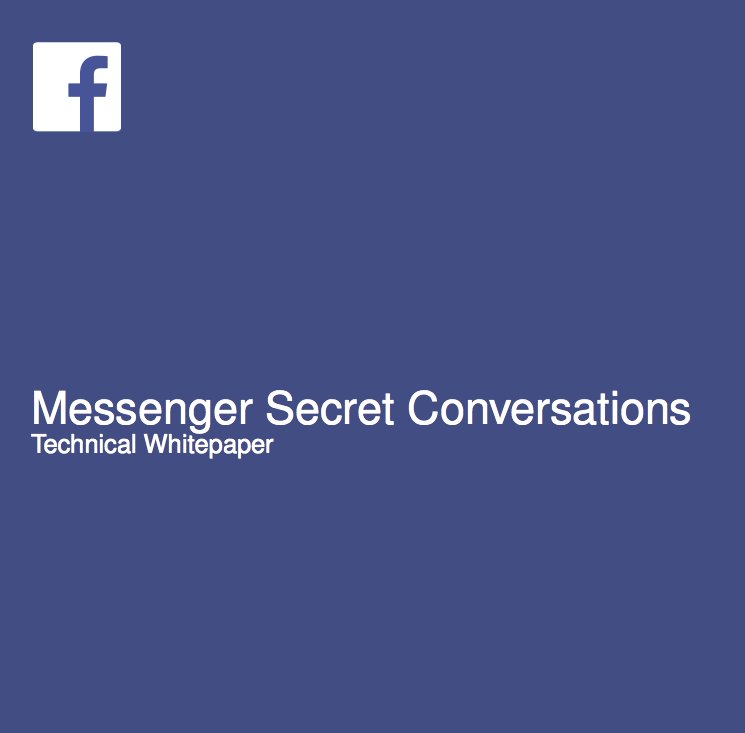 tl;dr -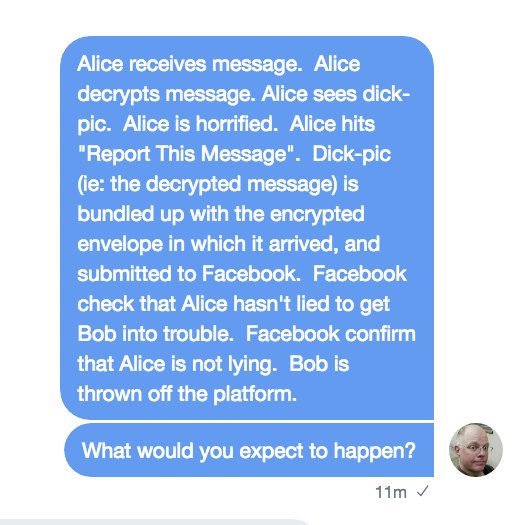 OMG LOOK! I HAVE DISCOVERED A BACKDOOR IN
#SIGNAL
SECURE MESSENGER! ALERT
@motherboard
@Motherboard_DE
@lorenzoFB
!!!
WITHOUT THE SENDER NOTICING, A RECIPIENT CAN 'FORWARD' A MESSAGE TO SOMEONE ELSE! THIS IS NOT A BACKDOOR IN THE STRICTEST TECHNICAL SENSE, BUT...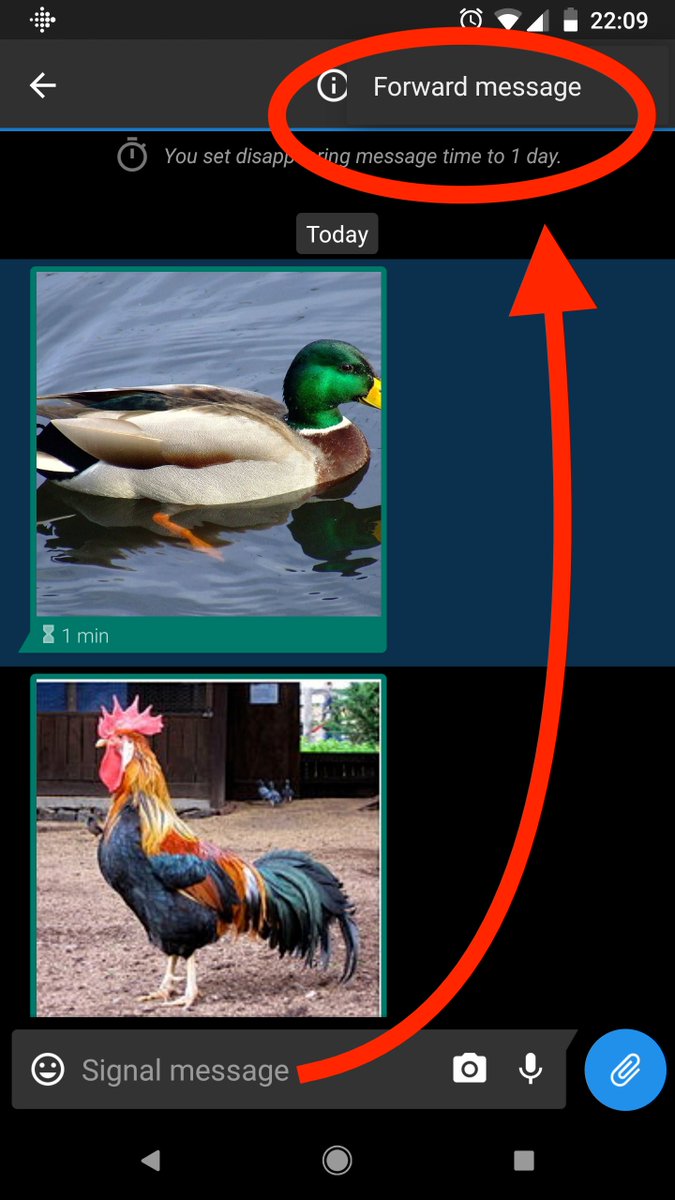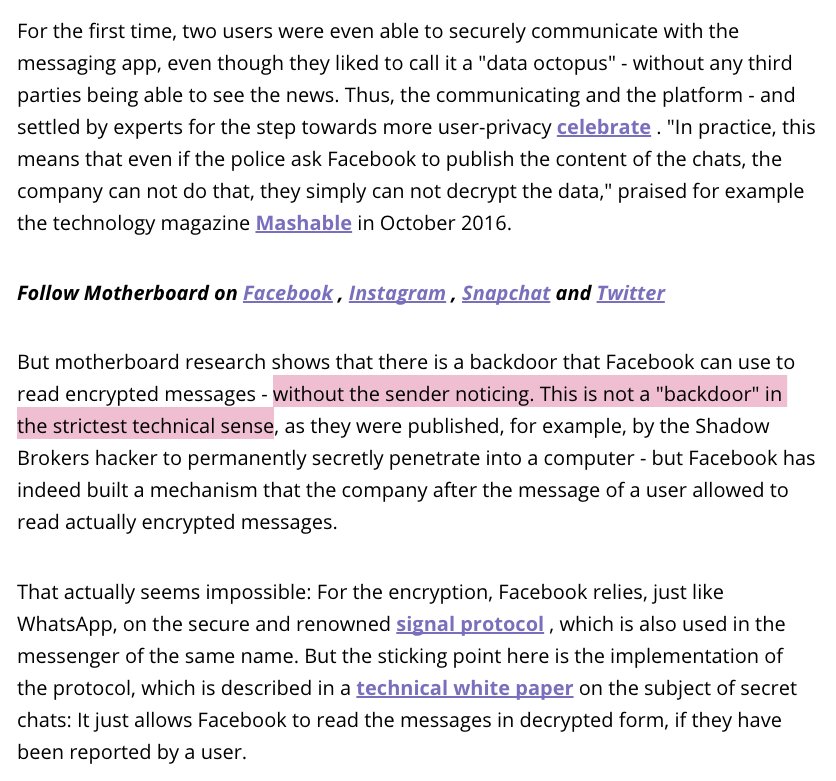 Let me to be 100% clear: this attempt by
@Motherboard_DE
to attempt to brand the ability to forward/report an abusive message to Facebook, including proof of authorship, IS NOT THE ANTICAPITALIST-ANTISURVEILLANCE SECURITY HORROR STORY THAT THEY WERE LOOKING FOR.
In truth: franking is a really good idea, and a neat crypto-trick to provide blinded proof of authorship of an abusive message, when the RECIPIENT CHOOSES TO FORWARD IT as evidence of badness, exploitation, etc.
I am horrified that
@Motherboard_DE
have apparently retrenched into a Guardianesque "Well, it's not a traditional backdoor, but if you squint a little and redefine 'backdoor' in line with what makes us look less clueless and spiteful…"-approach:

This shallowness of reportage — apparently in pursuit of an equally shallow and facile agenda — is a stain on the otherwise respectable history of reporting from
@VICE
@motherboard
; and it deserves to be loudly called-out until repaired.