1/
This is just a note to say Erik Prince a) is known to secretly lobby Trump, b) is a Trump "shadow advisor," c) had a secret Russia meeting on Trump's behalf, d) is a Russia-probe witness, e) said the following to Congress (apropos of Trump's sudden, bizarre aluminum tariff):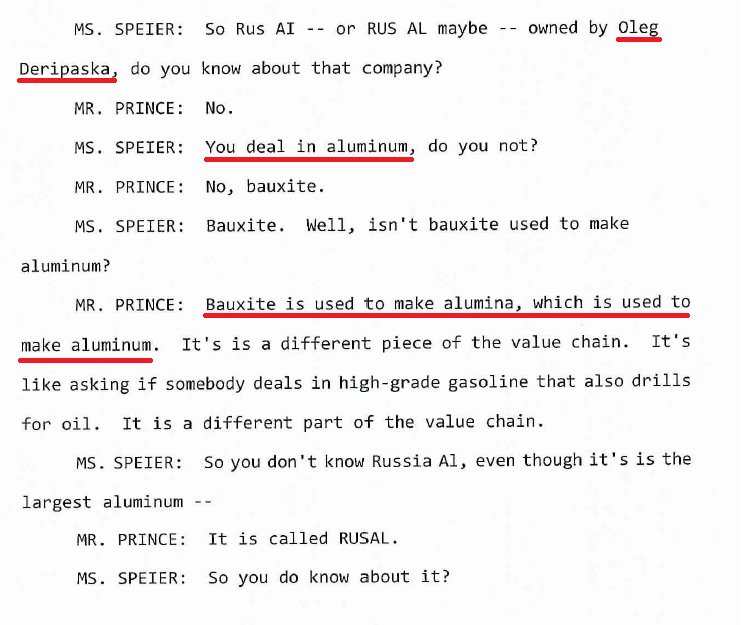 2/
Is there a connection? Who knows. But I thought someone should register this. Prince says he talked aluminum on his secret trip to the UAE; the UAE is one of four nations that plotted to exploit Kushner. If you dealt in bauxite, and knew Trump's tariff was coming beforehand...
3/
I'm activated by the new tariffs because Trump is "going rogue"—taking an action no one is publicly advising, so you begin to ask who advises him privately, who could benefit from insider trading (as it were), who's in aluminum, and for our purposes, it's Deripaska and Prince.
4/
Given Trump has implied Manafort can take him down (per NBC), Manafort owes Deripaska money, theoretically Deripaska is dangerous to Trump, Manafort offered insider Trump info to Deripaska during the campaign—well, you can see why I say someone must at least register all this.
5/
Russia and the UAE are two of the three largest aluminum importers to the U.S., so this hurts them. That said, I don't doubt that if you're a Russian aluminum magnate or a bauxite-slinger you could turn foreknowledge of the timing of this sudden announcement to your *benefit*.
6/
Prince admits he talked aluminum with the UAE on a secret trip to the Seychelles during which we know he was acting as a Trump envoy—on the same trip he met an RDIF Russian who naturally would've wanted to talk aluminum with Prince also. Now we have a surprise aluminum tariff.
7/
These events may be unconnected, but I at least hope that some investigator somewhere is seeing these connections and at least considering how the Trump-Russia investigation could extend to unusual policy decisions made by a president with a lot of potential enemies right now.
8/
The news the UAE—interested in talking aluminum with a Trump envoy/advisor as part of setting up and hosting a secret Trump-Russia meetup—plotted and acted to exploit Kushner's weaknesses (and Kushner himself had a clandestine meeting with Putin's banker) adds a new dimension.
9/
The other thing to note is even if you look at it from a different view—and say instead anyone could've known this was coming because Trump discussed it on the campaign—you'll note that the aluminum tariff that hurts Russian aluminum magnates is a fraction of the steel tariff.
10/
Is it worth investigating if the UAE used brokering a secret Trump-Russia meeting as a chance to lobby Trump for a lower aluminum tariff—or that Russia so lobbied—in advance of Trump inevitably (in this view) announcing new tariffs on aluminum and steel? Yes, it sure is. /end