Hey
#IDAHO
! Primaries on May 15th! A chance to keep the
#BlueWave2018
going!
#BlueWaveID
!
Here's a THREAD of ALL your Democratic Candidates! Choose yours and VOTE
#ID01
#ID02
Governor, Secretaries of State
Registration Deadline April 20, 2018
Register here
apps.idahovotes.gov/OnlineVoterReg…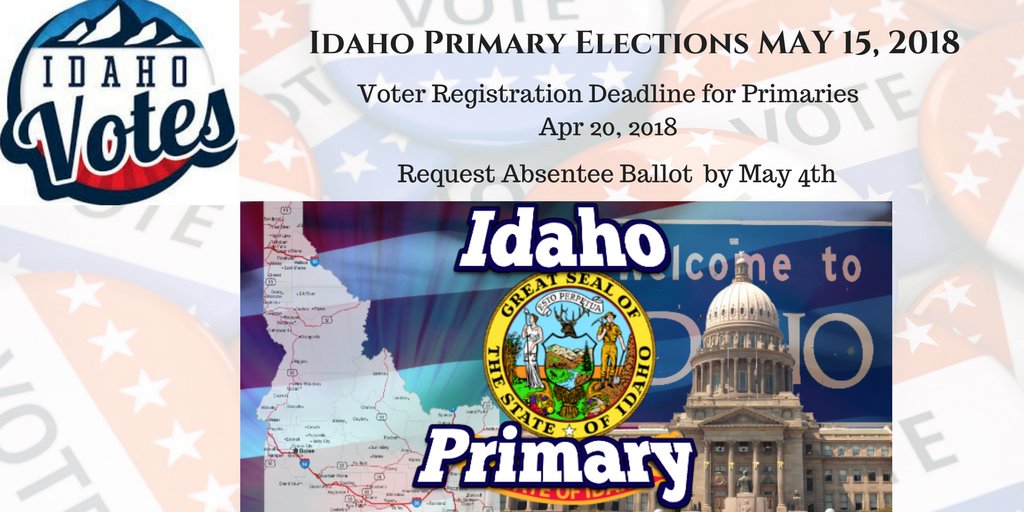 IDAHO
Register here by April 20
apps.idahovotes.gov/OnlineVoterReg…
Voter Registration Form:
idahovotes.gov/media/voter_re…
*Also Election Day Registration on May 15
Check if you're Registered:
apps.idahovotes.gov/YourPollingPla…
Where to Vote
iwillvote.com/locate
Overseas? Military?
fvap.gov/guide/chapter2…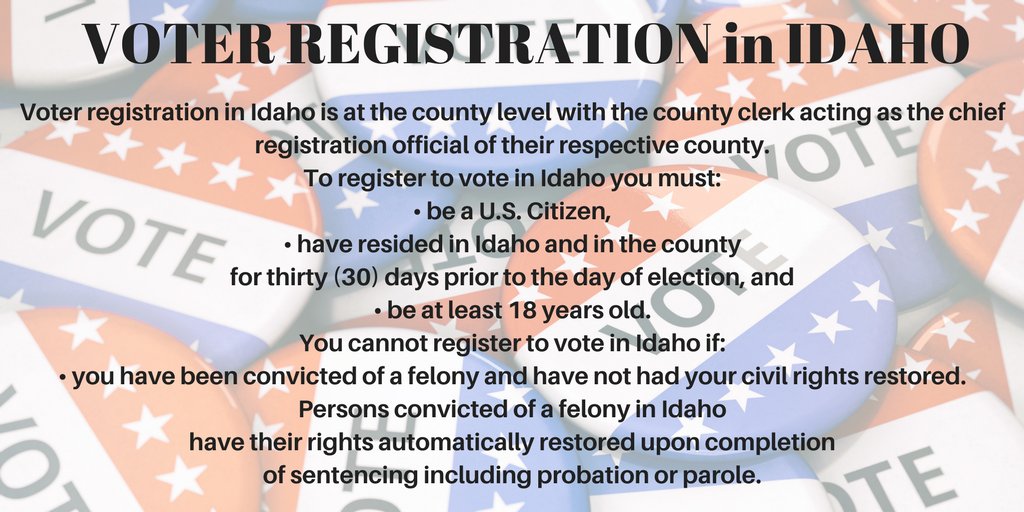 In order to vote in Idaho, voters must present valid photo identification.
Need help getting an ID? Contact
@SpreadTheVoteUS
here:
spreadthevote.org/vote
Or Text them here: 323-694-0738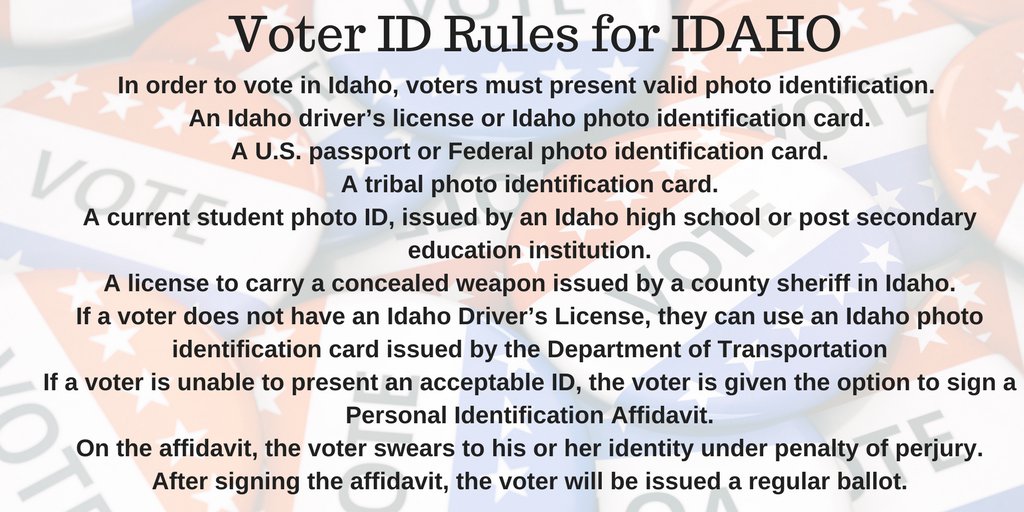 ABSENTEE VOTING in IDAHO
Ballot Request Deadline: May 4, 2018
Ballot Return Deadline: By May 15, 2018
Absentee Registration and/or Application for Absentee Ballot must be applied for by Applicant to County Clerk in County of residence.
Application here:
idahovotes.gov/media/2018_Pri…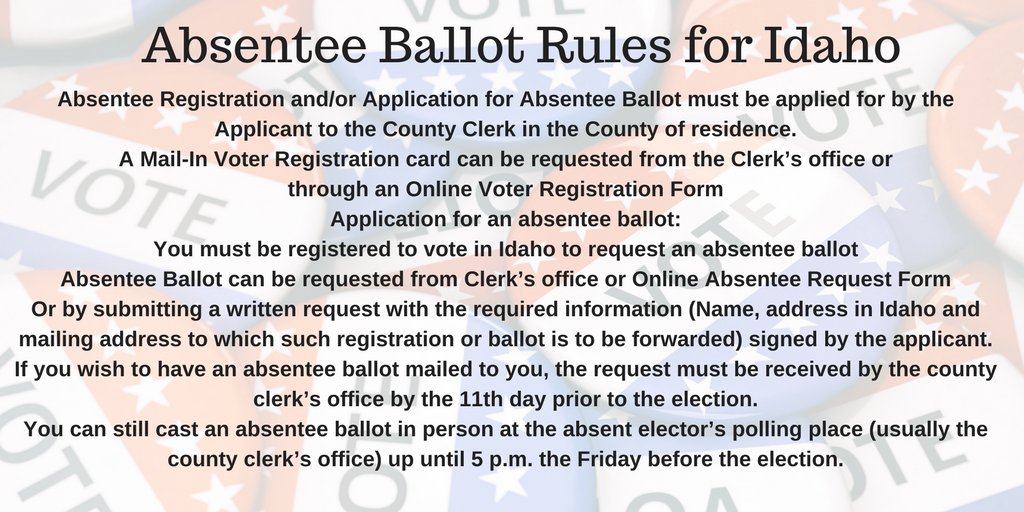 EARLY VOTING
Early Voting/In-Person Absentee Voting availability & locations varies by county. Contact County Clerk's Office for dates & locations
County Clerks:
idahovotes.gov/county-clerks/
Early voting often ends on Friday before Election Day
So, May 11, 2018
idahovotes.gov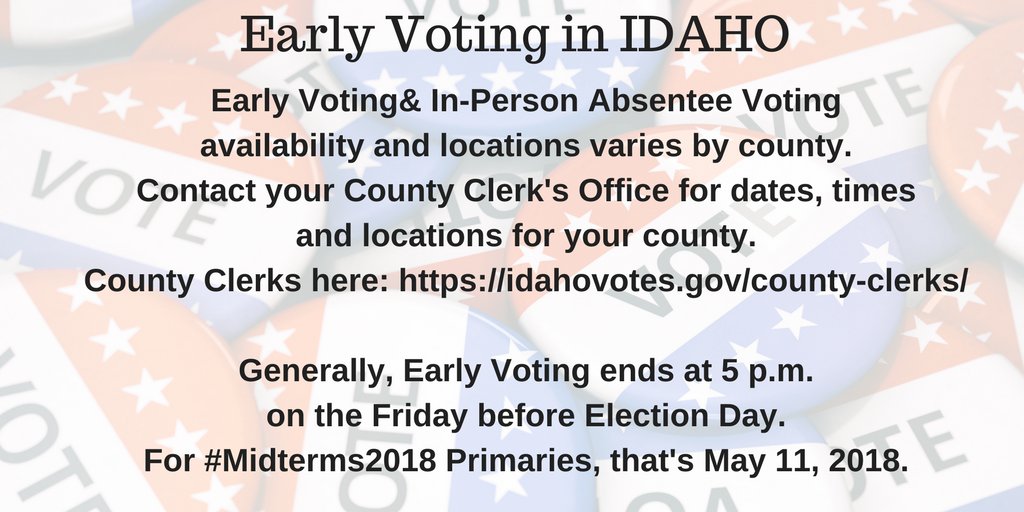 Democratic Candidates for Idaho Primaries
#ID01
#ID1
(GOP Incumbent Raúl Labrador is leaving to run for other office.)
Christina McNeil,
linkedin.com/in/cristina-mc…
Michael W. Smith
@MichaelSmith4ID
facebook.com/MichaelWSmith2…
James Vandermaas
@votevandermaas
votevandermaas.com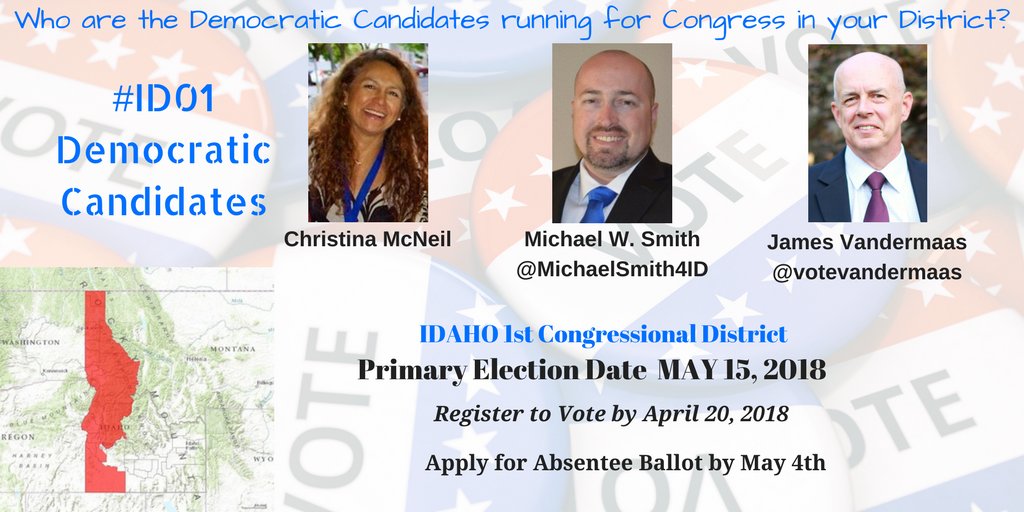 Democratic Candidates for Idaho Primaries
#ID02
#ID2
vs GOP Incumbent Mike Simpson
Peter Rickards. Podiatrist, Anti-Nuclear Activist
peterforidaho.com
@1stungun
Aaron Swisher, Economist & Financial Analyst
swisherforidaho.com
@SwisherforIdaho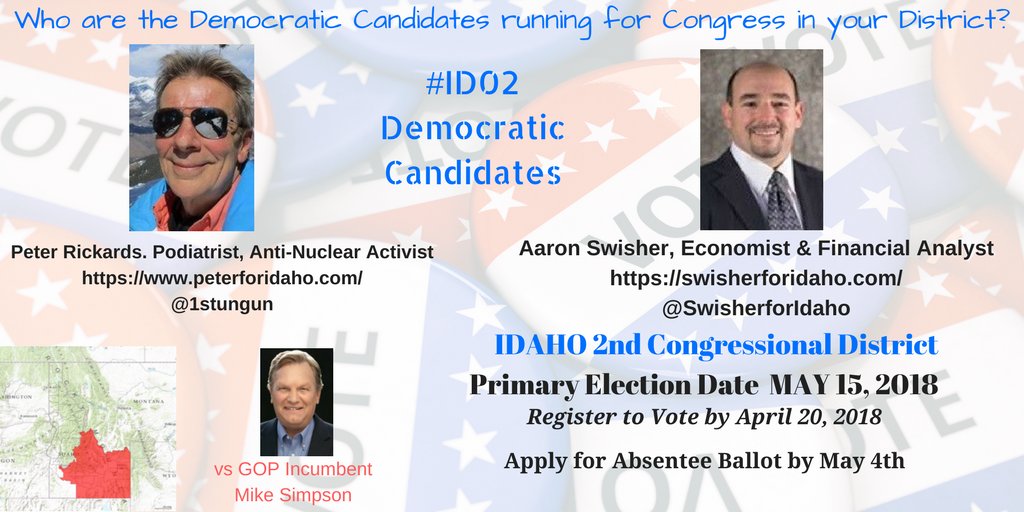 Democratic Candidates for GOVERNOR in Idaho
GOP Butch Otter is retiring in 2018.
A.J. Balukoff
ajforgovernor.com
Peter Dill
@PeterDill4Idaho
peterdillforgovernor.com
Paulette Jordan
@PauletteEJordan
jordanforgovernor.com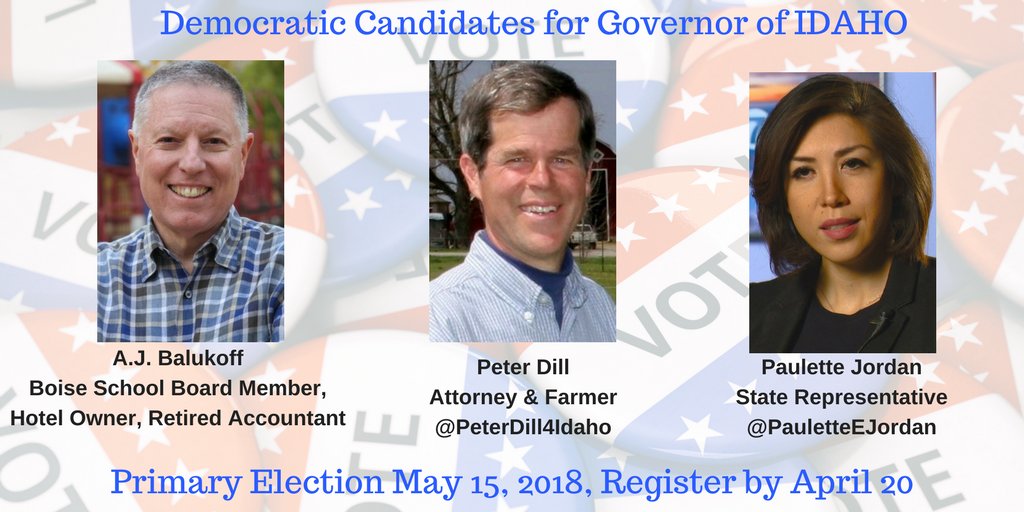 Democratic Candidates for LIEUTENTANT GOVERNOR in Idaho Primaries
(GOP Incumbent Brad Little)
Kristin Collum, Software Project Manager & Army Veteran
linkedin.com/in/kristincoll…
Jim Fabe, Dentist & Veteran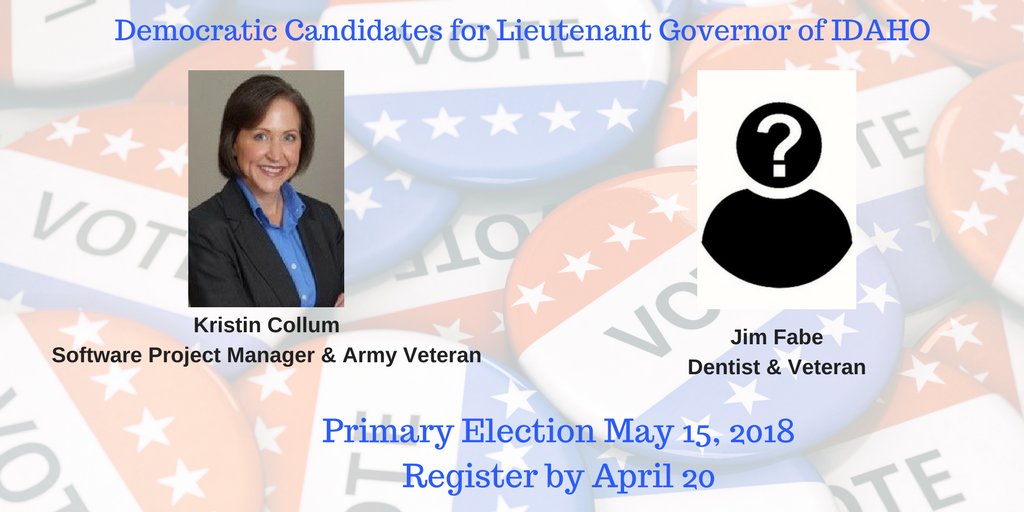 Democratic Candidates for IDAHO Secretary of State
(GOP Incumbent Lawrence Denney)
JP Chastain, Psychology & Marketing
campaignforchastain.com
@Chastain4IDSOS
Jill Humble, Nursing College Dean, '14 Gov Candidate & '13 City Council Candidate
linkedin.com/in/jill-humble…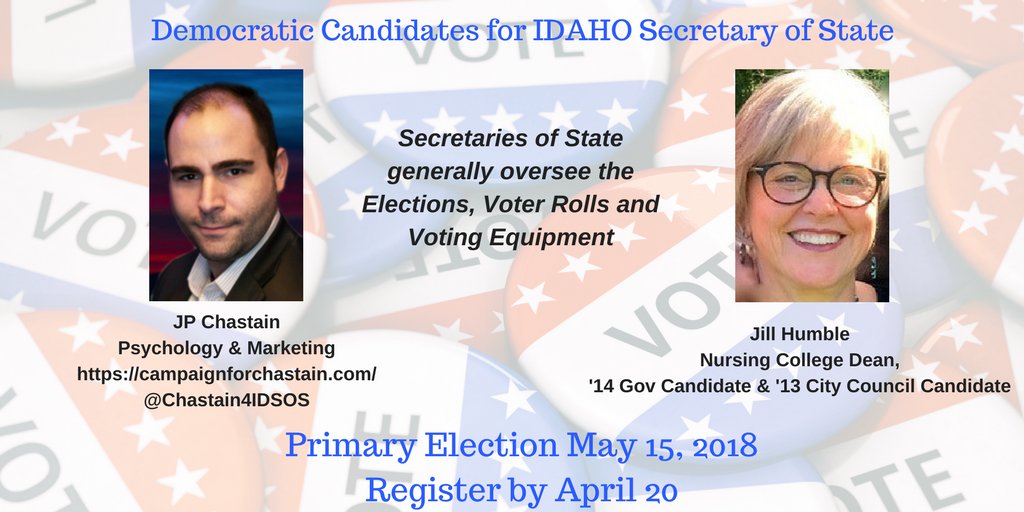 ATTORNEY GENERAL
Democratic Candidate for IDAHO Attorney General
Bruce Bistline, Attorney & '14 Nominee