THREAD: I've spent the last few weeks chatting with people about the upcoming
#midterm
elections. I'd like to share some of what I've heard and why this gives me so much hope.🇺🇸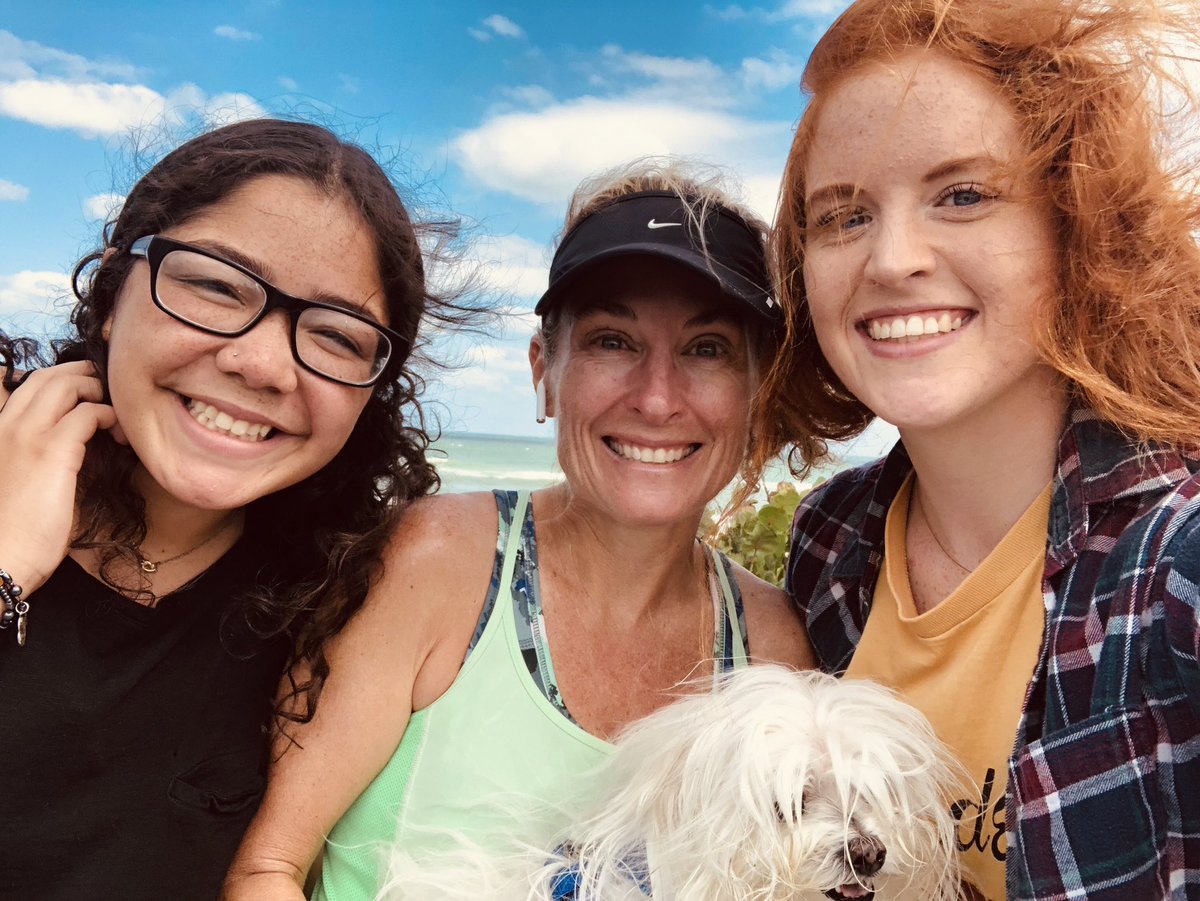 This brings me to the young women whom I met recently. Our conversation started (as usual) with how cute my dogs are (please, don't argue!🤣).

But soon thereafter, our conversation turned to politics (is this any surprise, knowing me?).


After listening to them describe a bit about themselves, I couldn't help but ask: "Are you planning to vote?"

What happened next astonished me.


"Amy" immediately responded with an infectious positivity: "YES, it's my first election, and I can't wait to vote!"

Internally, I was pleasantly surprised, because (as an uber-nerd) I've rarely met young adults so PSYCHED to vote.

Then, the story got even better.💙
Amy said she grew up in an "extremely conservative" home. She shared one particular memory of driving with her dad, while listening to right-wing talk radio.

Her: I used to think that he was so smart.

Me: Why?

Her: Because he knew all the talking points on the radio...
(continued) Her: I realized that he (my dad) didn't know everything.

Me: Why not?

Her: I realized at age 14 that I was a feminist.

Me (thinking WHAT? This is amazing): What made you realize this?

Her: A camp at Liberty University.😳

Me: Say what⁉️


Amy told me that at her evangelical Christian camp at the very conservative Liberty University, she met young Christians from all over the world: "They opened my eyes."

"They were so diverse and had so many different opinions. It was really eye-opening."

Me: (WOW)
She said that this camp experience "made me a feminist."

Me: How's that?

Her: I believe in equality. And I realized that what I was hearing at home was NOT that. I think that everyone should have opportunity."

Me: (I'm near tears of joy): So then, what?
Her: Well, I'm super excited to vote in my first election!
Me: So what are the biggest issues that motivate you to vote?
Her: I think that everyone deserves a chance, so
#equality
. And I'm a huge feminist, so that's a big part of it.
I ask her friend Julie, who also grew up in a conservative household: do you plan to vote?

Before Julie can answer, Amy interjects: YES, she's going to vote. We will vote together!

Julie nods: Yes, I plan to vote (she confirms that she's registered!). I'm excited.
I braved myself and asked: How will you vote?

Both: (giggles) We are voting for Democrats!

Me: Why?

Amy: Because we believe in fairness. In justice. We want everyone to be treated equally. To have a chance.
Me: How do your families feel about this?

They look at each other, steel themselves. And then, the quieter of the two ("Julie") said: I don't care. It's MY vote!

Her friend Amy high-fives her.🙌🏼
They then volunteered that they plan to bring several friends with them to vote — all NEW voters.🤗🇺🇸
They then shared more reasons that they will
#VoteBlue
: equality, opportunity, healthcare, education, decency....
I share their story, because I've met with dozens of other young Floridians, who have a very similar perspective on the NEED TO VOTE.🇺🇸
I've met with hairdressers, waitresses, retail clerks, grocery staff, outdoor laborers, all YOUNG Floridians...and I've been overwhelmed with their commitment to voting. Many already have voted, and others already have a PLAN.💙
Their stories are all different, yet share a common theme: these young Americans crave "decency" and "equality." Overwhelmingly, they tell me that they love our country *because* it's a place where everyone has a chance.

They just want an equal shot.
None knew me, let alone my political persuasions, but ALL of them said that they were voting for Democrats.💙
This wasn't a
#poll
, but it is consistent with polls that show that younger voters lean VERY Democratic.
My point is that finally, these younger voters are VOTING‼️
I wasn't conducting a
#poll
...rather, I was just speaking with people whom I've met in everyday life. Regardless, the national numbers in early voting show that younger voters are SHOWING UP‼️🇺🇸
Just today, my waiter told me that he scheduled Tuesday off work to
#vote
. He and several friend are going together.
Why, I asked?
Him: We can't stand this. The meanness, the lies. We want better. Our rights are being taking away.
(It's his first election.)
The trends that I see are reinforced by REAL voter turnout data. In MULTIPLE states, younger voters are turning out in droves‼️🤗


So let's keep pushing...EVERY
#vote
matters. Make sure that you vote, and call/text 10 people to make sure that they vote, and so on...
We the People have the power to make change. It's OUR country. Let's vote like it matters. Because I assure you: your vote DOES matter‼️🇺🇸