's interview in today's DINAMALAR, on the state of HINDU temples and it's properties in TN under
#hrce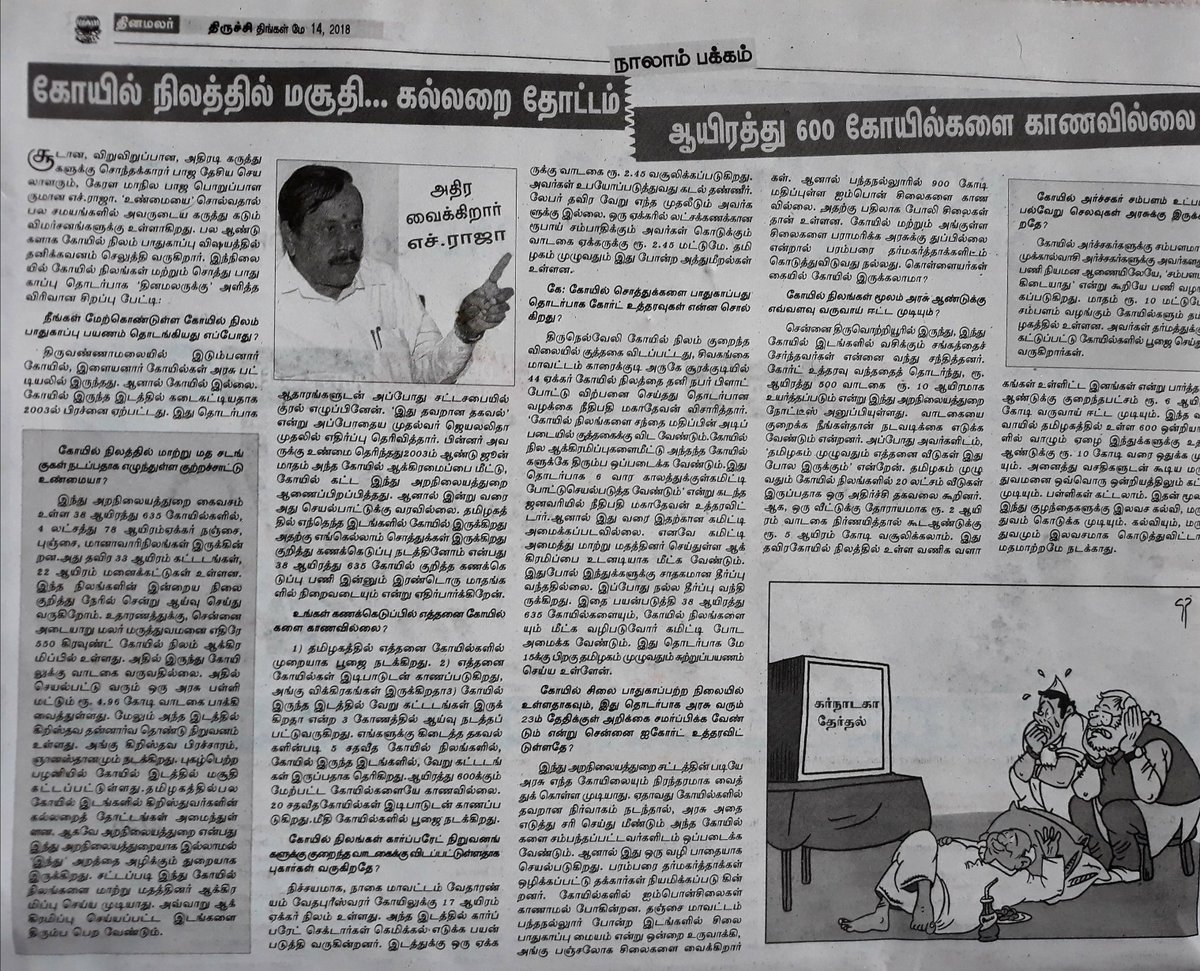 Total number of temples under
#HRCE
: 38,635.
Number of acres of fertile land owned by these temples : 4,78,000 Acres.
Buildings erected on Temple lands : 33,000
Plots : 22,000.
Prime properties have been illegally encroached.
There are mosques and Christian Cemeteries erected in many HINDU temple lands, there's a Christian NGO in Adyar functioning illegally in a temple land, and a mosque erected in a property owned by Palani Dhandayudhapani Swamy temple.
#HRCE
Vedharanyam Vedhapureeshwarar temple alone owns 17,000 acres of land which have been leased out to a corporate co for chemical exploration, which pays a meagre rent of Rs 2.45 per acre per month.
#HRCE
Shocking!
Over 900 Cr worth bronzes missing from
#Panthanallur
#HRCE
idol wallet, those were replaced by duplicates.
Over 20 Laks houses built in lands owned by temple, which should approximately generate 5000 Cr per year, and 6000 Cr can be earned from shopping complexs built in temple lands.
#HRCE
Lets just imagine how many people welfare schemes can be implemented if these properties are properly maintained? How many of these properties are under the possession of politicians and their benamies?
#HRCE
State of temple archakas is heartbreaking,
#HRCE
gives a peanut salary of below 2000 to Archakas of temples under Oru Kaala Pooja Scheme, and in many rural temples, salary is fixed on the basis of the income those temples generate, which is near to NOTHING.
Kings and Zamindaars of those days donated generously to temples in the means of Lands, income through which was meant to be used to meet the day to day expenses of the temples, and archakas salary etc.
But today, I doubt, if
#HRCE
itself maintains a proper record of temple properties, and many farmers who possess these lands for decades, don't pay a penny as lease rent.