The Gilboa Snake Double Barrel Assault Rifle is coming to a gun shop near you.
This Israeli gun is designed specifically to avoid laws against machine guns in the US, and to hold TWO 30-round magazines. Thread.
#NoRA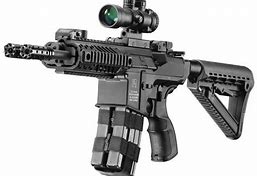 US Law defines a machine gun as "...any weapon which shoots, is designed to shoot, or can be readily restored to shoot, automatically more than one shot, without manual reloading, by a single function of the trigger."
Pretty clear, right? Well this gun has TWO triggers.
#NoRA
...So technically, it fires two rounds almost simultaneously, by a single function of each trigger. Much like bump stocks, it relies on a deadly technicality to legally exist.
So who makes these guns? Why, they are manufactured right here in America by McKay Enterprises, headquartered in Mendota Heights, Minnesota. This company also makes the UZI, another extremely deadly Israeli weapon.
#NoRA
cnn.com/2014/08/26/us/…
These guns skirt US law intentionally. The companies which make and sell them are represented by congresspeople who are puppets of the
@NRA
. The way to stop these guns?
#VoteThemOut
. Vote only for those who have never taken and pledge to never take NRA money.
#NoRA