We're taking a closer look at conflict and compromise in American history.
@NationalHistory
Day students explored that topic in exhibits, and are sharing their exhibits on the floor.

Take a closer look at objects from our collection that show conflict and compromise in American history with our curators.

Some of our curators looked at aspects of famous conflicts, like the Civil War. Curator Joan Boudreau explored the history of printing during the American Civil War. Learn more here:
s.si.edu/2JMiV0a

Check out this portable printing press in action!
You can read what the soldiers were printing here:
s.si.edu/2uFbVtQ
Our military history team took a look at how chocolate was used during World War II. It was a key part of this survival kit. More information:
s.si.edu/2eyJc1T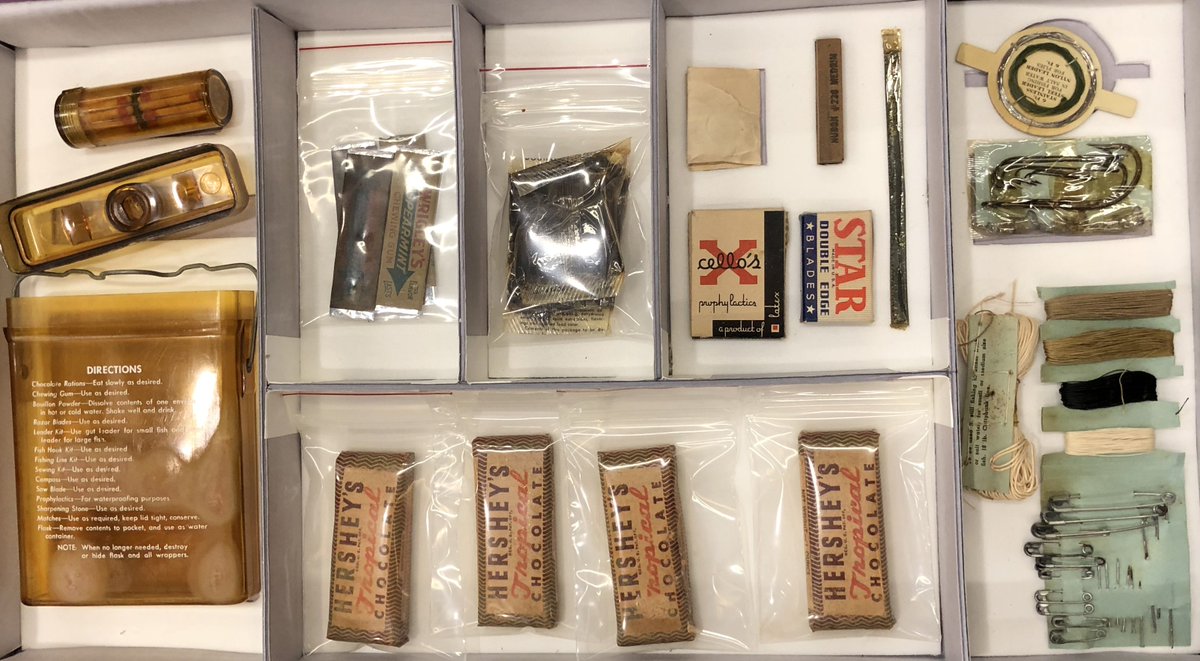 During World War II, there was conflict on the homefront as well. Under Executive Order 9066, 75,000 American citizens of Japanese ancestry were taken into custody and another 45,000 Japanese nationals living in the United States were also incarcerated.
s.si.edu/2JL9qLo

Robert Wada was 11 when he was sent with his family to Poston Concentration Camp in Arizona, where he was part of the camp's Boy Scout troop. More about Boy Scouts behind barbed wire:
s.si.edu/1TzhhbU

The Boy Scout troop was named the "Poston 100" in honor the 100th Battalion from Hawai`i, who were almost entirely Japanese American soldiers fighting in World War II.

Curator Debbie Schaefer-Jacobs explored how conflict and compromise were a part of school desegregation. More about school segregation and integration:
s.si.edu/2HMRvlK

Central High School in Little Rock, Arkansas, is well known for being integrated by the students known as the Little Rock Nine. Integration was not easy.

Minnijean Brown, one of the Little Rock Nine, was suspended for calling a white student "white trash" during an argument. The white student threw her purse at Brown, but was not suspended. Brown's suspension note:

Sometimes compromise meant taking matters into your own hands. Katherine Ott and our Medicine and Science team shared this do-it-yourself curb cut (a ramped section of a curb connecting with the road below). It's story:
s.si.edu/1CZHfnl

A group of activists took hammers to a corner because the city had discontinued its curb-reduction program and people trying to get up impassable curbs had been hit by cars. The uneven edges of this curb cut reveal the DIY nature of this accessibility-improving modification.


Other curators took a look at lesser-known and more unusual examples of conflict and compromise in American history.

Amanda Moniz, our curator of
#philanthropy
, thought of bluebirds.
In the 1970s, concerned environmentalists realized birds habitats were at risk. They formed groups like bluebird societies to fight for them.
s.si.edu/Bluebirds

One tactic bluebird societies used: building nest boxes to house birds. This one from our collection shows evidence of its life outside.

When it comes to the history of technology, curator Harold Wallace thought of the compromises companies make between innovations, reliability, and lower costs.
#HistTech

One of Bell Telephone Company's innovations? This early answering machine. The ring of an incoming call would pick up the receiver and trigger the recording. Take a closer look here:
s.si.edu/2Jz201P
The Hush-a-Phone telephone silencer muffled the speaker's voice, designed for share spaces like busy offices. However, Bell Telephone worried that it compromised too much in terms of quality.

Don't spit here! Our Medical Science team took a look vaccination and behavior modification campaigns as moments of conflict and compromise.
#HistMed

How are these examples of compromise? "These are points in history where America has asked individual citizens or families to prefer the public good over their own individual rights, priorities, or preferences," explained one curator. Learn more here:
s.si.edu/2yaGQBO

Rather than spitting on the street, in an effort to prevent the spread of tuberculosis, sputum flasks like this one gave people a safe place to spit possibly infected salvia then wash it out at home. More TB history:
s.si.edu/2t5sGfz
#HistMed
That wraps up our
#NHD2018
thread.
Want more incredible stories about objects?
👩🏽‍💻👨🏿‍💻Check out our blog:
americanhistory.si.edu/blog
🕺🏻💃🏾Local? Join us for
#AmericaNowSI
, where you can see objects out of storage yourself (and much more!):
americanow.si.edu