Princess Victoria Louise of Prussia as Colonel of the Death´s Head Hussars, 1909.
She was the only daughter and the last child of German Emperor Wilhelm II and Augusta Victoria of Schleswig-Holstein, and a great-granddaughter of Queen Victoria.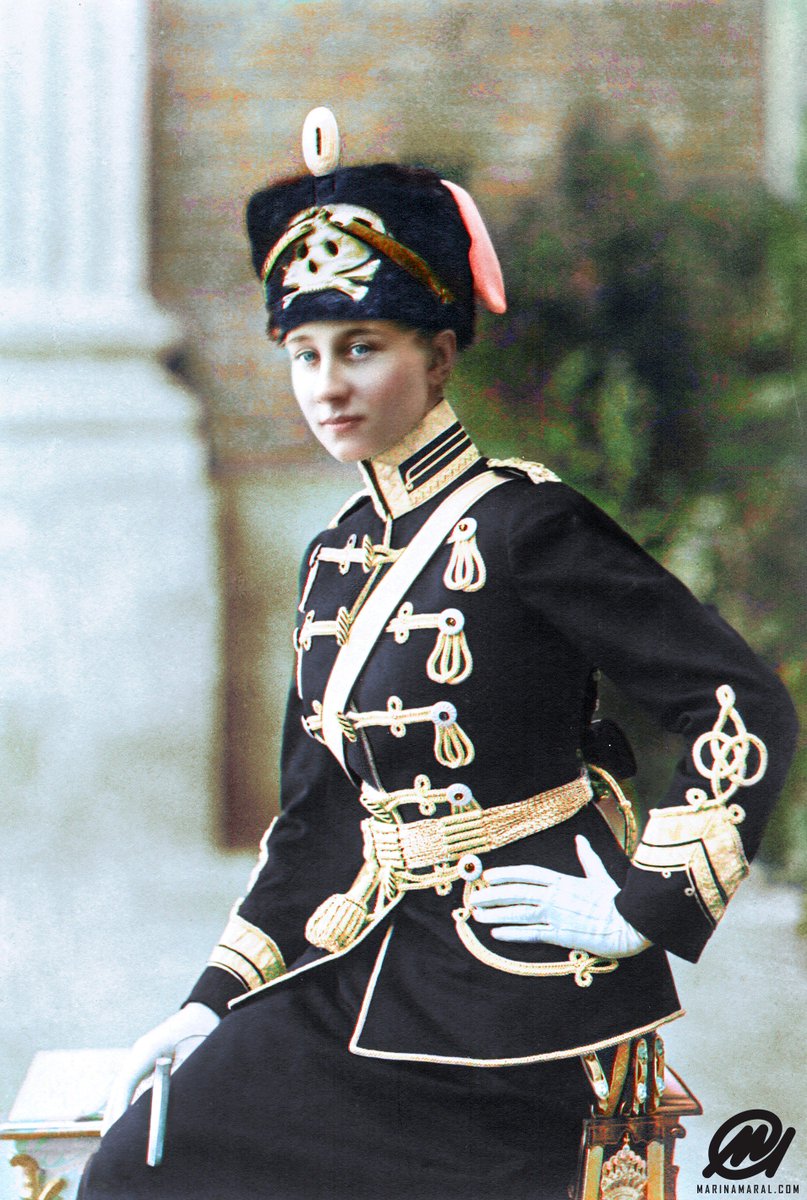 Her 1913 marriage to Prince Ernest Augustus of Hanover was the largest gathering of reigning monarchs in Germany since German unification in 1871, and one of the last great social events of European royalty before the First World War began fourteen months later.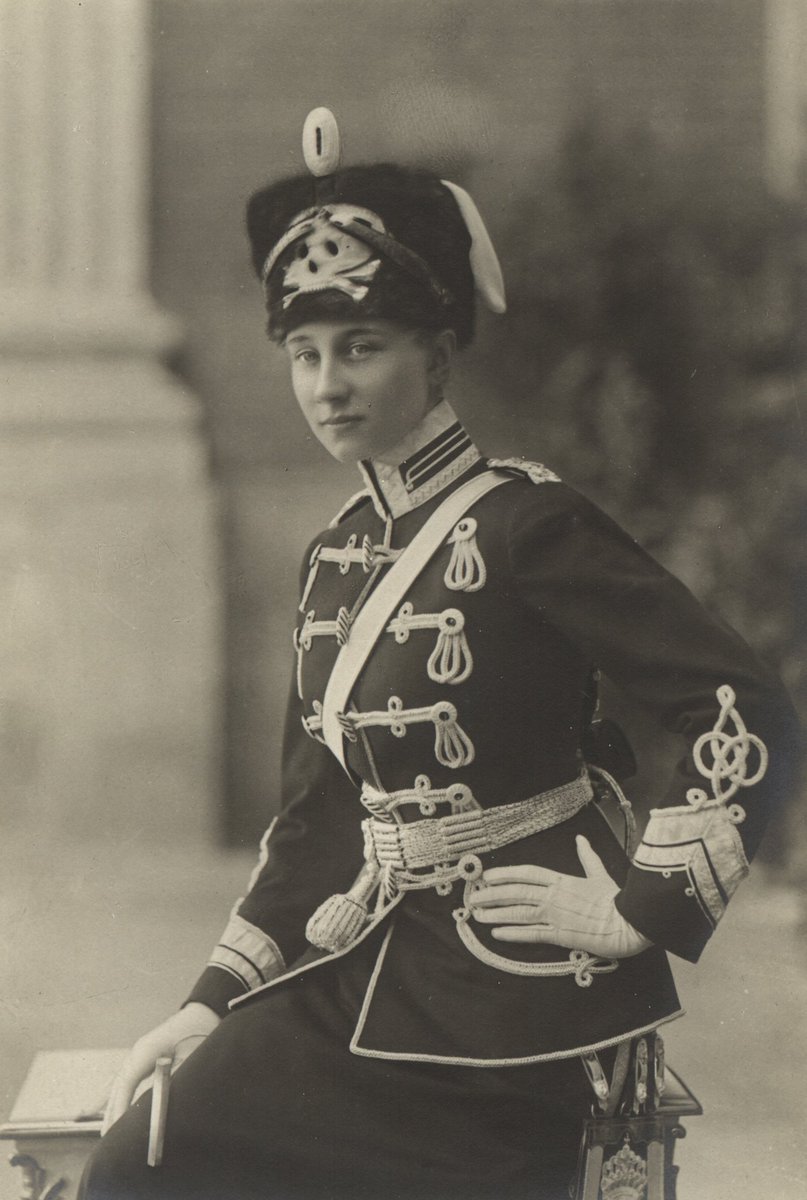 Victoria Louise, whose given name was "Viktoria Luise Adelheid Mathilde Charlotte", was the Emperor's only daughter, born on September 13, 1892 at the Marmorpalais in Potsdam. Although she was born rather small, she soon developed into a healthy young girl.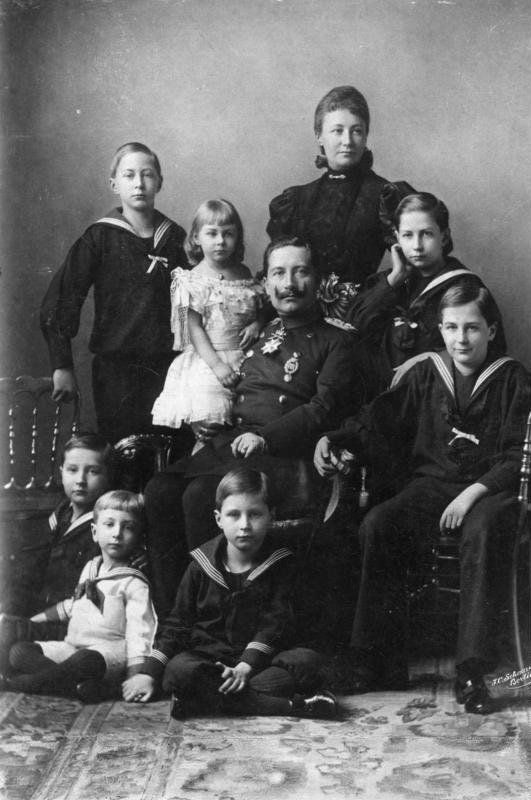 She was named after her paternal great-grandmother, Queen Victoria, and her paternal great-great-grandmother, Louise of Mecklenburg-Strelitz. But to her family, she was simply known as "Sissy".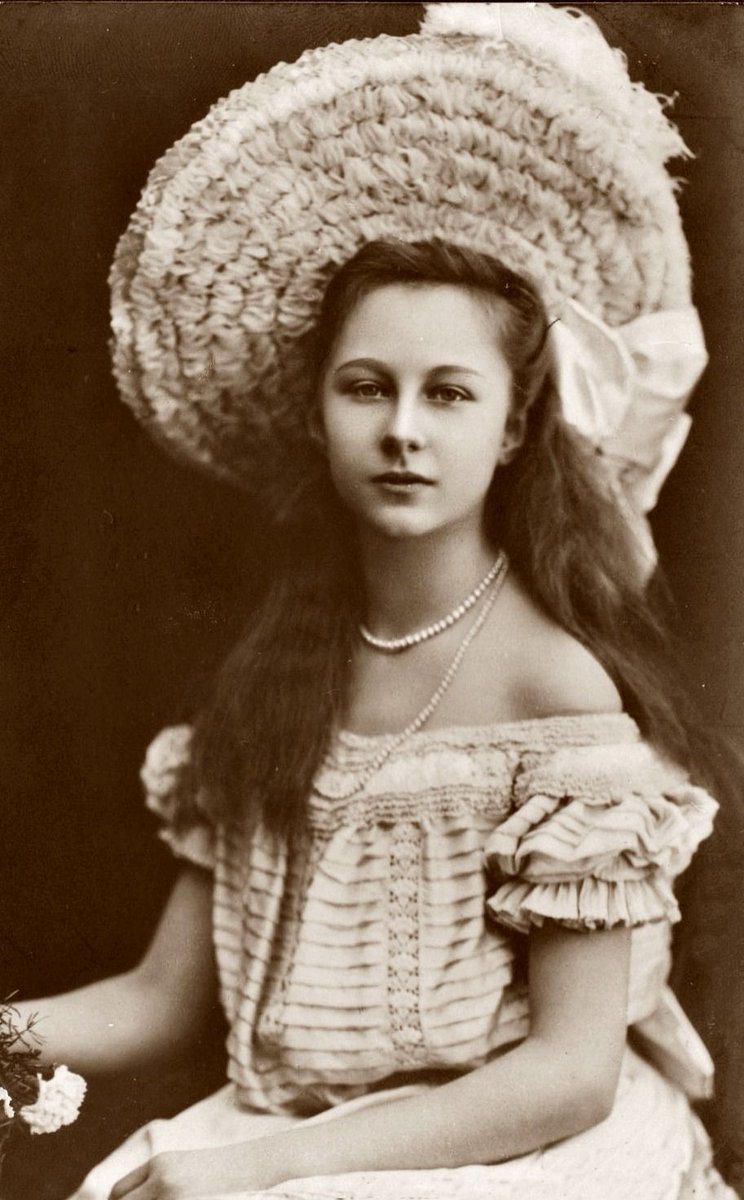 Little Sissy was born into a strong and powerful ruling family of an extensive empire. Her father was the eldest son of Emperor Frederick III of Germany and Victoria, Princess Royal, the eldest child of Queen Victoria of the U.K.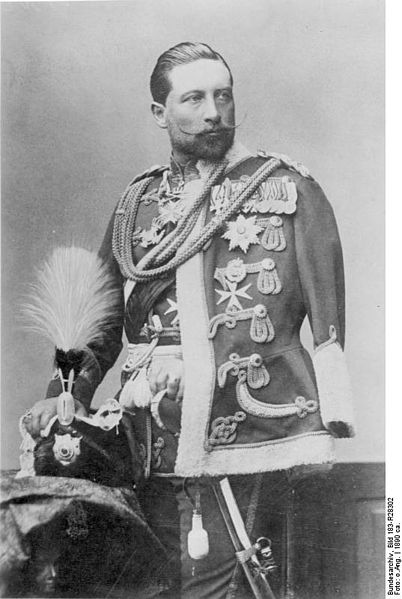 Wilhelm had a rather rocky relationship with his parents, especially his domineering mother. By the time he succeeded his late father to the German and Prussian thrones in 1888, he possessed a personal instability and deep insecurities that he masked with bluster and tough talk.
He married his second cousin, Augusta Victoria of Schleswig-Holstein, in 1881 after a failed proposal to his maternal first cousin, Princess Elisabeth of Hesse and by Rhine.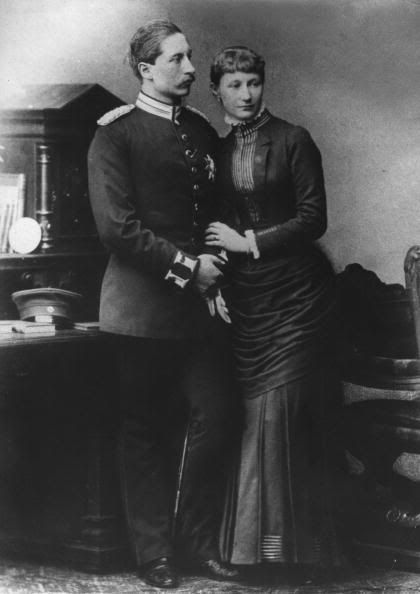 By the time Victoria was born 11 years after her parents married, Wilhelm and Augusta had produced six boys, the oldest of whom was ten years Victoria Louise's senior. Sissy was most definitely a daddy's girl and her father adored his only daughter immensely, unlike his sons.
The young German princess was intellectual like her paternal grandmother and possessed her mother's regal and imposing persona. She was also similar to her father in that both were obstinate and haughty.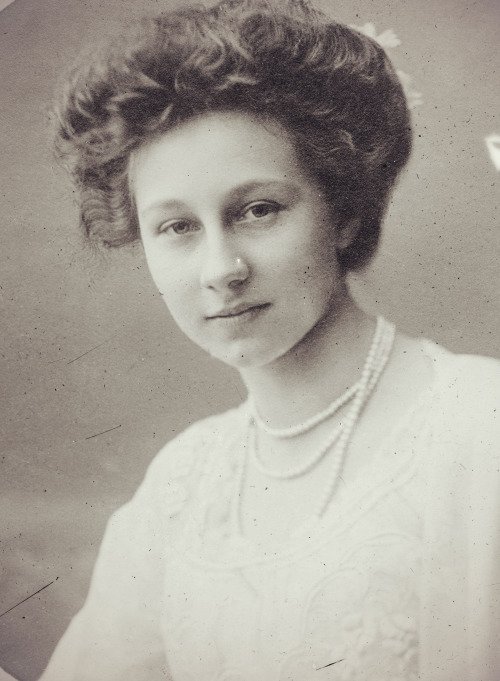 Her English governess once wrote that the "warlike" Wilhelm "unbends to a considerable extent when in the bosom of his family… [and is] the dominating force of his daughter's life. His ideas, his opinions on men and things are persistently quoted by her."
Wilhelm loved his daughter so much that he let her get away with things he would have never allowed his sons to say or do. Her siblings recognized their father's adoration of their little sister, so much so that the eldest, Crown Prince Wilhelm, once wrote that she was...
... "the only one of us who succeeded in her childhood in gaining a snug place" in the Kaiser's heart."
At the royal family's home of Homburg Castle in Nümbrecht, Victoria Louise was given the typical substantial education of a royal princess for the time, including music lessons with the Russian concert pianist Sandra Droucker.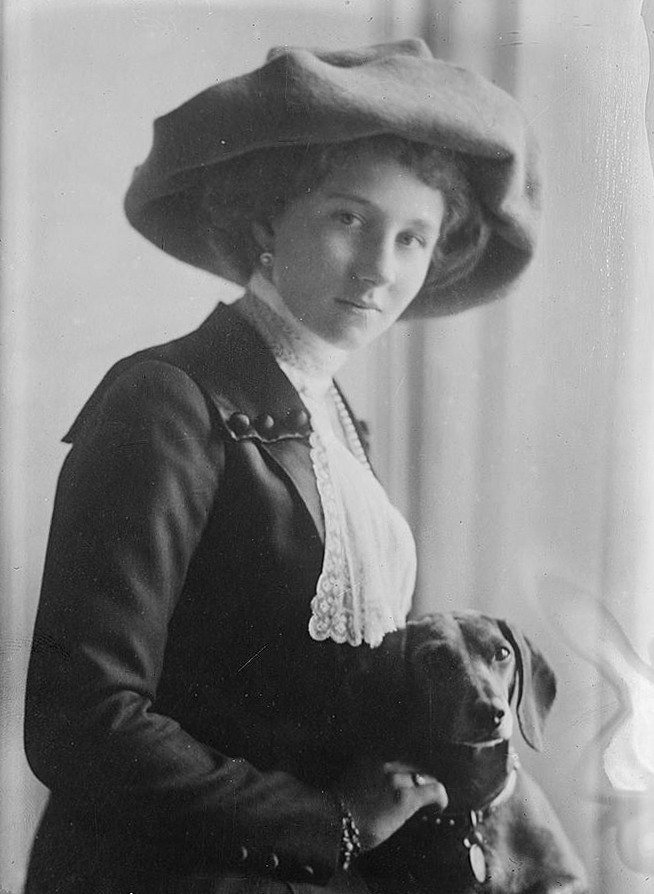 Victoria didn't see her British relatives as often as her German family members but for one week in May of 1911, she and her parents sailed to England to visit their cousin, King George V, and other members of the British royal family.
Victoria Louise's life completely changed in 1912 when her third cousin once removed, Prince Ernest Augustus III of Hanover, came to the German royal court in Berlin to personally thank the Kaiser for sending two of his sons to the funeral of Ernest Augustus's older brother.
During his time at court, the Hanoverian prince met Victoria Louise and the two soon became besotted with each other. Although they wanted to marry, any talk of matrimonial union was put on hold for an extended period of time because of political tensions.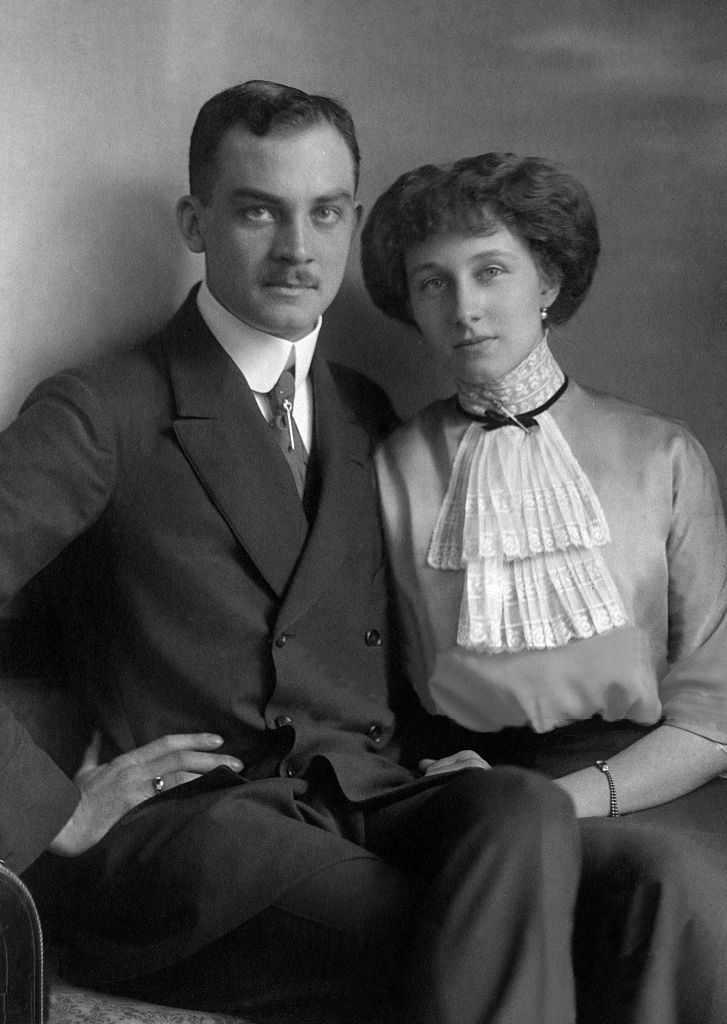 Ernest Augustus was the well-to-do son and heir of the Crown Prince of Hanover and Duke of Cumberland, Ernest Augustus II. His mother was Princess Thyra of Denmark, a daughter of King Christian IX of Denmark and Louise of Hesse-Kassel.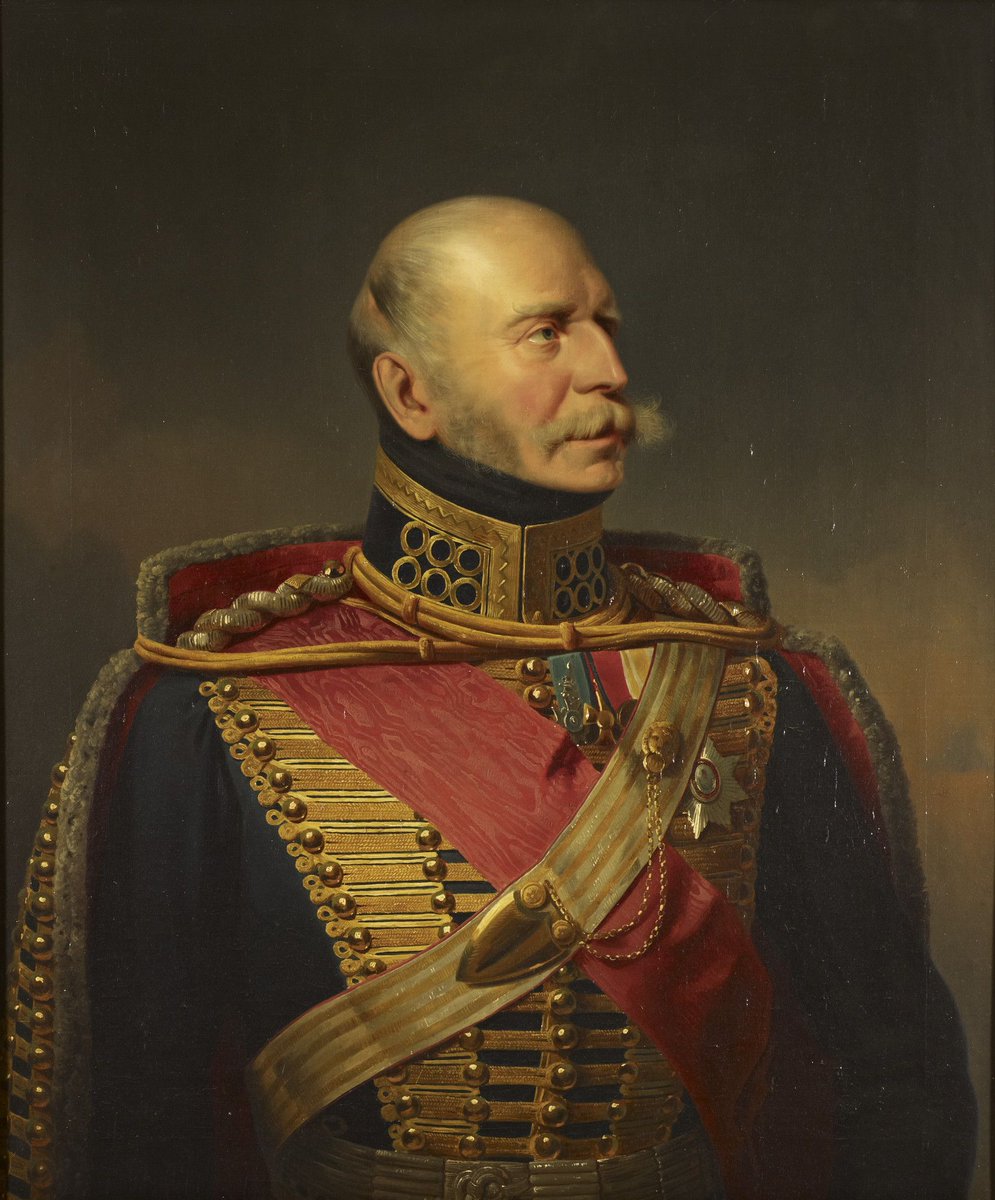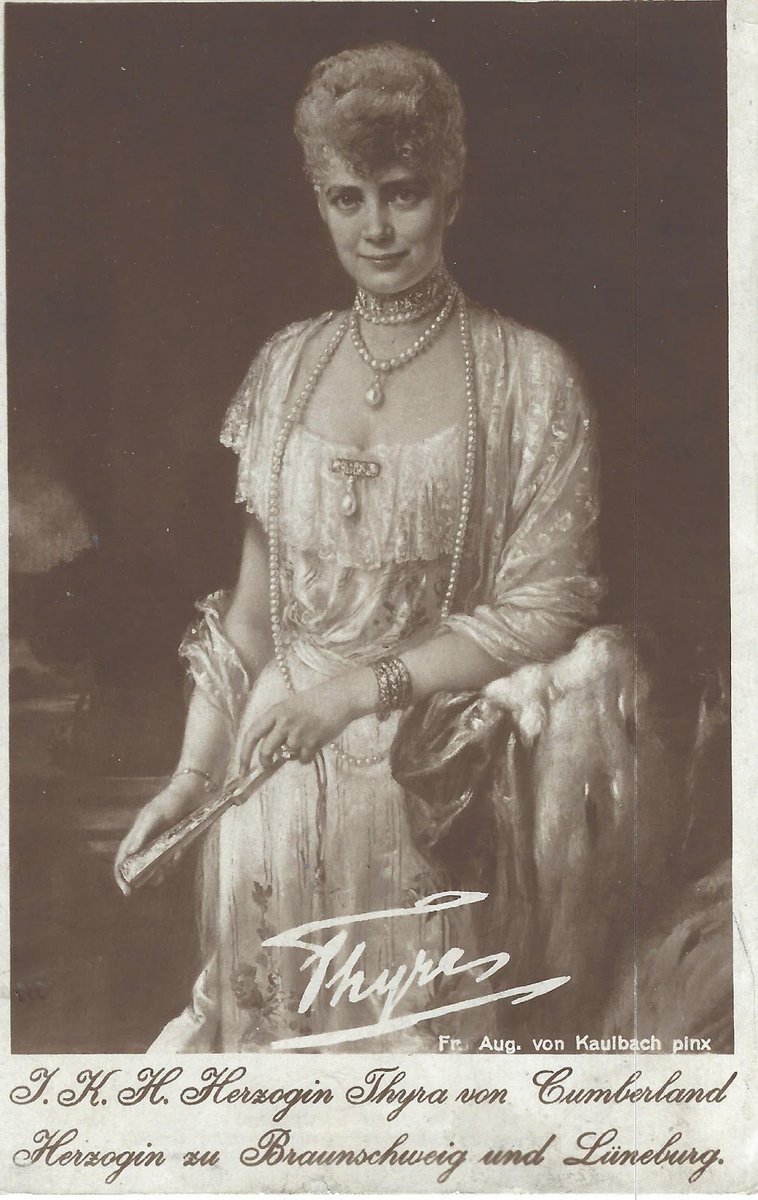 Ernest Augustus had powerful family connections to almost every ruling house in Europe; through his father, he was the great-great-grandson of George III of the UK, a first cousin of George V of the UK, Nicholas II of Russia, Christian X of Denmark, Haakon VII of Norway, and...
.. Constantine I of Greece. Since his father was the head of the House of Hanover, Ernest Augustus was next in line for the position. But his family had a complicated relationship with the German and Prussian monarchy.
In 1866, the Kingdom of Hanover had been annexed into the Kingdom of Prussia, which put an end to the Hanoverian crown. Victoria Louise's family, especially her eldest brother, Crown Prince Wilhelm, was not too keen on her relationship with the Hanoverian prince.
The Crown Prince said that Ernest Augustus could only marry his sister if he renounced his rights to Hanover. After negotiation, the two parties came up with a compromise. Ernest Augustus would give up his claim to Hanover but he would be allowed to succeed to...
... the smaller Duchy of Brunswick and marry Victoria (although Ernest Augustus II was the rightful heir to the duchy, he had been unable to take the title because the Hanoverian family had been prohibited from claiming the duchy due to their claims towards the Hanoverian crown).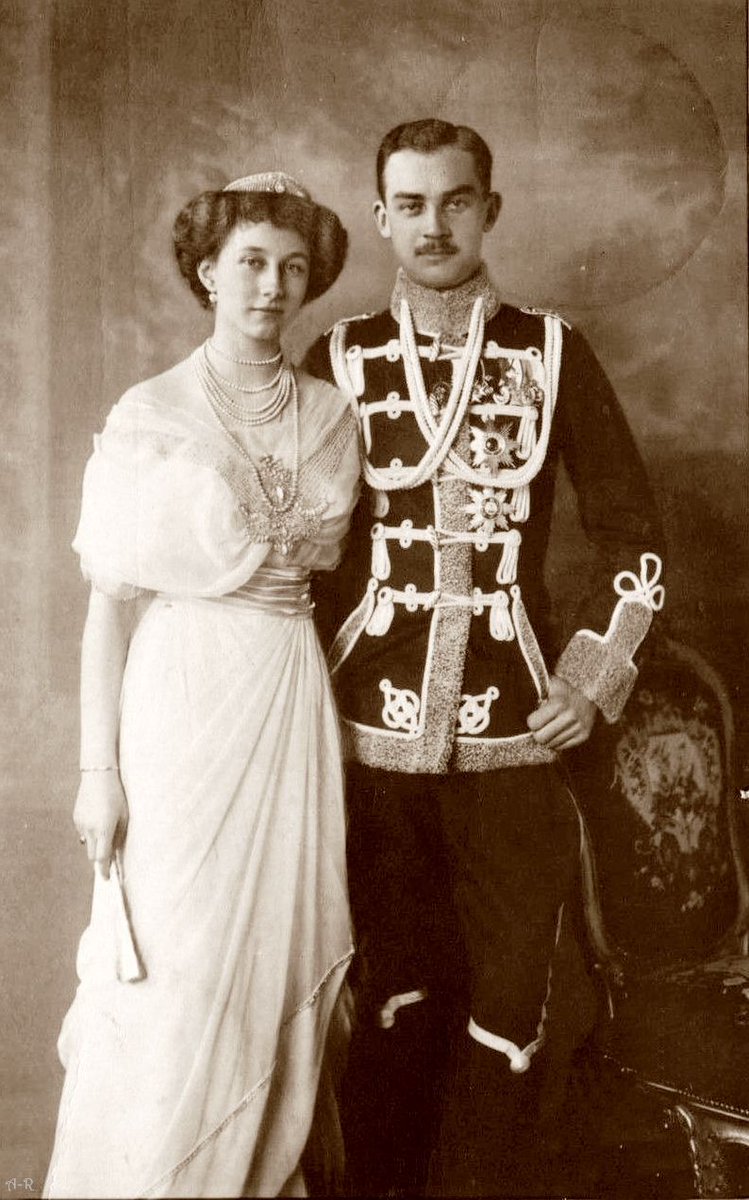 The wedding was a huge affair and attracted much tabloid from the press. It was acclaimed as the conclusion of the feud between the House of Hanover and the German-Prussian royal family, which had begun when Hanover was annexed almost fifty years ago.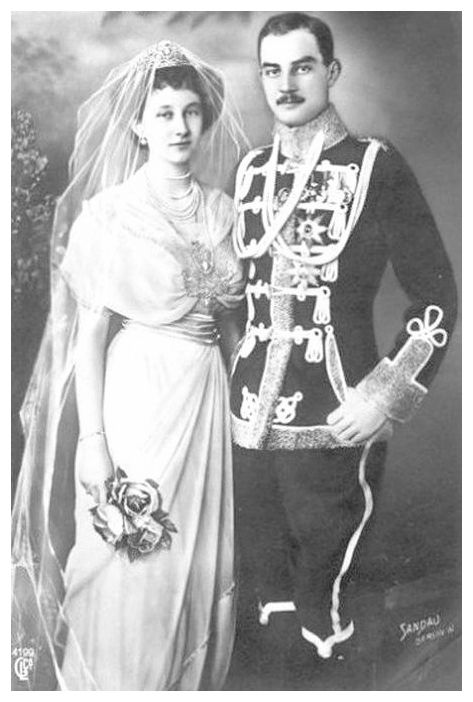 It was even described as a romance similar to "Romeo and Juliet". Because of all the media attention centered on the marriage, it is unclear whether Victoria Louise and Ernest Augustus actually married for love or whether their romance was fabricated for popular appeal.
However, evidence leans towards former according to Victoria Louise's personal letters, in which she called her marriage a "love match". The ceremony took place on May 24, 1913, in Berlin and was described as:
"the largest gathering of reigning monarchs in Germany since German unification in 1871, and one of the last great social events of European royalty before World War I began fourteen months later."
The Kaiser invited basically the entirety of his extended family in a friendly political gesture, such as King George V and Queen Mary of the U.K. and Tsar Nicholas II and Tsarina Alexandra of Russia.
A total of 1,200 people attended the wedding. Before the ceremony, Ernest Augustus proved his goodwill towards his wife's family by swearing an oath of loyalty to his new father-in-law and taking a position as a cavalry captain and company commander in a Prussian Army regiment.
When the wedding vows were all said and done, Victoria Louise, who was twenty years old at the time, became a Princess of Hanover and the lawfully wedded spouse of the twenty-five-year-old Ernest Augustus.
After the festivities, the newlyweds let Berlin for Brunswick, which they made their permanent home. Victoria Louise's mother didn't take her daughter's departure quite as well and was depressed for some time after Sissy left home.
Less than six months after the wedding, Ernest Augustus's father legally relinquished his rights to the duchy of Brunswick in favor of his son, who officially became the Duke of Brunswick on November 1, 1913.
It was here in Brunswick that the newly established Duke and Duchess had their first child, a son named Prince Ernest Augustus IV in March of 1914. In total, they would have five children – four sons and one daughter: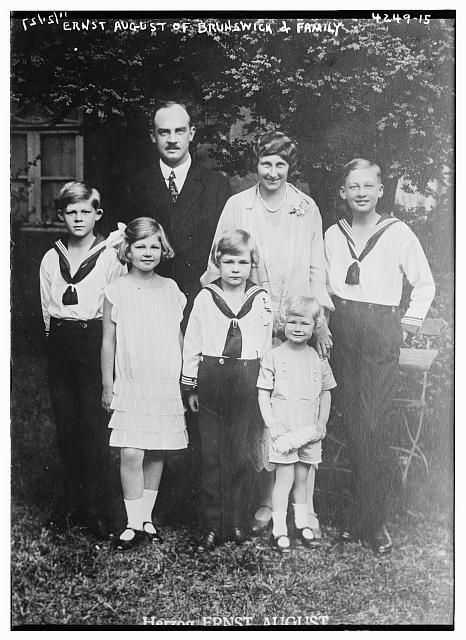 When WWI broke out, Victoria Louise stayed quietly at home with her young children while her husband served in the German army as a Major General. However, the Great War did not go well for Victoria Louise's family, as they ended up losing not only the war but also their crowns.
Wilhelm II was forced to abdicate as Emperor of Germany and King of Prussia on November 9, 1918, and the German and Prussian monarchy was abolished completely. Wilhelm II lived out the rest of his life in exile in the Netherlands but the loss of the Empire proved to be too much..
... for his distraught wife. She died on April 11, 1921 in Doorn at the age of sixty-two, a bereavement which devastated her husband and children, as they were all still raw from the loss of their throne and their way of life.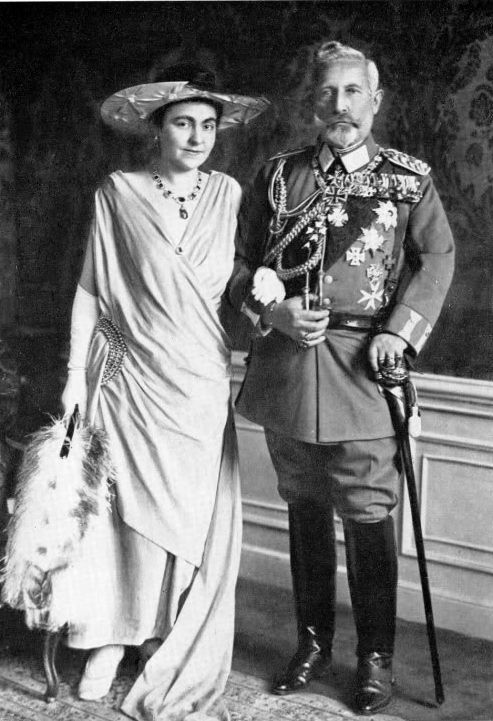 Before the Empress's death, Prince Joachim's (Victoria Louise's closest brother) marriage to Princess Marie-Auguste of Anhalt had fallen apart completely and the two had divorced.
Joachim, who could not tolerate the loss of his royal position, became severely depressed and shot himself on July 18, 1920, at the age of twenty-nine.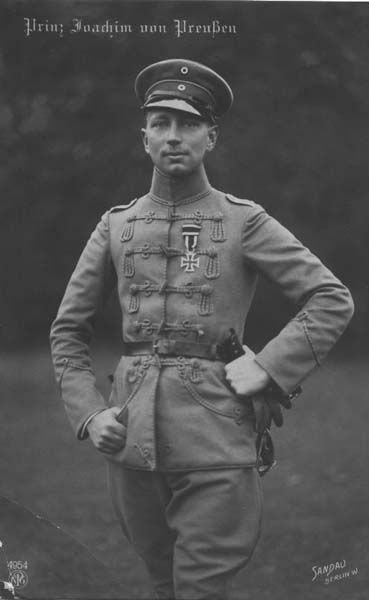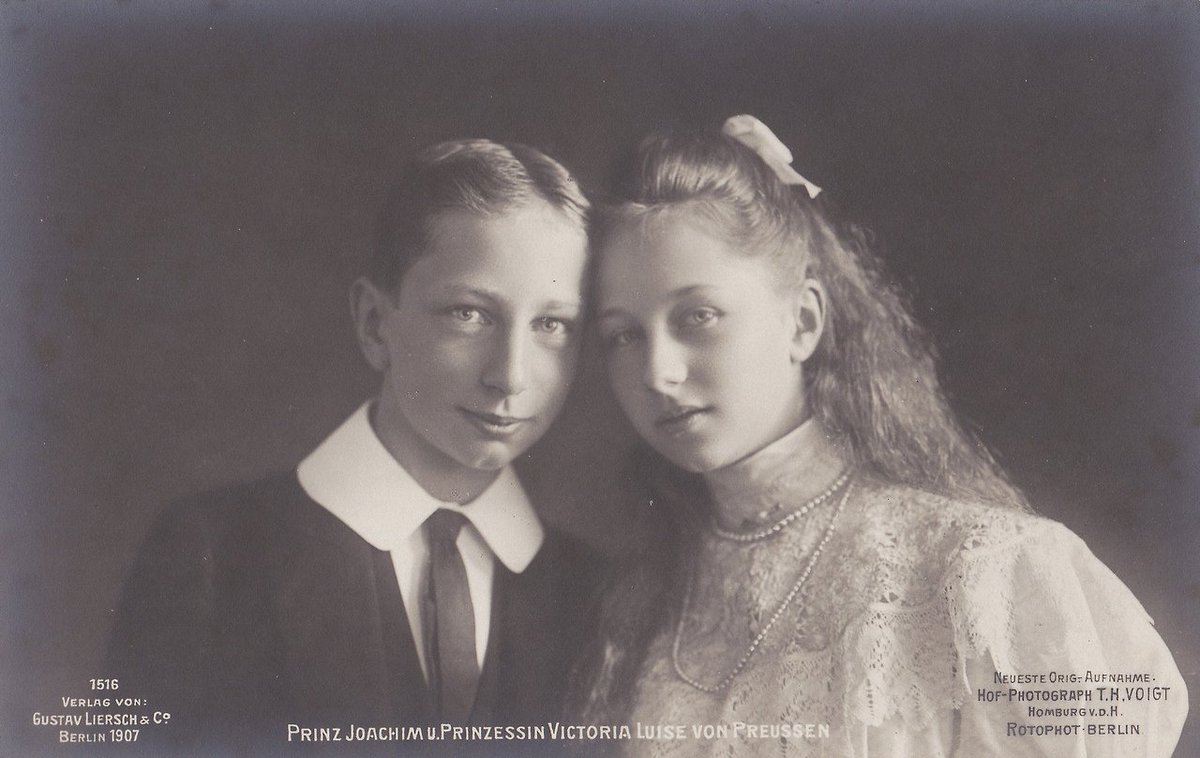 Every other German king, grand duke, duke, prince, or simply anyone with a royal title had to give up their titles and crowns after Germany's devastating defeat, including Ernest Augustus's father.
Ernest Augustus lost his title of the Duke of Brunswick as well as his position as the heir to the Dukedom of Cumberland, as his father had been divested of his British titles because he had served in the German army.
Ernest Augustus, who had been a member of the German army as well, also relinquished his title as a Prince of the UK.
The family lived out the rest of their years in a quiet and melancholy state, for they never got used to their new statuses as commoners. When the senior Ernest Augustus died in 1923, Ernest Augustus III became the new Head of the House of Hanover.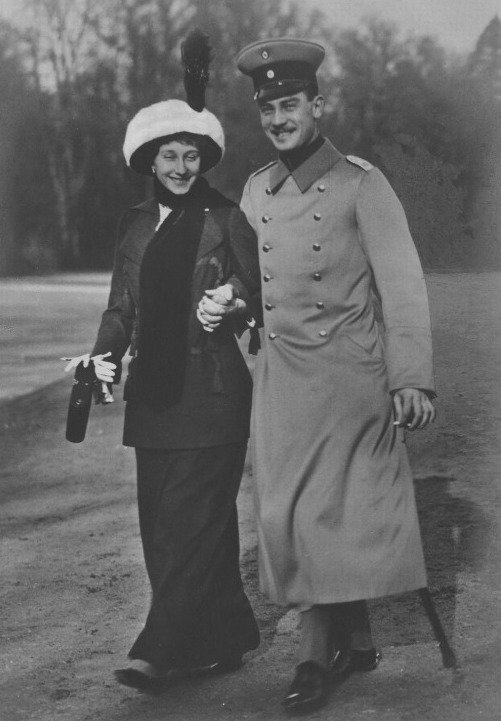 Victoria Louise and her husband didn't associate themselves with the Nazi Party when World War II broke out in 1939, although Ernest Augustus was on good terms with some head Nazi officials and he did donate to the party.
The couple refused to ally themselves with Hitler and his regime, unlike Victoria Louise's brothers, because they wanted England and Germany to reconcile. Hitler tried to take advantage of their desire in the mid-1930's when he attempted to push a marriage between...
... Princess Frederica and the future Edward VIII in order to create a German alliance with the UK. However, Victoria Louise and her husband refused because Frederica was twenty-three years younger than the then Prince of Wales.
When the war was raging on, Victoria Louise and some of her brothers went to Doorn in May of 1941 to see their now elderly father, who was suffering from an intestinal blockage. Although the diagnosis seemed dire at first, the former Emperor made a short recovery...
... so Victoria Louise and her brothers went back home thinking their father's health was stable. Just a month later, Wilhelm II died of a pulmonary embolus on June 3, 1941 at the age of eighty-two.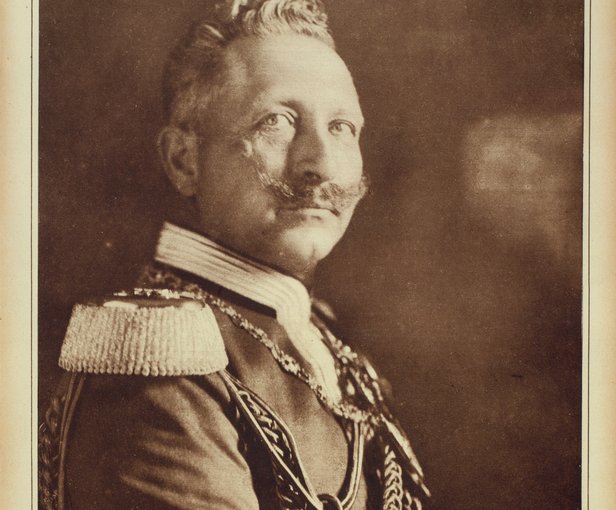 He didn't die alone, for his second wife, Princess Hermine Reuss of Greiz, who was twenty-eight years his junior, was by his side when he passed (when Wilhelm had married Hermine in 1922, his children had protested against the union out of respect for their late mother).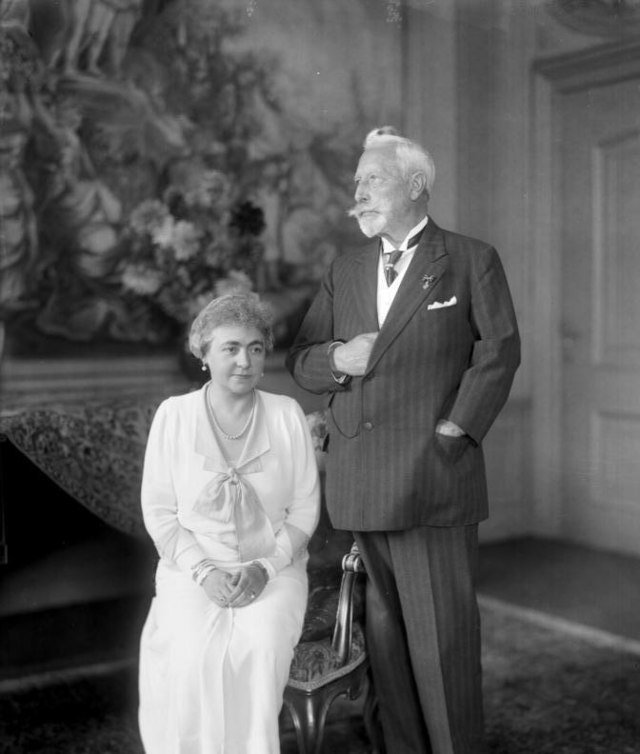 A year after Wilhelm II's death, Victoria Louise's second eldest brother, Prince Eitel Friedrich, died on December 8, 1942, at the age of fifty-nine. A few years after WWII ended, two more of Victoria's brothers had died: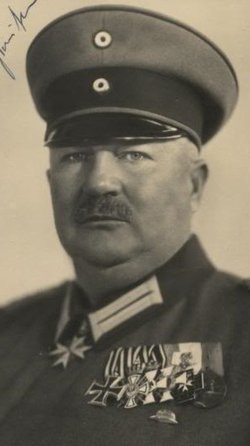 Prince Adalbert in 1948 at the age of sixty-four and Prince August Wilhelm in 1949 at the age of sixty-two.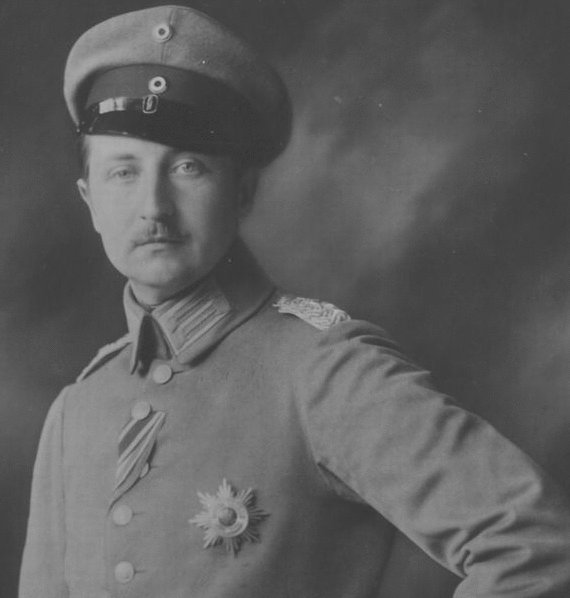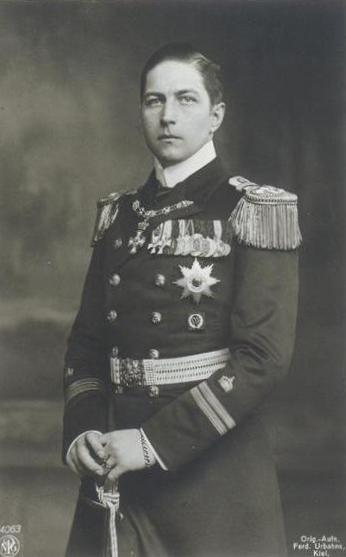 Despite these losses, Victoria did experience happy events in the form of the marriages of her first three children. Princess Frederica married her 1st cousin, the future King Paul of Greece, who was the son of King Constantine I and Sophia of Prussia.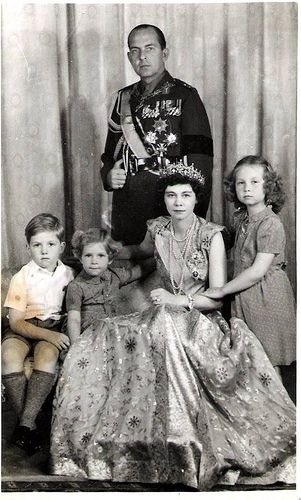 In 1946, her second son, Prince George William, married his third cousin, Princess Sophie of Greece and Denmark (sister of Prince Philip), the daughter of Prince Andrew of Greece and Denmark and Princess Alice of Battenberg and the widow of Prince Christoph of Hesse.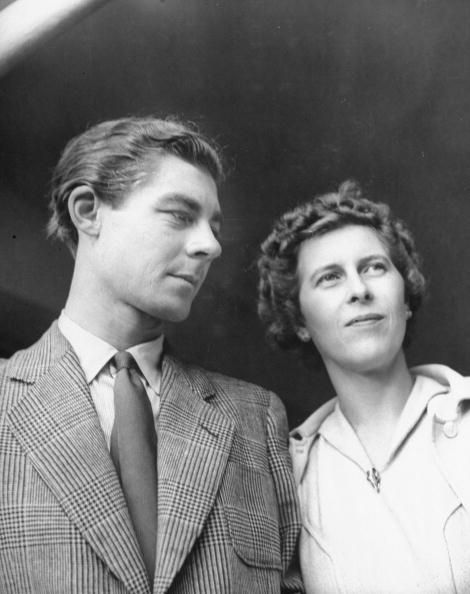 Then, in 1951, Victoria Louise's eldest child, Prince Ernest Augustus IV, married Princess Ortrud of Schleswig-Holstein-Sonderburg-Glücksburg (he would marry a second time in 1981 after Princess Ortrud's death in 1980 to Countess Monika of Solms-Laubach).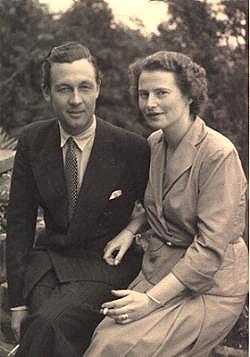 In the period after the war, Victoria and her husband lived in Blankenburg Castle in Harz. The former Prussian princess dedicated most her time to championing palace restoration projects and dabbled in charitable works, such as sponsoring a holiday estate for needy children.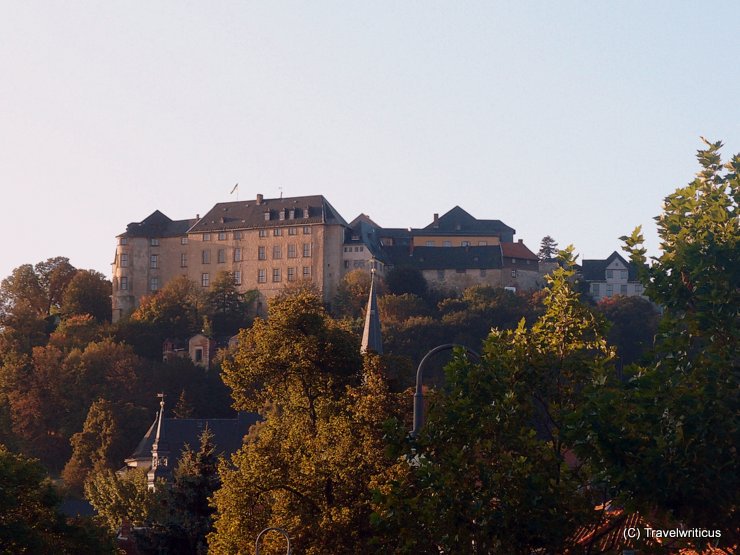 On January 20, 1953, Ernest Augustus died at the age of sixty-five in Marienburg Castle, Hanover. He was buried in the Berggarten Mausoleum, which is also located in Hanover.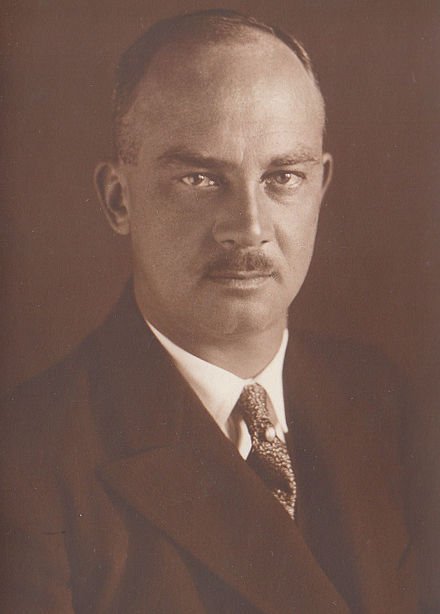 After his death, his youngest two sons finally married.
Prince Welf Henry married Princess Alexandra of Ysenburg and Büdingen in 1960 and Prince Christian Oscar eloped with a Belgian woman named Mireille Dutry in 1963.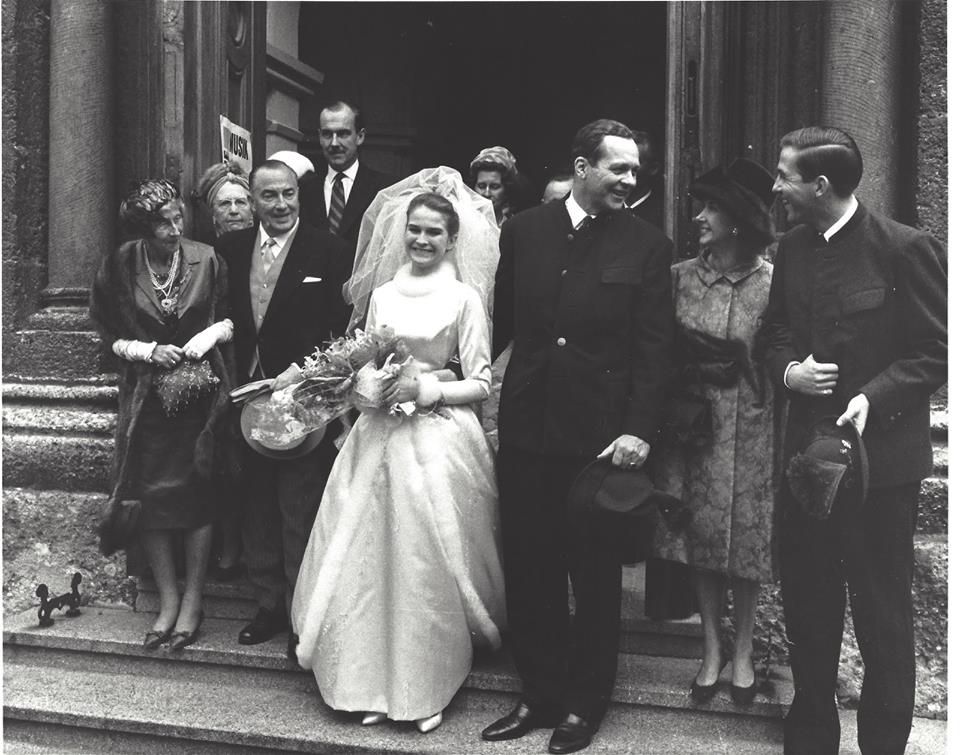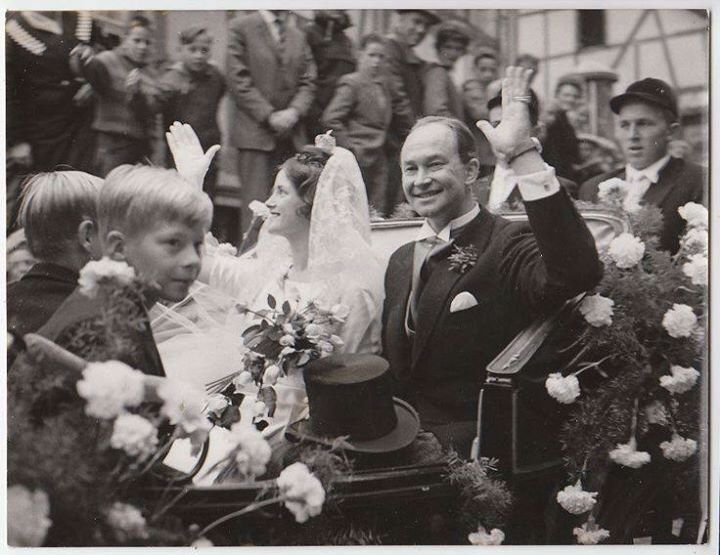 Victoria Louise lived to see the births of all of her grandchildren. She was also able to see her daughter Frederica become the Queen of Greece in 1947 when Frederica's husband, Paul, ascended to the throne.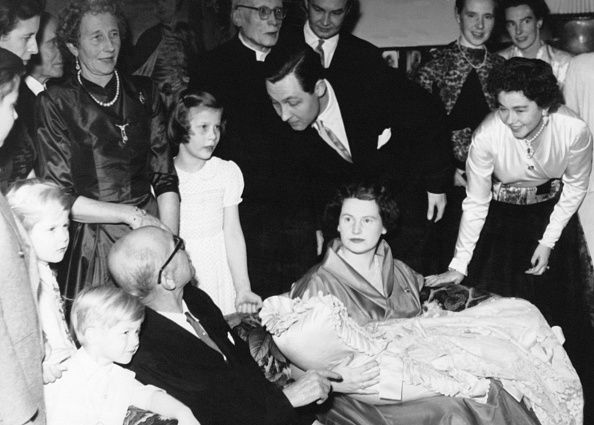 Frederica became the mother of King Constantine II of Greece and Queen Sofía of Spain.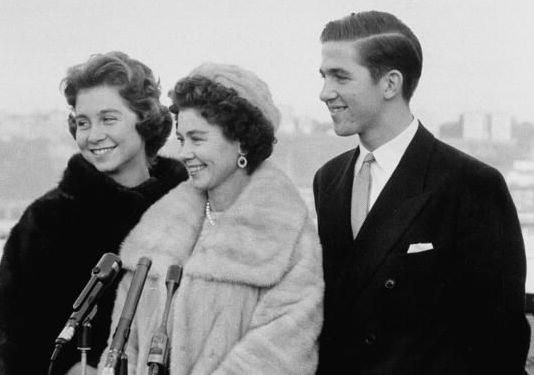 Finally, on December 11, 1980, the eighty-eight-year-old Princess Victoria Louise of Prussia, Duchess of Brunswick, died at the age of eighty-eight in her home in Hanover.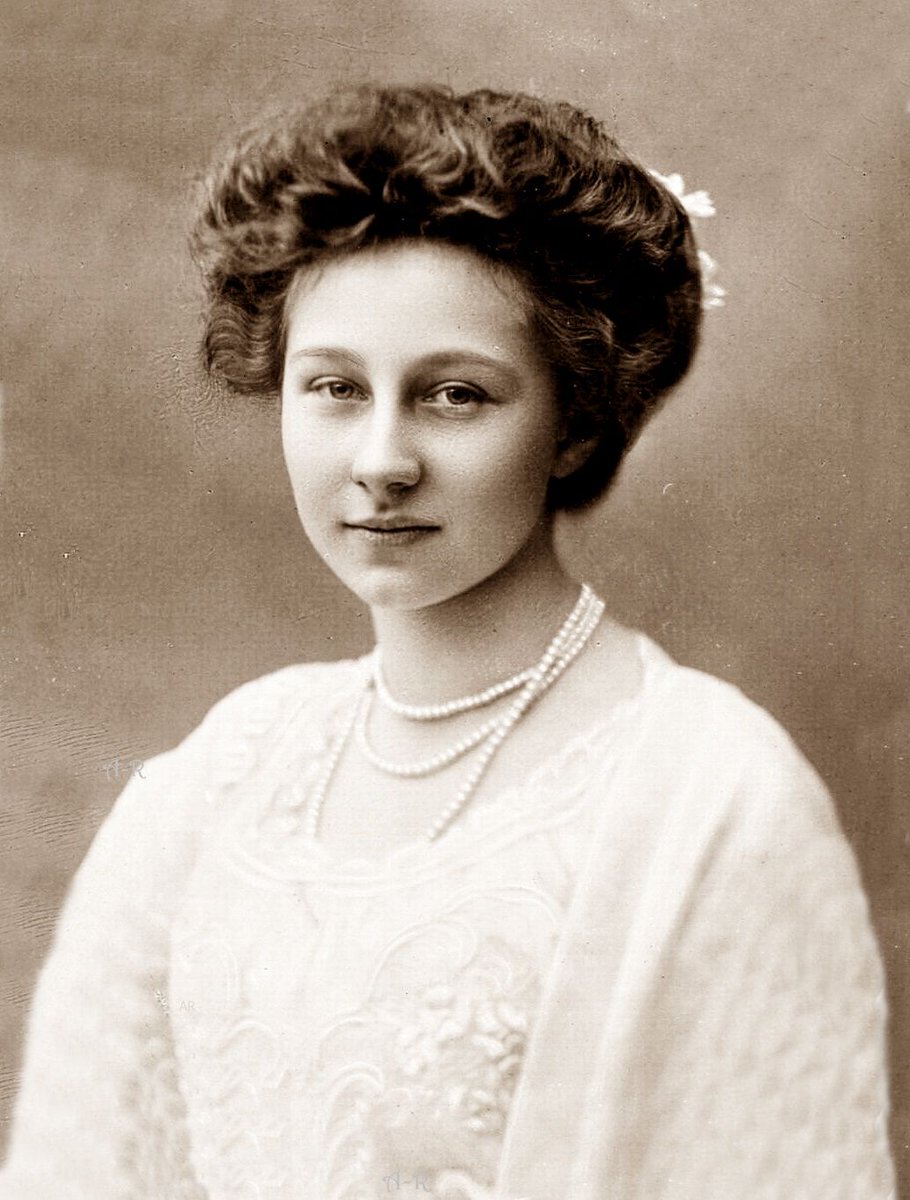 She was buried beside her husband in the Berggarten Mausoleum. Victoria Louise was the last of Emperor Wilhelm II's children to die, for her final two surviving brothers, Crown Prince Wilhelm and Prince Oskar had died in 1951 and 1958 respectively.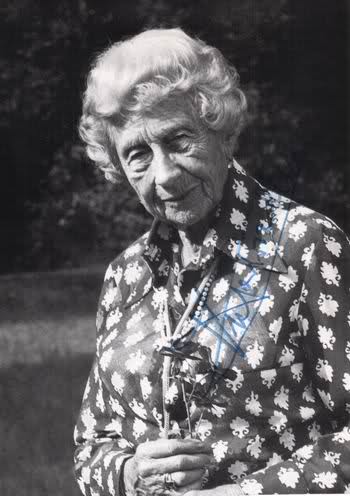 And here is a photo of the uniform she is wearing.