Anyone know why Mossad is so dangerous? They do what
@ScottAdamsSays
is doing now. Persuasion is telling the truth about the lie wrapped in a previous truth.
Yes, "There are two movies." But Scott only needs you to believe the one he's directing. He's a thinker, not an actor. He can't help but leak: Follow eyes, shoulders, and script. He drew this speech up on his whiteboard. He spent far too much time on it.
Scott has the advantage over
#QAnon
'ers. He gets to frame his own arguments. Scott knows window dressing is persuasion.
How do you trick a man into swallowing a blue pill?
Make them think they just dodged a red one.
A hypnotist convinces you the rain is insignificant.


Scott is not invested in getting you to agree with him. He only needs to make it uncomfortable near the fence line. You will move yourself eventually. Tomorrow morning, he will do this again. The next day. And after.
Subtle wins the race of persuasion.
#QAnon
Calling QAnon bullshit is
@ScottAdamsSays
digging post holes. He can't plant the fence till you move in. Therefore:
1.) Scott Adams thinks JFK truthers are bullshit.
2.) Scott Adams thinks Building 7 just fell on its own.
3.) Scott Adams believes what he was told.
(See crumbs.)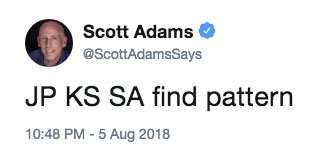 As
@POTUS
pick one of these platforms to win bigly:
1.) Run on the economy
2.) Run on the existence of the Deep State
#QAnon
'ers are cavaliers on horseback. Normies are infantry. Infantry need a cadence everyone can march to.
@ScottAdamsSays
is their normie with a chevron.
As
@POTUS
, who would you trust more with your flame, a cavalier or the infantry?
@LisaMei62
@JackPosobiec