Good afternoon! So, battery chemistry. What is a battery and how does it work? Let's start with something very simple. Back in school chemistry class you might have seen the reaction between zinc metal and copper sulfate solution, for example:


Zinc (Zn) metal dissolves to form Zn2+ ions in solution, and simultaneously copper (Cu2+) ions deposit out of solution to form metallic copper (Cu) - and this releases a little bit of energy.

This is a classic 'redox' reaction - Zn transfers 2 electrons per Zn atom to Cu2+.
There are two 'half reactions' happening here: the oxidation of Zn, and the reduction of Cu2+. We can physically separate these two half reactions so that we can make the electrons go round a circuit, instead of being directly transferred form the Zn to Cu2+.
Back in 1836, John Fredric Daniell did exactly this. In one container, you have Zn metal in a solution of Zn2+ ions. In the other, Cu metal in Cu2+ solution. A salt bridge lets negatively charged ions to flow to keep charges balanced.
(img cred:
en.wikipedia.org/wiki/Daniell_c…
)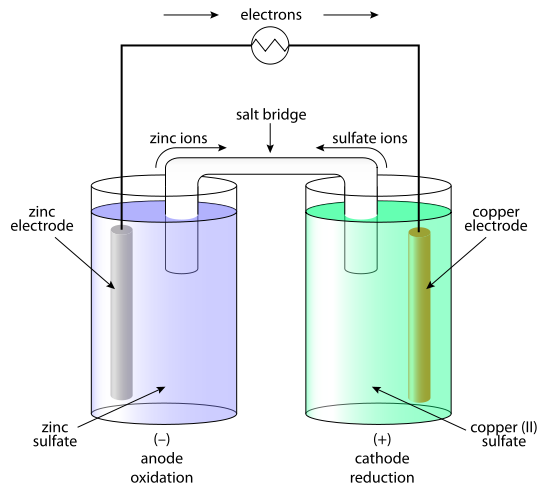 In the Daniell cell, it's the same zinc-copper sulfate reaction. But the Zn and Cu2+ can't come into contact, so electrons (e-), are forced to go round a circuit, where they carry most of the energy of the reaction and they can be used to do something useful.
The energy comes from the 'electrochemical potential' of the two half reactions - this is a complex concept but is related to how much energy is needed to e.g. convert Zn to Zn2+. The difference in potential between the two halves gives the cell (the battery) its voltage.
Battery technology has come on a bit since 1836 but the basic concept is still much the same. With rechargeable batteries we just need to have half reactions which we can completely reverse - i.e., we force the flow of electrons in the other direction to recharge it.
I'll talk a little bit more about lithium-ion batteries especially later.

First, I need to go and play badminton - because if there's one important part of being a real scientist, it's having hobbies and a good work-life balance 🙂