Here are the messages of abuse aimed at me from replies to Rosie's msgs.
Note
@LabLeftVoice
is a rabid and dangerous antisemite who has had complaints made about them to the Jewish Community Security Trust
@CST_UK
as she shares home addresses of people she doesn't like (doxxing)




More abuse.
LabourFanTV
@thebirmingham6
and Wolfie
@Tpopularfront
are notorious.
Notice the classic
@UKLabour
markers often found with these accounts.
🌹🇵🇸
#GTTO
#JC4PM
But if I'm such a bully, maybe I deserve it? Let me show you what I've said...




For the record, I met
@lucianaberger
at
@_NatashaDevon
's Mental Health campaign event, here. No big conspiracy.
@RuthSmeeth
was victim to AS abuse at the start of
@jeremycorbyn
's event wrt results of an AS enquiry. (Irony)
The abuse she got afterwards: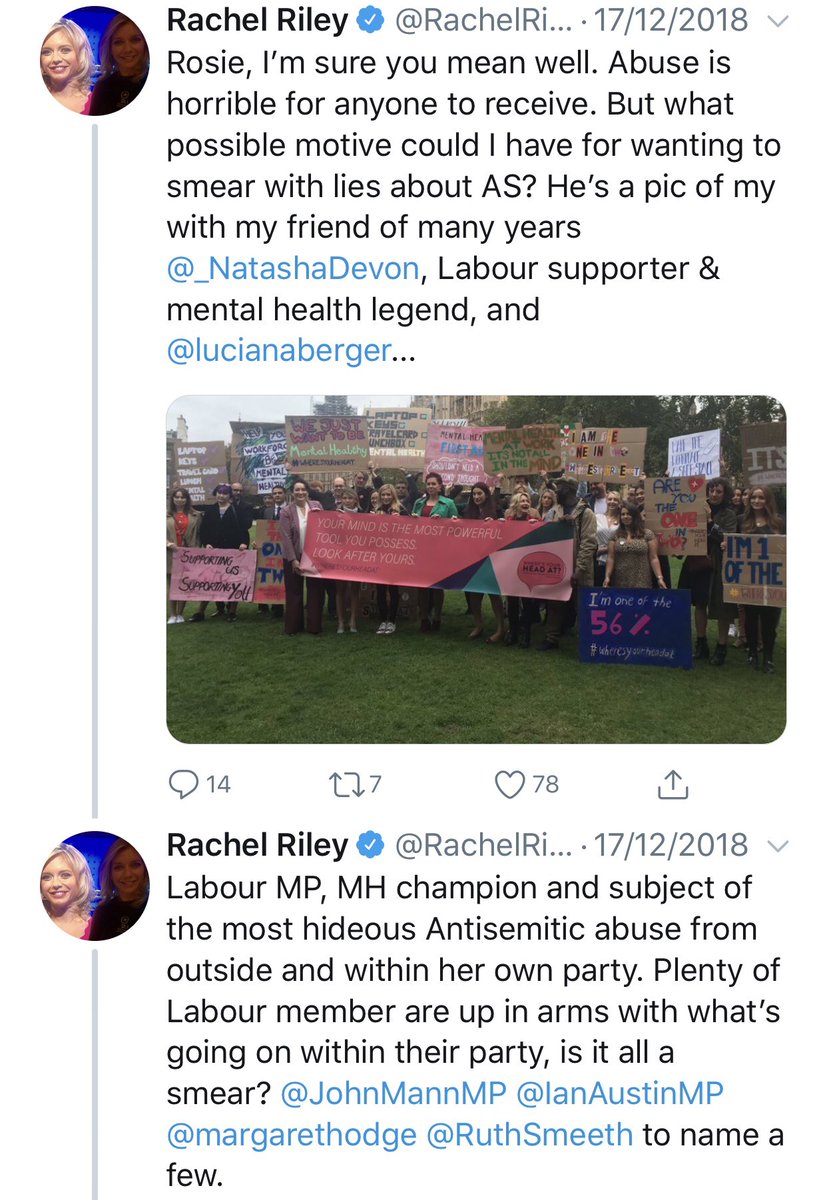 Every week
@LabourAgainstAS
does a review of the last 7 day's worth of AS, if you're interested, follow them.
Refusal to condemn the murder of 11 Jews in Pittsburg article:
independent.co.uk/news/uk/politi…
@Steve_Cooke
's original account:




Labour official joking about cutting Jews throats:
thejc.com/news/uk-news/l…
Incredibly powerful videos describing the AS they've received
@lucianaberger
theguardian.com/world/video/20…
Brings me to tears watching
@RuthSmeeth
@rabbisacks




FT article I took the peach quote from.
amp.ft.com/content/d213a5…
Rosie's replies.
I said have a good Christmas, and the last message I sent is here, asking if she'd reconsider her comments about Jews being fed lies considering the evidence I'd shown her.
I didn't hear back.




This has a direct parallel with the spread of Antisemitism.
Antisemitism is a whole bunch of conspiracy theories about the Jews. Control the world, media, banks, wars, any BS people want to say, they can.
It takes effort to fight this, and we need help.
We need
#ActiveAllies
It took lots of learning to get to grips with what on Earth is happening, why, and how.
To talk about Antisemitism, a cause so important to so many people is quite daunting, personal and exhausting.
Thanks for taking the time to read this.
If you want to help
#BeLouder
❤️🙏✡️
Finally, I don't blame any one person for this, no one has anything to gain from a pile-ons, so pls don't.
But this culture has developed, with those who've created it, doing so in the name of today's incarnation of Labour.
There's nothing kinder nor gentler about it.