We're here with
@misscarise
to discuss Un-Learning Jealousy In Ethical Non-Monogamy! This topic in nuanced and complicated. We're trying to make space for discussion when it comes to jealousy.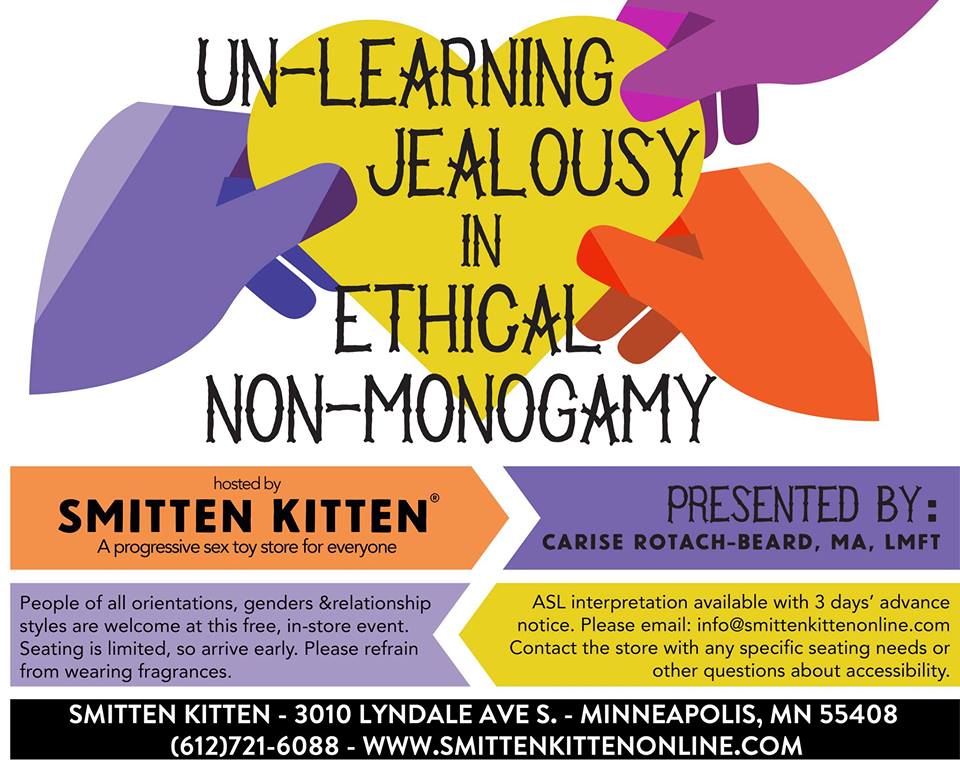 We're calling it un-learning, because you can't de-program jealousy. What we're working on is changing our relationship to jealousy and shifting the power it has over us and our actions.
Jealousy is a biological response. This emotion comes from the fight, flight, or freeze response and we don't always make the best choices when in that state. However, we want to learn to work with it as a necessary system within us that alerts us and let's us know something's up
As a culture, we've made jealousy as a platform of control. We all understand the scorned jealous lover. We've always turned it into a megaphone of emotions when we can't actually articulate or express how we're feeling, especially if we're feeling vulnerable about it.
Jealousy often acts as a justification for reactive, violent and erratic behavior.
It's safe for us to feel jealousy and anger-these emotions are protecting what feels like more vulnerable emotions. We're jealous and angry when the bottom or "basement emotions" are sadness, loneliness, inadequacy and fear.
Anger, Jealousy, Control, and Silent Treatments create a defensive wall in communication and care. But with practice and time we can learn to access our "basement emotions". It's an individual process, you can't access others basement emotions and they can't access yours.
.
@misscarise
suggests to take a body scan of yourself when you start feeling jealous. The second suggestion is to step away from the argument! Third is to BREATH. If you take 60 seconds to breath it gives a chance to approach the conflict with your full brain.
Journaling or processing individually (verbally with a friend or therapist or by writing) allows you to take the emotions into a physical place. Materializing words helps code feelings into your brain and will help this process!
Journaling and processing individually allows you to hold the mirror up to yourself, it helps break the co-dependency cycle by having agency over how you're feeling and actions.
Everything we do that's hurtful or that hurts is because a fear shows up. Ask yourself "What Is My Fear"? Likely they have to do with attachment, indecency and a sense of loss.
What am I asking of my partner? It's easier to control a partner than to admit vulnerability. It's easier for us to say "I don't want you to do that thing with that person" than "I want you to do that thing with me"
Then FEEL your feelings! The fear of loss is responsible for most jealousy, such as an ambiguous loss (i.e. the end of a relationship). The fear of losing the things we love is really scary-as it should be-but also, What A Scam!
Love and loss ALWAYS go together. Whatever we love, we will lose. When we believe that loss is something we can prevent, we start to do a lot of stuff that's mess up: we shut down, seal the exits, look for threats when there are no threats, we control.
It's like only wanting to inhale and never exhale. We can't prevent or change this. The more people we fall in love with, the more we lose them. We have to get good at it or we'll keep hurting each other. Just as you are capable abundantly love, you can abundantly handle loss.
We don't have to like it, but when loss is normalized and accepted, the control and threat is neutralized. When loss is normalized, we can stop stressing about "the end of it" and focus on being good for each other and ourselves now-and that can produce abundent joy.
Our security goes from external (I'll be fine if none of that bad stuff happens!) to internal (I'll be fine.). It's a gamble to place our security & safety into other people's actions. This is a BOTH AND situation-we should still put security & trust in others but it's a spectrum
SO! NON-VIOLENT COMMUNICATION! Center onto yourself.
"What I observe", "what I feel", "What I need" and "Would you be willing to___"
Non-violent For The Imperfect: "Oh S**t, I just noticed myself get really angry when you said that. I need a minute to regroup", "It's important to me this doesn't escalate, I feel myself getting defensive, can we come back to this."
It's okay to take breaks, state your intention to come back to it. Give your brain time to re-group! Give yourself a breather to clearly communicate that you care for your partner.
More Non-Violent Communication For The Imperfect- Allow your partners to take breaks, it'll be hard and awkward for some people! Take a lap around the house to calm down and allow your partners to take their time. Tell your partner how much time you need-twenty minutes, a day...
"Something about this agreement doesn't feel good to me. I want us to be okay. Can we talk more about this (then name a time)" DON'T NEGOTIATE AGREEMENTS WHEN EXPERIENCING ACTIVE JEALOUSY! They can become a prison instead of a playground
"I think this is my own s**t & I'd like to share it with you." You're partners are not owed a front-row seat to your experiences & feelings all the time, nor do people have the capacity to show up every time. Consent is "I've got big emotions coming up, can I share it with you"
Be careful when jealousy shows up as power plays-not the fun kind-by ways of attachment games. "I know it annoys this person when I do this thing, so I'll do it, because they annoyed me" or "I'm going to show more time/energy on X to show Y whats up."
Power plays include coercion, non-consent, manipulation, and using other people as pawns. This can quickly elevate into abuse so be mindful when these start to act out.
Questionable Motivation is different than misunderstanding-its when you purposefully disrespect the relationship model. Its when there's negative emotions or actions that affect other partners.
Respect your gut feeling! What does your community say? Find the folks you trust who are loving, listening and understanding and let them help you! Tell them what's going on and ask, "What does this sound like to you?"
Toxic cycles, abuse, painful cycles are WAY more prevalent in isolation. Get some perspective! Therapists are great but friends are wonderful.
Here's
@misscarise
's ~Intentions Around Jealous~
--Avoid negotiating agreements around jealousy! Be in a full brain, calm and a space where you're able to assume best intent from your person and yourself.
--Invite partners INTO your vulnerability than pushing them away.
--Discuss jealousy when you're clothes are on.
--Sooth & nurture! Even if it's awkward and even if you hate it when your partner feels jealous! Warm each other's heart. Hold hands when talking about the hard stuff. We can be dealing with the hard stuff, we can still be a team.
--Give yourself permission to not "fix" things. It's a learning experience, there isn't a solution.
--Avoid reactivity! You're going to feel jealous, hurt, offended, angry. Feel them past their highest intensity before trying to interact and connect with another.
It is our personal responsibility to not dump our feelings and reactions onto another. If we're able to pause our reaction, breath, process individually, we can avoid a lot of the downfalls of jealousy!
Some more notes on compersion -the emotion word coined to describe the happiness you feel when your partner experiences pleasure and happiness even if that's not with you—it's a very high bar! And if you don't feel it, that doesn't mean you're bad at poly! T
The goal isn't to get to a place where nothing feels bad, but to a place where you remain in control instead of your emotions flooding and taking over.
@misscarise
wants to normalize that not everyone feels compersion!