Indigenous Services Minister Seamus O'Regan introduces long-awaited child welfare legislation. It intends to have Indigenous CFS laws override fed & prov jurisdictions. If a year of "reasonable efforts" to sign agreement with a province fail, Ottawa would recognize Indig law
#wfp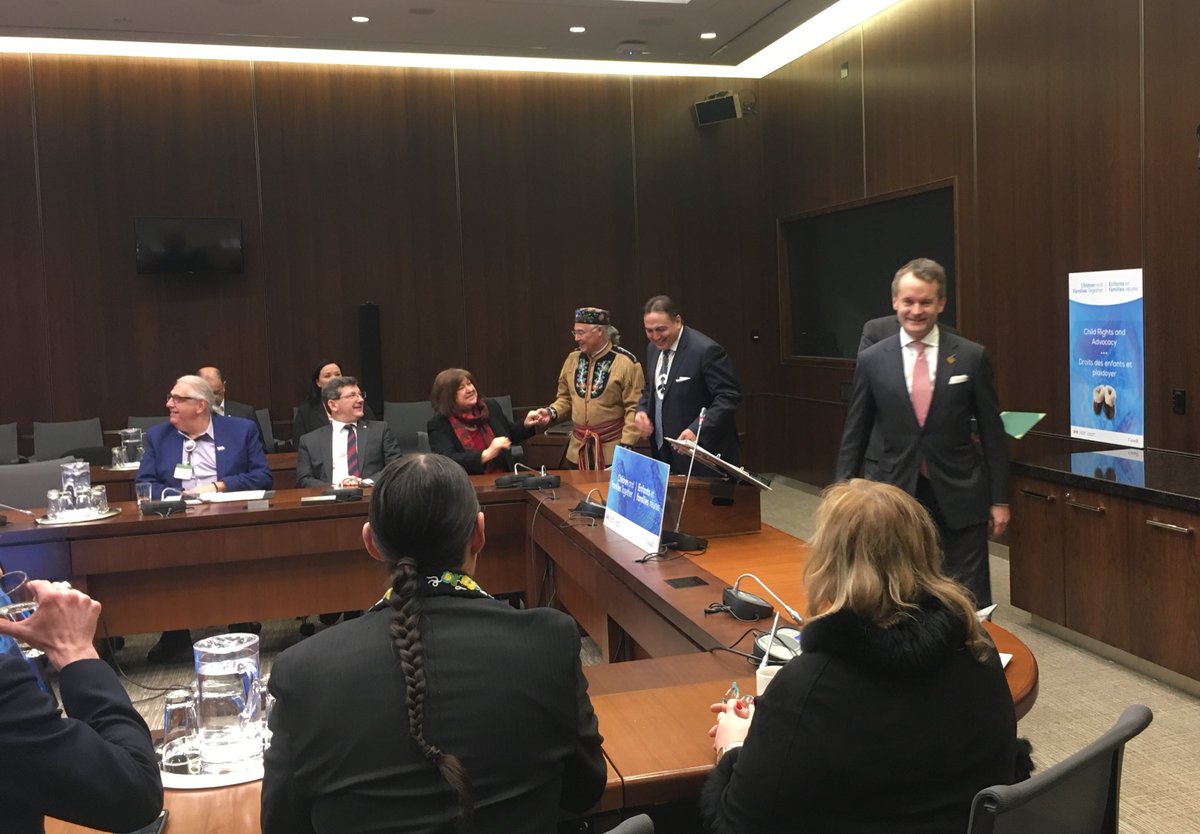 O'Regan says bill addresses a "crisis" by recognizing "Indigenous communities have inherent jurisdiction" over their kids.
The bill's preambles encode that the CFS agencies have to prioritize keeping kids within their families & cultural ties. In places like Manitoba, both fed & prov funding structures have largely incentivized apprehending kids, with few cash flowing for prevention.
Bill says "the child must not be apprehended solely on the basis of his or her socio-economic conditions, including poverty, lack of adequate housing or infrastructure or the state of the health of his or her parent or the care provider" (para.
15)
Bellegarde warns the bill has a "very precarious journey" to get passed before Parliament takes its summer break (and then it's election cycle).
Obviously the big question for Manitoba is whether this will overhaul the quasi-devolved 2003 system where First Nations and Métis operate authorities to oversee their agencies, but under provincial laws and prov/fed budgets (which are also changing).
More on Manitoba: AMC has asked for its own law to be introduced; I've reached out to them to see if they believe this allows them to fulfill their Bringing Our Children Home Act. Will also reach out to MMF.
Obed: "this legislation can help" with these issues and Inuit want to help. (I was unclear whether his comments in previous tweet means this does fulfill them or if he's waiting to see about that.)
Reporters have the CFS Bill C-92 but it should be online for the public within the hour, here:
parl.ca/LegisInfo/Bill…
(on top right)
Bennett: "we are gradually advancing the work of getting out from under the Indian Act" through this bill.
Bennett on bill: "It is everything we heard" with MMIWG families, TRC and Scoop survivors. "It stops today"
Quite impassioned comments from Philpott. Apprehension "sets a path for your entire life" and being raised by someone who doesn't give value or understand your culture has deep impacts. Will have challenges in implementing bill. (Worth watching her comments if anyone clips them)
O'Regan says he has consulted with "Senate leadership" about bill and also requested to speak with Tories; I'd asked about any work to avoid Senate clash over provincial and minority interests (the two are the crux of Red Chamber mandate).
O'Regan says his govt has been consulting with provinces too and hopes they will get on board.
Today's long-awaited reform of CFS has surprised me on a number of fronts.
The first: feds can go over heads of provinces reluctant to devolve power to Indigenous groups, as long as 12 months of "reasonable effort" was made to include said province. Bill lacks definition/criteria for "reasonable." In tech briefing just now, ISC unsure who makes call.
The second: Manitoba is the epicenter of Indigenous kids in CFS care — but the provincial government says they were caught off-guard by the bill and not adequately consulted. My story will elaborate.
The third: Ottawa signed an MOU with the Assembly of Manitoba Chiefs in Dec 2017 recognizing their role in devolved child welfare. But AMC GC Arlen Dumas slammed Ottawa quite forcefully this afternoon. Says feds stole from AMC's drafted bill:
"There's actually no teeth" in CFS bill, Dumas said.
"I sort of don't appreciate entities or interlopers taking our corporate knowledge and spinning it… attaching it to legislation that is not actually honouring that work. It's not something we're going to stand for."
Dumas actually used the word "stealing" to describe Ottawa's bill today.
The Manitoba Metis Fed has echoed the MNC's support for Bill C-92; MKO (northern MB FN) was "cautiously optimistic."
But it is striking that the govt of most-impacted province + largest First Nations group are sharply critical of Trudeau's last major plank of reconciliation file.
Ottawa might be able to work out these concerns, but I can't see this bill getting an easy ride in the Senate (in its current state) if this is the initial reaction.