A little history review on voting and FOX viewers:
"Americans who say they voted for Trump in the general election relied heavily on Fox News as their main source of election news leading up to the 2016 election,"
Source:
pewrsr.ch/2iRUxfg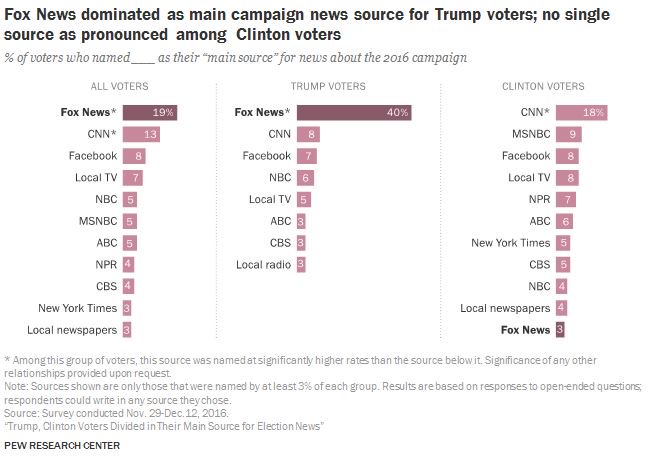 We know the effect FOX had in 2016, but did you know they affected 2000 - 2008 elections?

"Fox News played an increasingly important role in presidential elections between 2000 and 2008. Their analysis suggests that, had the network not existed (and no similarly conservative"
"network arose in its absence, perhaps an unlikely counterfactual), the overall Republican presidential vote share would have been 0.46 percentage points lower in 2000, 3.59 points lower in 2004, and 6.34 points lower in 2008."
There is "no corresponding political influence from more liberal networks. Republican vote shares among viewers increase by 0.3 percentage points for each additional 2.5 minutes of Fox News viewership per week."
Source: Source:
brook.gs/2jL6Z2Y
via
@BrookingsInst
"With the help of Dr. Kathleen Taylor, a British neuroscientist at the University of Oxford, the film explains how media outlets like Fox News can literally brainwash otherwise reasonable, intelligent people."
The fox cult:
"As Taylor puts it, Frank's brain -- and those of millions of people just like him -- was physically rewired, first by Limbaugh and then by Fox News. Not only that, he had also become literally addicted to the anger"
Trump is taking advantage of FOX's ability to feed his base and keep the fires of hate and racism burning and they have no problem fulfilling that role.
"Hannity told his viewers that he could tolerate Trump signing a bipartisan spending bill that lacked funding for "the wall," so long as the president simultaneously used an emergency order to unilaterally finance his signature policy. Three days later, Trump did exactly that."
Most of us get a high from sunny day hiking, laughing children, seeing couples in love or helping others. 45's base needs FOX and other right wing media outlets due to having their brain rewired over time to need hate, racism and rage as a type of high.
I wanted to shed light on the fact that this is not as simple as people are watching the wrong news channel or listening to the wrong radio station. This can actually be an addiction to hate and or rewiring/reprogramming of the brain over time. We are fighting an addiction.
This is a tough battle especially for those of us with family, friends or loved ones that are addicted to FOX. Converting Cult 45 members is no picnic either. All we can do is try to "unplug" them from the constant stream of hate and racism with facts, compassion and civility.
I addition to FOX we also have Sinclair run stations throughout the country reinforcing FOX through local news stations.