Installment 4 of greed in HC, Big Pharma. Hospitals and Insurance are quiet about it, but Pharma is public and proud of their greed. In this thread, why we pay more than any other country for meds and what we need to do to fix it.
#HealthCareForAll
Healthcarerx.org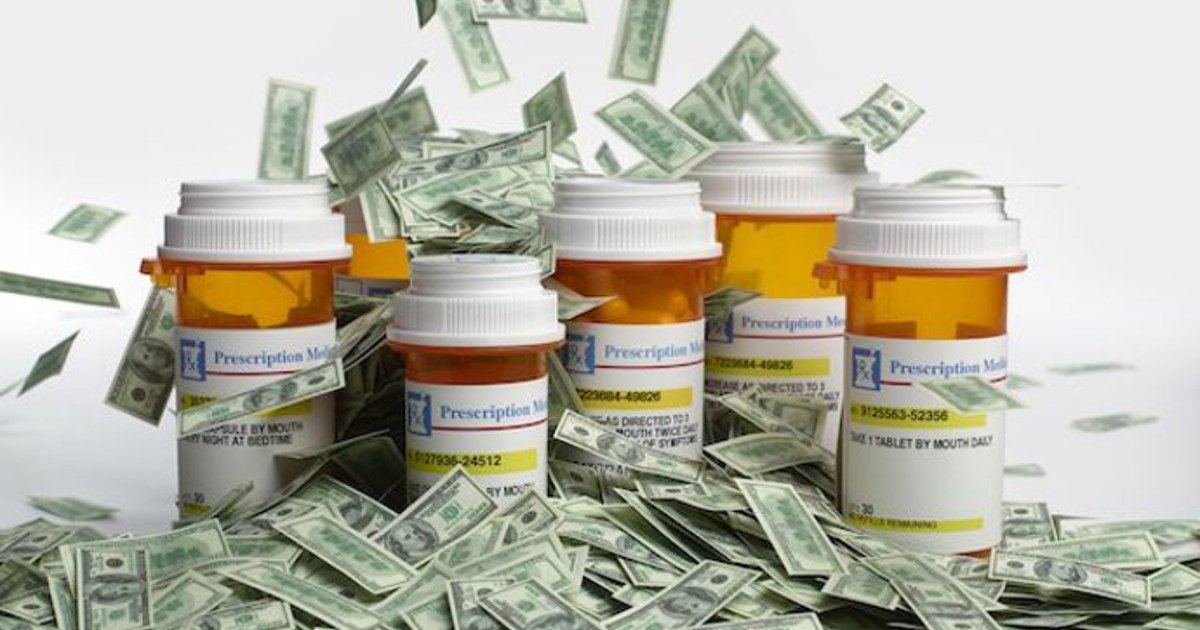 Buckle in kids this is going to be a bumpy ride. Hospitals and insurance were easy, there are a multitude of moving parts in the Pharma greed machine making billions or trillions a year. I hope to shed some light on this exceptional greed generating complex we have in the U.S.
Watch this segment from Patriot Act by Hasan Minhaj on drug pricing and the blame game on prices. The Goverment blames Pharma, Pharma blames insurance, Insurance blames PBM, (pharmacy benefits manager) and then they all blame each other.

This is also a good read on the topic.
"Drug prices have risen at an alarming rate in recent years, outpacing all other aspects of health-care spending, including nursing home costs."
Source:
washingtonpost.com/outlook/2018/1…
I will start with the manufactures or Big Pharma. They have their greed machine fine tuned and profits are soaring. Keep in mind this is on quarter or 3 months of profits.

"The third quarter of 2018 reveals this trend, with 14 drugmakers posting a profit above $1 billion."
Number on on the list making $4.1 billion the 3rd qtr is:
1.
Pfizer ($4.1 billion)
For comparison for the same quarter Anthem, one of the largest insurers, saw a profit of $960 million in the third quarter.
(Reminder this is 3 months of profit)
Source
beckershospitalreview.com/pharmacy/14-ph…
I won't leave out the Pharma CEO's, those folks dressed in black lurking in the shadows with the meniacal laugh charging us upto $350 a vile for insulin. Number one on this list of top five laughs all they way to the bank with $38 million a year .
Source:
graphics.wsj.com/table/CEOPAY_s…


Next up, PBM or Pharmacy Benifits Manager, you saw it mentioned earlier in the thread and are wondering what the hell do they do?

Are they a good guy fighting for us?
Are they working for insurance?
Are they working for Pharma?
Are they working for themselves?
PBM is another group that started with good intentions and fell for the dark side of greed like HC insurance did. It also appears we are the only country with this system. Leave up to us to invent another way to make money off healthcare.
PBMs originated several decades ago as processors of prescription drug claims for health plans, earning a flat fee for each claim processed, some PBMs have evolved into behemoth corporations ."
Source:
ncpanet.org/advocacy/the-t…
One behemoth is CVS, yes CVS is a PBM and made billions helping patients save money?
"CVS Health said adjusted earnings for the three months ending in December...rose 12.5% to $54.424 billion". For 3 months.
Source:
thestreet.com/investing/earn…
CVS CEO makes $12.3 million a year total compensation.
Larry J. Merlo
President and Chief Executive Officer
$12,252,864
Source:
www1.salary.com/CVS-HEALTH-COR…
Now on to medications, we have all heard the terms generic and name brand. Tylenol is brand name and Acetaminophen is generic. Generics are less expensive and manufactured by numerous companies. Name brand is where the big bucks are manufactured by the company that developed it.
Patent time frames vary but generally last 20 years, With exclusive periods lasting 7 years, locked in to charge what they want.
Source:
fda.gov/drugs/developm…
The government is not innocent in this web of profits at the expense of the patient. Lobbyists, a recurring theme, spent $280,305,523 in 2018 to keep the profits rolling in.
Source:
opensecrets.org/lobby/induscli…
The Pharmacy industry has spent $3.9 billion over 20 years lobbying to protect profits, influence the FDA and protect their bottom line. And their bottom line is profits over patients - profitcare.
Source:
investopedia.com/investing/whic…
The lobby tentacles run deep, including patient advocacy groups.
"The 14 companies that contributed $116 million to patient groups reported only about $63 million in lobbying activities that same year."
thedailybeast.com/is-big-pharma-…
via
@thedailybeast
Honorable mention in the pharma greed web is healthcare insurance. They are discussed in a previous thread in this series found at the end of this thread.
The greed and corruption evolving the pharmaceutical companies and their lobby needs to be exposed. We need to continually expose the level and depth they have gone to protect and increase profits at the expense of patients.
Greed and corruption the never ending saga afflicting our country. Voting and voting out those owned by lobbyist/corporations in this current administration is our weapon to begin to repair this broken system.
Holding our reps to their campaign promises that we voted for is the second method in this ongoing battle for affordable, quality healthcare for all citizens of this country.
The people of this country deserve health care regardless of economic status, pre-existing conditions, race or religion. It will take time but we can make this happen by taking the first step, voting for candidates in Nov 2020 with a platform that supports
#HealthCareForAll


Previous healthcare greed threads