We're starting out the day talking about the Finland UBI experiment, and of course the first thing mentioned is just how much misinformation and propaganda is out there about the experiment.
Here's my summary of the Finland story:
medium.com/basic-income/w…
#basicincome
#NordicUBI
"A lot of people that need UBI most are mostly invisible in Norway... They're just falling through the cracks."

This is one of the things that I think progressives have the hardest time coming to terms with. Without UBI, all safety nets have holes, even in the Nordic nations.
Martin Michaelsen of Denmark says if social democracy wasn't so tied up with unions, he thinks there'd be a lot more support for UBI in social democracies, because it appears that unions are afraid that if people have UBI, they will no longer need unions.
#NordicUBI
It shouldn't be that hard of a sell. Yes, you have more bargaining power if you have UBI, but if you're in a union you then have even more bargaining power. This idea that if people have UBI they won't care anymore about their working conditions is just silly.
#NordicUBI
Oyvind Steensen of Norway just spoke about how Nordic countries seem to think that only corporations and the government can create work, but people with UBI can create their own work. It's an investment in the entire country you live in. It's an investment in everyone everywhere.
Empty jobs, bullshit jobs, pseudo-work, all these phrases are being born and used in response to the ongoing transformation and realities of today's labor market. Is automation going to decimate jobs in the future? Is that as important a question as the nature of our employment?
Speaking now is
@HildeLatour
. She just described the idea of a forest that owns itself, and how through blockchain technology automate the growth of forest sizes and the distribution of a UBI. Two birds one stone. More CO2-absorbing forests, more economic security for all.
What if we then extended this logic and essentially automate UBI through say automated vehicles paying UBI, AI lawyers paying UBI, automated task after task all helping to distribute a UBI that grows as more automation exists to pay into it?

Who pays for UBI?

Not who. *What.*
Now Guy Standing is introducing us to his new book. "Plunder of the Commons: a Manifesto for Sharing Public Wealth." Central to the book is the importance of a document even older than the Magna Carta called The Charter of the Forest.
Recommended intro:
theguardian.com/global-develop…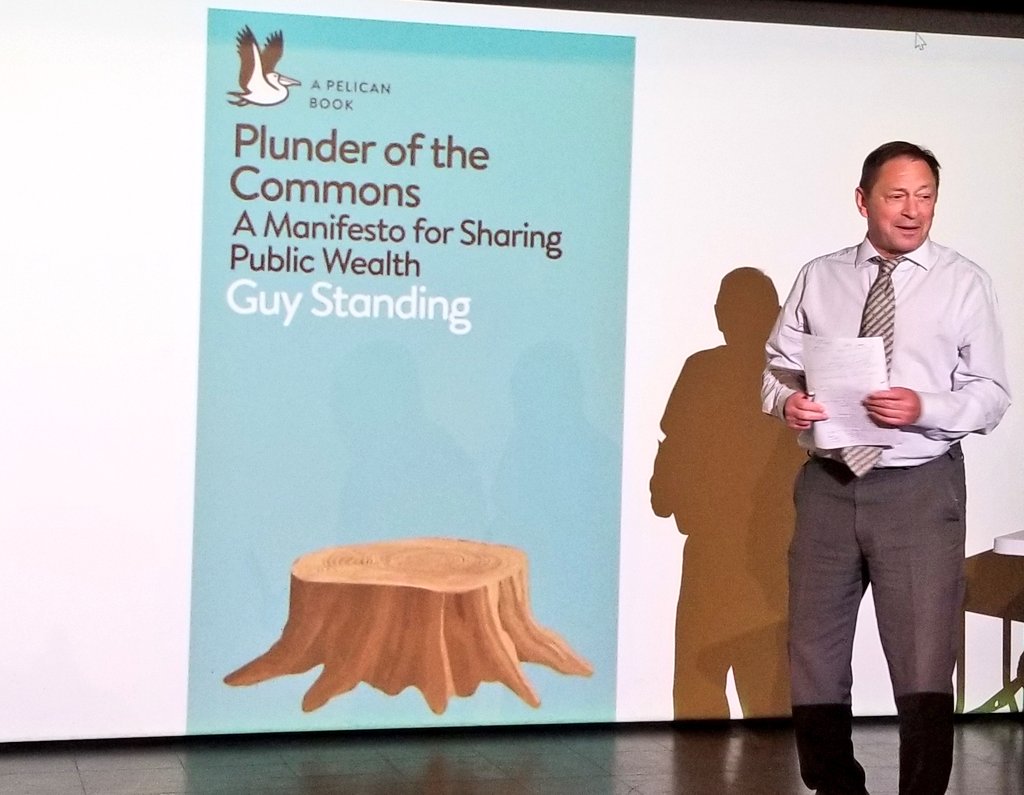 The Commons is not only about natural resources. We create it. "Social memory" is how we defined it. In old court cases, if people claimed "This has belonged to all since time out of mind," it stayed the Commons. We stopped doing that and let the Commons be plundered by the rich.
We must recover the Commons because it's ours. And we must distribute the rentier income that's only been flowing to those who have plundered the Commons & taken the wealth generated for themselves. Suggested methods: a land value tax, carbon dividends, billboard levy, blue levy.
A blue levy as described by Standing is about treating the oceans as the commons it is. One company owns 47% of the patents generated from ocean-based genetic research. Fascinating stat to consider. Should one company essentially own ocean life?
Source:
independent.co.uk/news/science/d…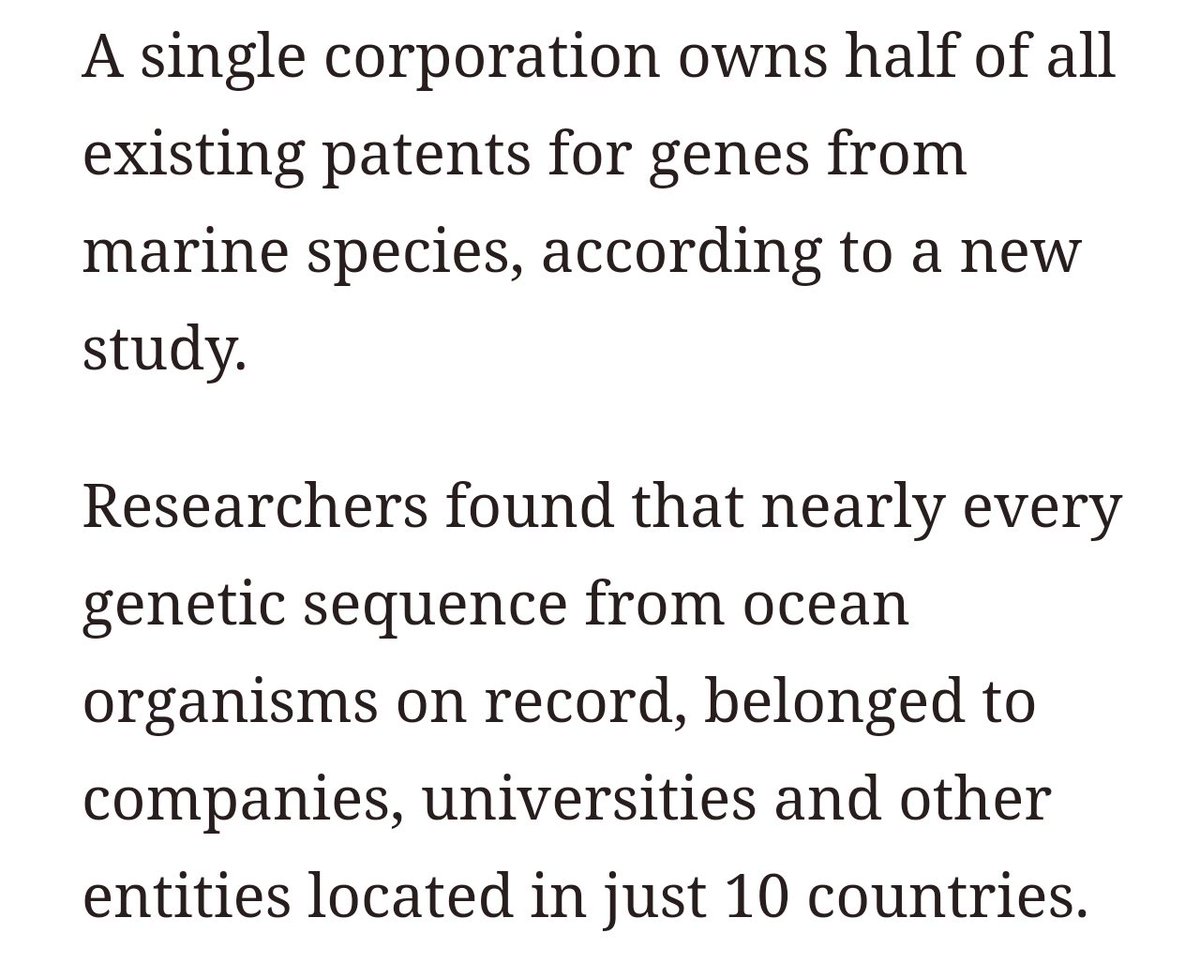 Currencies of exchange are part of the Commons. In the UBI experiment in India, the effects were larger than the amount seemed to suggest. What they realized was that money had been a contrived scarcity, and thus UBI reduced the price of money, enabling more than the money value.
Laura Bannister shared the fact that what radicalized her about UBI was the realization that she had no choice but to pay to sleep anywhere. There was nowhere not owned by someone, so she had to work for someone in order to earn the money to sleep somewhere legally.
#NordicUBI
We're going around the room getting responses from everyone about what they think should be considered part of the Commons. Some of my favorites: wild foods like mushrooms, silence, public-funded patents, science.
My answer was Mickey Mouse.🐭
medium.com/basic-income/t…
#NordicUBI
Guy Standing is now speaking in this final session, and talked about how someone who was very against the UBI experiment in India, has now recently changed his mind and is pro-UBI. And it looks like we will see a UBI in Sikkum as the 1st ever.
#NordicUBI
As beautiful an idea as UBI is on one side, it is also urgent on the other side, to avoid violent revolution & instead enable peaceful evolution. The urgency of UBI is only increasing as depression, anxiety, and anger continue to bubble up from the depths of our insecure society.
We just watched a fantastic video that serves as an introduction to BIEN and this year's Congress in India. I don't see it on YouTube yet, but hopefully it will be up soon.
Annie Miller is now talking about her proposed changes to BIEN's definition of UBI to serve as a gold standard all over the world for what is UBI. Here's my copy of her suggestions and your feedback is welcome.
#NordicUBI
#BasicIncome

Sorry, I got interrupted when the conference ended, and forgot a final tweet.
#NordicUBI
2019 has come to an end. Thank you for reading my tweets during it, and I hope you found them useful! All the videos are online and can be found here:
youtube.com/channel/UCt33O…