I'm still reeling from the information that the gunman in San Diego last weekend was home schooled Christian and knew his Bible verses and used specific Christian coded language.
#ChristianExtremism
So, last year there were reports of multiple shootings by Christian Extremists/Home Schoolers. Obviously, there were others by people in schools, etc, but I'm not here to examine those.
childfriendlyfaith.org/2018/05/why-th…
This was called out by various people already, and it's not a trend I want us to take lightly.


Others are calling it out. This is super important conversation to be had, and it should be being had by the Home School communities too.


This was where I first saw it pointed out about this killer's home school history. I *think* from what I have read that he also was a student in a Christian school for part of his life, but it's not totally clear.
#ExposeChristianSchools
David Gibbs Jr is a person who is linked to all the top tier Christian Extremist Homeschooling people. I have a few questions.
#ExposeChristianHomeschooling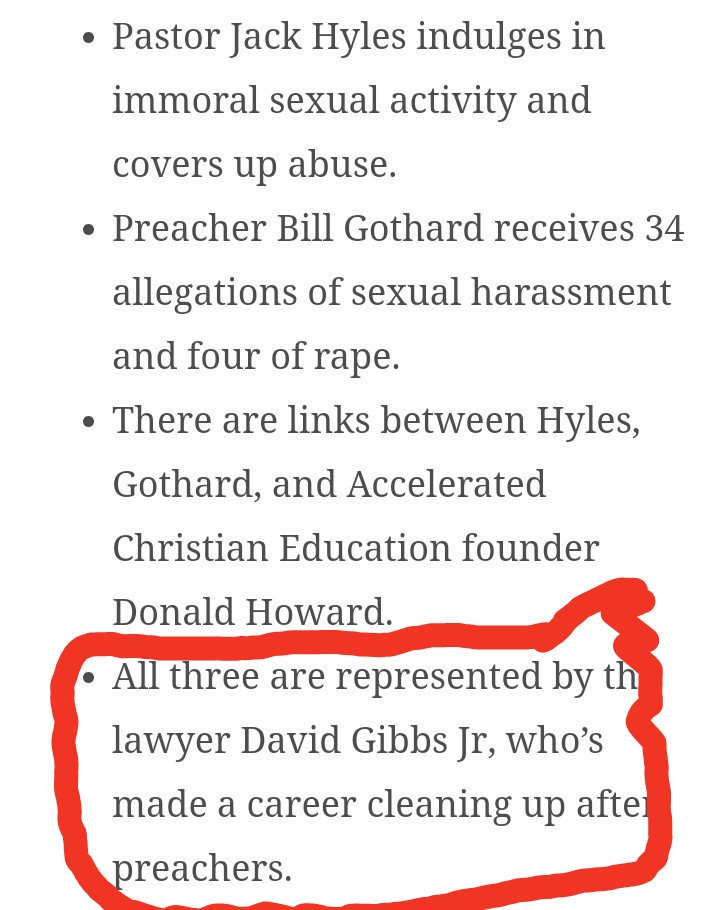 He's also, apparently, the go-to person if you want to pass off a friend's examination of misconduct accusations in your charity as an external legal examination.
christianpost.com/news/bill-goth…
Which is beside the point of this thread, but still linked. I'm looking at ways that Christian Extremist Home Schooling communities can create spaces for radicalisation. Discovering cult-like leaders who get away with alleged abuse obviously blip high on my radar.
The parents of the gunman have spoken, and said, "they raised him and his five siblings in a family, faith and community that rejected hate.
"Our son's actions were informed by people we do not know, and ideas we do not hold."
time.com/5579893/califo…
Okay, and the gunman himself said that his parents did not inform his decision to attack a Synagogue, HOWEVER, the published note attributed to him is filled with Christianese, homohibia and racism which are classic notes of Christian Extremist Home Schooling.
Here's a quote from his family's pastor, 'Keele rebuked the manifesto, saying "there is no superior race. We are all created equal." He said also "we are committed to loving all people."'
Source:
getreligion.org/getreligion/20…
H O W E V E R

And I step very carefully here, and want to absolutely state that a killer is responsible for their own actions only, and not anyone else, not their family, not their environment, not their church, certainly not their family's pastor.

H O W E V E R
escondido-opc.org/sites/default/…
I went to the church website to have a 👓 look at some of their background, what kind of church background and scriptural centre they gave this radicalised Christian Extremist, and 🤷‍♂️ 🤷‍♀️ 🤷‍♂️
You can't make judgement of a churches policy or voice or me safe by one sermon, but you can get an idea perhaps of some of the themes that might have been exagerated in an unstable, radical mind. Here's some relivent notes from just one sermon
Presented without criticism is the Ancient Biblical texts that indicate that Israelites (representing God's holiness at the time) should marry within their own clans, to prevent their 'blood being diluted'
He adds that later, because of sexual immorality, 'God cast out his people as impure.' He said, 'The land will Vomit Israel out.'

Discussing the floods purging in holiness, he adds, 'A judgement purging will happen again, but with fire.'
This kind of language in one sermon, a radical does not make, but as something of an indication, this should serve as a warning to us about the way we speak about nations/peoples/races/bloodlines in context to anhilation/purging/exile, especially when it is
not presented with critical arguement or updated to current language, culture, context.

How easily can one hear that only holy bloodlines will be protected, that your seed keeps you in God's presence and to reinterpret this as speaking about YOU, the 'chosen race'
Fair to Keele, I went in looking for the kind of homophobia and racism seen in the gunmans wording, and that is NOT evident in Keele's talk, he's not openly disrespectful of current gay relationships, just says that for Israel they were impure because they didn't produce heirs
But this is a critical aspect that I'd like to see us addressing, what of our words can be taken as dehumanising others? where are we talking about a whole 'people' instead of indeviduals? how do we define holiness?
When a member of a congregation sets out on an antisemitic attack, its worth asking, 'How have we talked about Israel in this church?' 🤔
And here's a reminder that the gunman is ALSO accused of trying to set fire to a mosque. Again, he's going after those who he thinks are weakening the 'Christian' bloodlines in America.

I picked up ONE sermon, and I hear about weakening pure bloodlines.


Here is some further analysis of what antisemitism means, both now and historically: