*New Brief Out This Morning*
Two years into Trump's presidency, I take a look at how American opinions have evolved over since the 2016 election. Let's dive right in. [THREAD] 1/N
voterstudygroup.org/publication/tw…
There's been a lot of talk about the "floor" of Trump's support, but what about his ceiling? Let's say we added up everyone who has expressed a positive view of Trump at any point in the last two years. This would still represent less than half (49%) of Americans.
3/N
2)
Per
@Neil_Irwin
, the economy is doing (almost unbelievably) well. "The jobless rate receded to its lowest level in five decades" and "employers also added 263,000 jobs" in April. 6/N
nytimes.com/2019/05/03/ups…
This is consistent with some of the work by
@johnmsides
,
@vavreck
, and Michael Tesler: there is a growing disconnect between economic performance and Pres. approval. Time will tell, but this strikes me as one of the more fascinating trends to watch. 8/N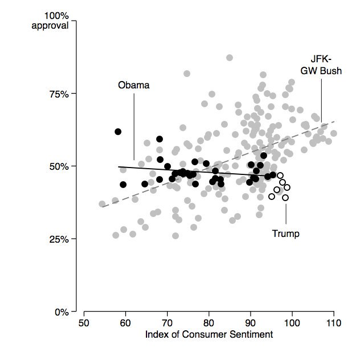 3)
What about issues? Issue prioritization doesn't look that different from '16, but there are some interesting changes among Democrats. They are now more likely to prioritize environmental issues (65% v. 75%), climate change (63% v. 73%), and racial equality (60% v. 69%).
9/N
Consistent with work by
@pewresearch
's
@B_radJ_ones
, climate change is now the most divisive issues in American politics in terms of prioritization - 73% of Dems say it is very important vs. just 12% of Reps. 10/N
pewresearch.org/fact-tank/2019…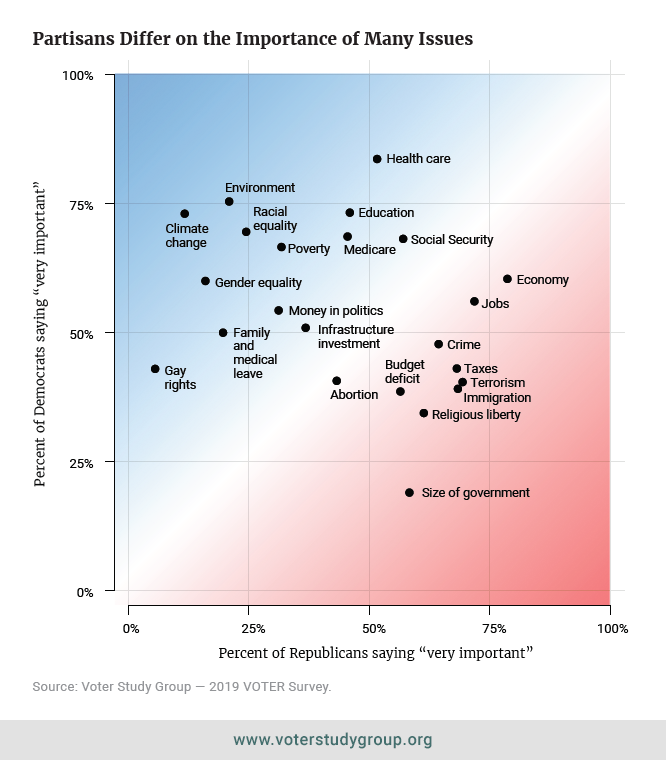 Notably, this shift was prior to
@AOC
and others pushing for the well-publicized New Green Deal. Fair to say there was already momentum building on this issue and that this wasn't lost on them.
11/N
4)
With the '20 primary cycle underway, we asked what positions and characteristics would be important for the next president to have. Generally, there was a wider agreement that certain types of positions are important than demographic characteristics or social identities.
12/N
This isn't to say demographics and social identities don't matter - there's interesting work by
@kabir_here
to suggest they do - but worth recognizing what Americans' stated priorities are. 14/N
cbsnews.com/news/democrati…