A thread on where I think we are in the Trade War:
As I've been saying now for a year, Trump's tariffs - good summary below from CRS (
fas.org/sgp/crs/row/R4…
) - have so far been dumb, ineffective and painful (a little for everyone & a LOT for some) /1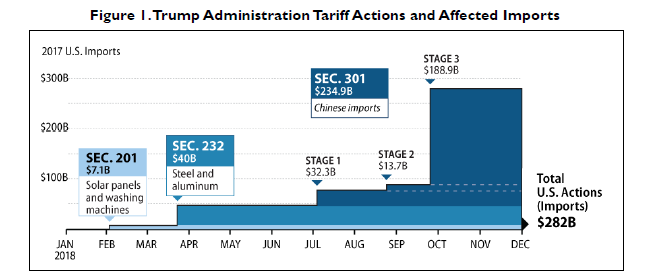 And we now have plenty of anecdotes, business surveys AND academic research (of actual effects, not predictions) on the actual pain for importers & exporters, e.g.:
bfi.uchicago.edu/wp-content/upl…
nber.org/digest/may19/w…
/2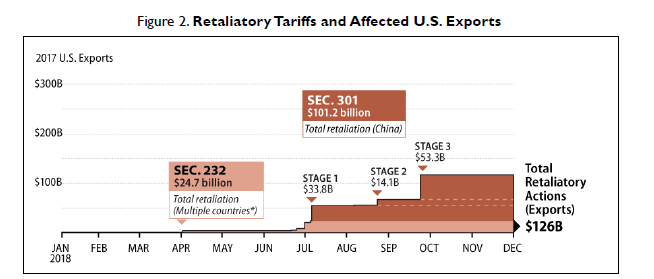 We also see (so far) no Great Trade Deals - a big (supposedly) reason for the tariffs - completed, & at this pt there's a very real chance that none of them will be anytime soon:
So this has clearly been dumb/bad policy thus far
/3
THAT SAID, given the tariffs' scope, magnitude & timing, along w/ the tax cuts/etc & the overall importance of goods trade for the US economy, the tariffs have NOT been Economic Armageddon (as I've also repeatedly said:
)
/4
However, Trump's NEW tariffs - 25% on "List 3" ($200B) Chinese goods & proposed List 4 ($300B) - will change the calculus.
@dikenson
crunches the numbers in this recent blog post:
/5
(that is some high-dollar graphics work, I know)

(anyway...)
This would obviously hurt certain US companies (importers/exporters) and consumers, raising their taxes, messing w supply chains, etc. But what abt the US economy overall? On the one hand, it's huge ($21T), and the US is one of the less-trade-dependent major economies
/8
So we see macroeconomic projections of a US-China trade war that are painful, but not devastating, eg:
Or that new Krugman column:
/9
(leaving aside the long-term problems)
That said, it's safe to say that, as of 10 days ago, NO ONE was expecting this kind of escalation. So a "China Shock" (sigh) cld cause more pain than predicted, esp since the US economy might not be as strong as the topline numbers say:
/10
And, of course, we don't yet know how China & other countries - esp those in the supply chain - will react to all of this. Or markets.
So maybe this all stays contained & the pain, while real and significant (far moreso than last year), remains manageable.
But maybe not?
/11
I honestly don't know. Here's hoping cooler heads prevail and we never find out.

But I'm not holding my breath either.

Buckle up. /x
(P.s. This doesn't consider the autos tariffs, bc those appear - for now, at least - to have been (wisely) shelved pending various negotiations. Those would also be nasty.)