Quick thread:
2019 could be huge for US automotive manufacturing:
1)
Soon, DOC will send POTUS its recs in the "Section 232" national security investigation of automotive goods; tariffs on cars, parts or both are rumored; then, Trump has to decide whether to act on the recs
/1
2)
Also this year, Congress will (probably) consider Trump's NAFTA rewrite, which radically tightens automotive "rules of origin" for US/CAN/MX trade in cars & parts, and, if implemented, would change NAFTA supply chains (probably making them more costly)
/2
3)
Separately or part of the NAFTA debate, US tariffs on steel/aluminum, which turned the US into a high-priced "island" for the metals (thus hurting industrial consumers like automakers), could be lifted (in full or just for CAN/MX) bc of congressional pressure
/3
So why bring this up now? Well, this week the
@NewYorkFed
released two really interesting studies on US manufacturing jobs bt 2000 and 2017. The first (
libertystreeteconomics.newyorkfed.org/2019/02/the-mo…
) examines the "modest" rebound since 2010 /4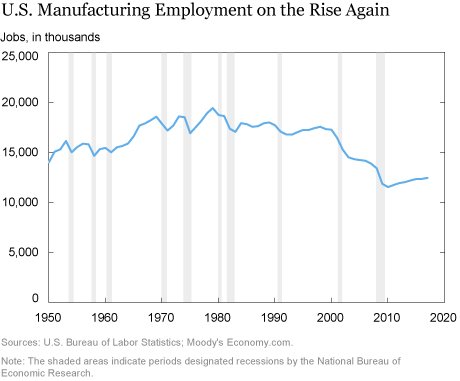 (As an aside, the other drivers of new manufacturing jobs are the fabricated metals and machinery industries - industries that need, ya know, a lot of steel & aluminum.)
/5
The report concludes w a warning: "recent tariffs and associated trade policy uncertainty pose significant challenges for continued job growth in the manufacturing industry, particularly in sectors that rely on steel and aluminum as inputs to the production process" /6
The 2nd
@NewYorkFed
report looks at *where* all of these US manufacturing jobs are located. It notes job growth as "particularly strong" in the East South Central and East North Central regions, aka "auto alley" bc a large portion of light vehicle production takes place there /7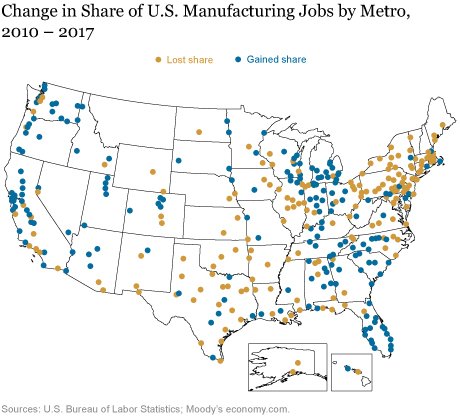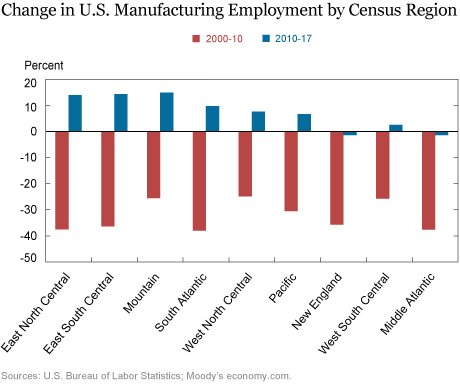 A lot of the companies in "auto alley," especially in Indiana and the South, are - you guessed it - foreign nameplates. They generate a LOT of jobs & economic activity in the USA:
/9
They also, however, market and sell imported vehicles AND utilize imported parts & materials (as do the "Big 3" - there's really no 100% "American" car these days). So new auto tariffs wld hurt.
/10
Those USMCA "rules of origin" are also gonna be costly (assuming the deal gets through Congress):
/12
And, of course, the steel & aluminum tariffs aren't helping US automakers' bottom line:
/13
So, here you have 3 2019 policies, which Trump LOVES *but* could really cost US-based automakers (foreign & Big 3 brands). And, as those NY Fed reports show, they also threaten the manufacturing jobs "boom" that Trump loves to brag abt, *especially* in "Trump country"
/14
Something's gotta give. MAGA, I guess. /x