Here is the first
@NASA
satellite image taken this morning of (what seems to be based on AIS pos) the
#FrontAltair
tanker. We had to enhance the original. We noted the distress call times as reported by
@katiemcque
. A couple of tugboats in the area have diverted to assist.
#OOTT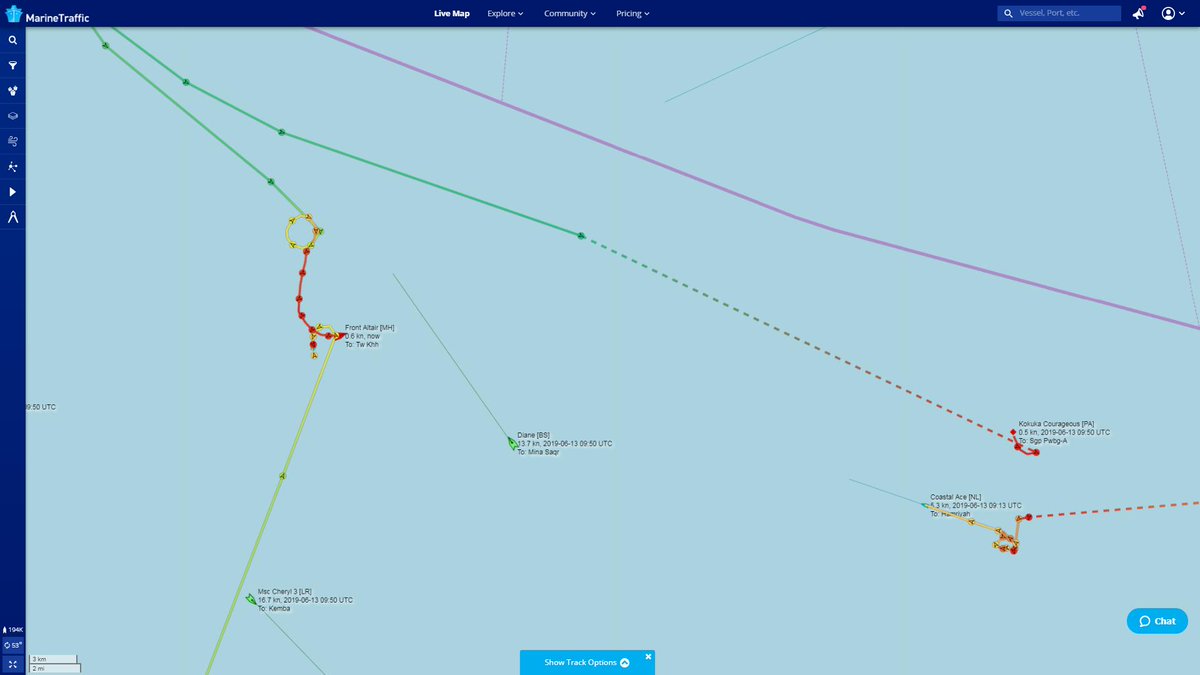 Data captured by
@esa
(delivered via
@sentinel_hub
) shows a 25km long smoke plume blowing west at 05:49 UTC (09:49 local time). That's 3.5 hours after initial distress call. Also, in three days time, weather forecast has
#CycloneVayu
approaching the area at 160km/h.


Images distributed by an Iranian news outlet. Given the direction the vessel is facing along with the direction the smoke is heading, it looks right. Also, we see that she is partially laden, just as the
#FrontAltair
is reporting. Colors match, too.
#OOTT

Before sharing this tweet, we have confirmed that this is the
#FrontAltair
deck based on a photo posted on another social media source last year.
For the sake of perspective, we've included these two
@MarineTraffic
maps to show you just how many tankers are currently in motion out of the Middle East. We even made sure to filter out all of the empty ones!


Satellite image captured yesterday morning by the
@esa
(via
@sentinel_hub
). Located 100km east of Fujairah and 47km SW of Jask. Flare imagery by
@nasa
shows the
#FrontAltair
still on fire overnight.
#OOTT




Here is a part of the AIS playback that
@MarineTraffic
captured. We can see that the HYUNDAI DUBAI cargo vessel rescued the crew, which were then transferred to the Iranian tugboat NAJI 10, taking them to the Iranian port of Jask.
And here's part of the AIS playback by
@MarineTraffic
of the KOKUKA COURAGEOUS. She was assisted by a Dutch tugboat which happened to be in the area after sailing in from Singapore.
Here are the AIS logs from yesterday (June 13th, 2019) of both the KOKUKA COURAGEOUS and FRONT ALTAIR; courtesy of
@MarineTraffic
. You can see which vessels approached them. Such information is available in the (super excellent) Voyage Timeline tool.